5.25.09 - MAHI REPORT
by Robn
I don't have much of a story since Jack came in exhausted. He left the camera at home.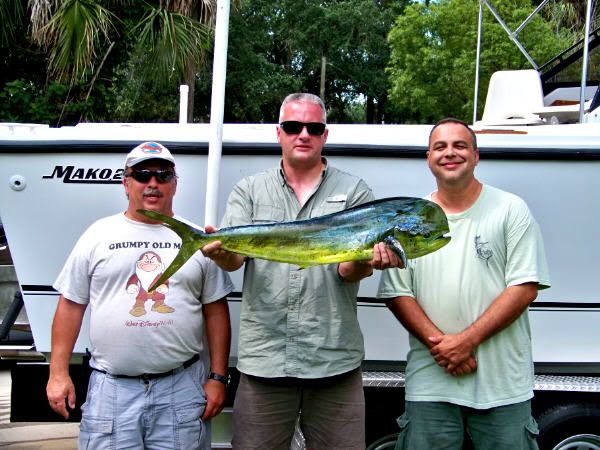 Jack's first day of planned charters with co-workers while he is on furlough is a success. Granted, it was slow fishing and they only had 1 mahi mahi landed, 1 knockdown, and several schoolie dolphin that didn't want the horse-sized ballyhoo. But, they brought home meat to share.
The short stats are:
Lines in at 120 ft, trolled to 200 ft. Bull caught in 170-ish feet. Weighed about 11 lbs. Water temp in high 70's. Water was blue but slightly dirty. Fliers few and far between. Using double-rigged ballyhoo.
Came back in and came across a nice temperature break - pocket of 80.5 deg water (or something close to that) and while they looked around, they saw the schoolies. They also saw a school of rays. 70 ft of water.
Will probably try again as long as the rain doesn't stop us. Tomorrow is family day for fishing. It's been a month already since the last time we fished together.