by Robin
This is definitely not a "How To" blog on pier fishing but just an update. I do still owe the blog an update on my Red Snapper 3-Day fishing trip. Life has been very full and so blogging has been on the back burner.
But, Jack and I are both in fishing withdrawls, so we decided to hit the road after church and make a little day trip down to Sebastian Inlet. They have some beautiful piers in the area AND it was going to be a full moon. When the weather gets colder, we naturally gravitate towards Sebastian and it's flounder. It's the best place to be after the first really cold snap, around Thanksgiving. We're a little early, but the fish were still biting. So, we grabbed some poles, bought some bait and a bag of ice. :)
Here are some pictures of our trip.
Wow, the outgoing tide and the wind were not cooperating. My heart stopped beating a couple times watching the boats trying to power through this inlet opening. Yikes. Not for the faint of heart if you're in the boat. I didn't even show you the worst of the waves! (to the right)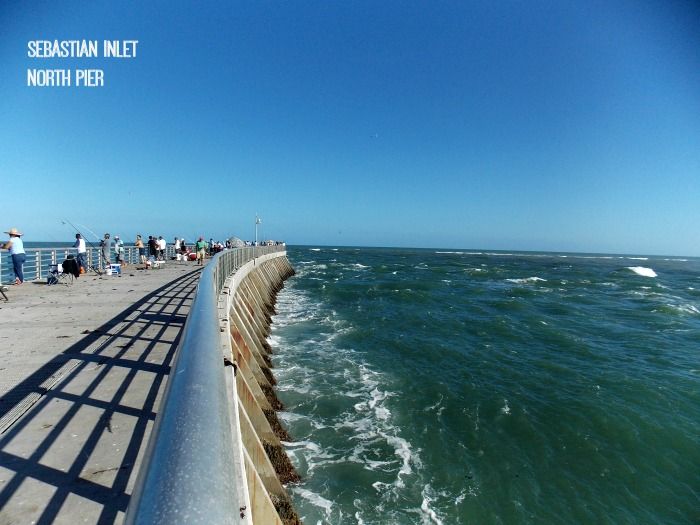 That was looking south-east. Now, we're looking north. Lots of surfers enjoying the large waves. Wish I was a surfer but instead, I'm busy looking for sharks around the surfers,... that or bait fish. LOL.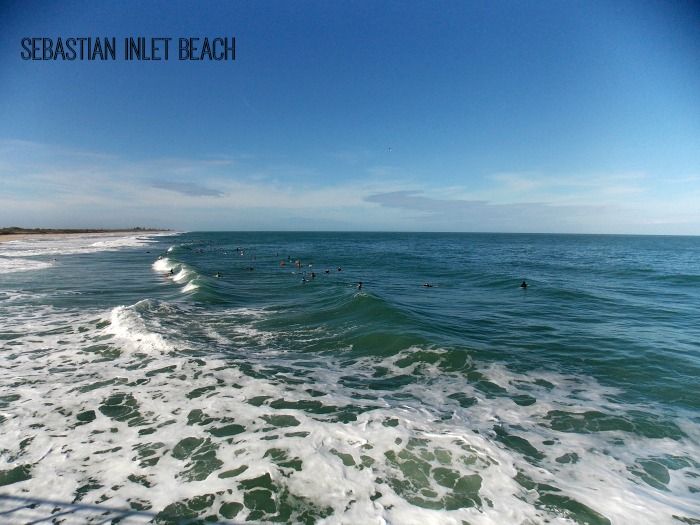 I do have a picture of my black margate somewhere. It didn't make the file upload with the others. Use your imagination.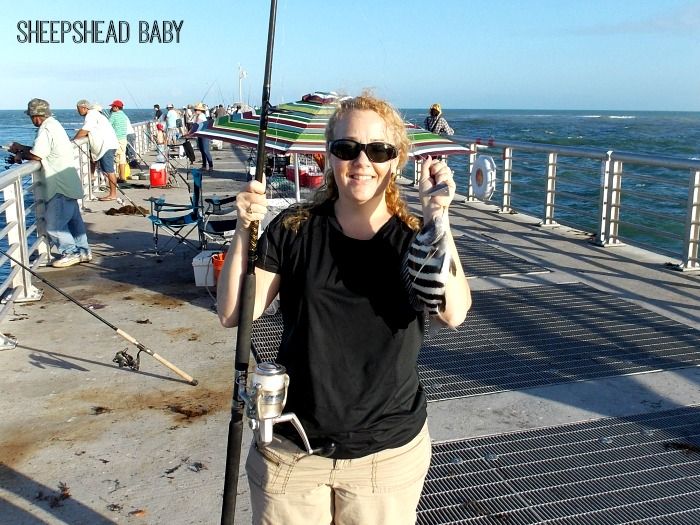 Here I am with a sheephead (above). Just a baby, but it is proof we did catch stuff consistently. Jack caught a lot of catfish with his double rig. He was going more for pompano, though. The folks behind me seem to have a blessing of Spanish Mackerel running through, eating up all their finger mullet. We also saw a lot of blue fish, decent size, run through, pre-sunset. Oh... and one small mutton snapper.
This is Jack's baby sheepshead. He did not want to be in the picture.
Later, we moved into deeper waters further down the pier and saw this freshly-caught permit. I thought it was a pompano, but Jack said permit. Its hard to tell from this angle. They're nearly twin species. They are both super delicious.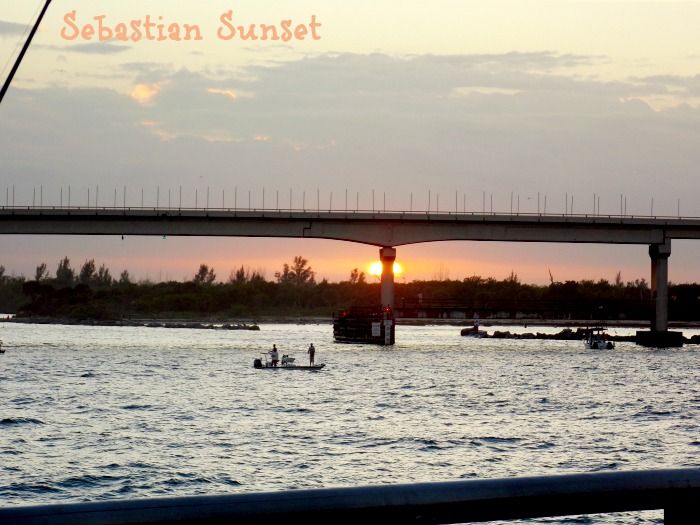 Right after I took this picture, I went back to my pole, sitting on the north side of the pier. Jack said the guy just down from me hooked into a huge red fish (26 3/4") and fought it perfectly. Once they got it on the pier, he gave it away to somebody who helped him with a net. WOW.
Then, the sun began to set and men left in droves. Sebastian Inlet has NO LIGHT at the north pier. Terrible planning on their part. I don't know if it is because of the turtles or what.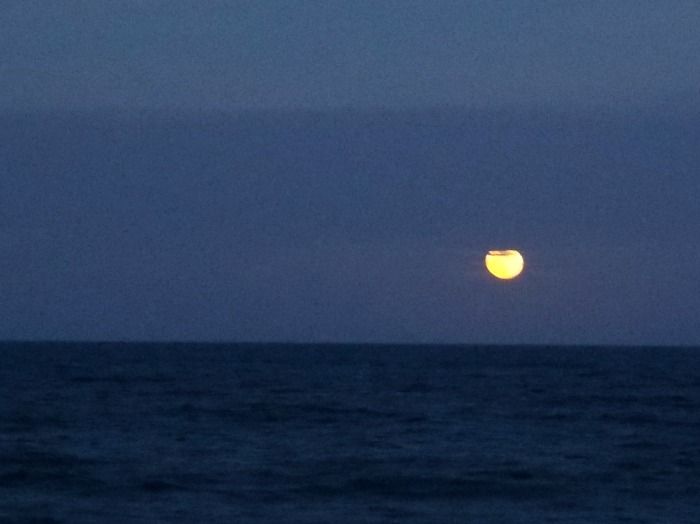 Not long after the sun set, this beauty peeked over the horizon on the east.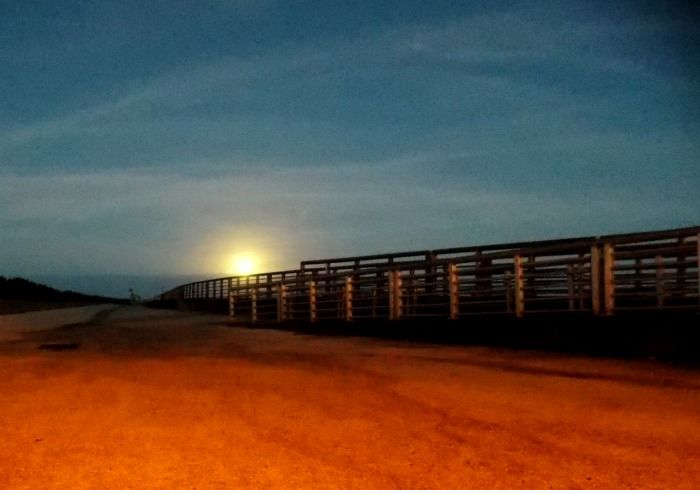 Isn't she beautiful? Here, we are moving back towards the lighted bridge area for the moon-light bite. As we walked, we passed the cleaning tables and there was another big red fish being cleaned there.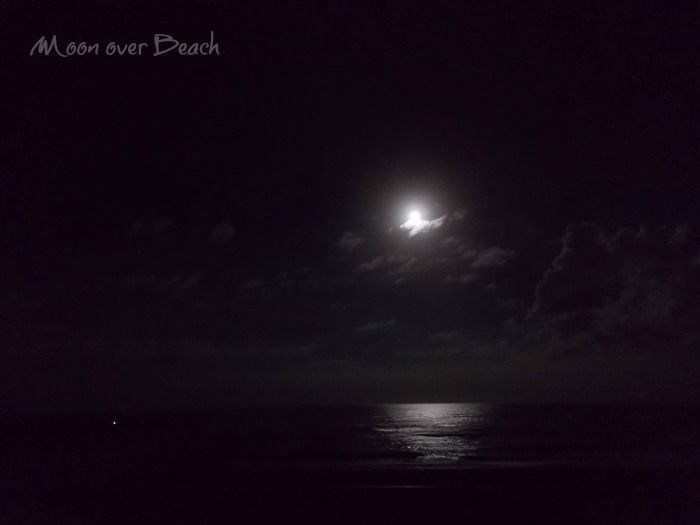 These last two are out of order, but I'll let them stay like they are.
Jack knows how much I love to photograph and so he took me over the bridge and stopped there so I could get a good moon over beach picture. Gorgeous and it is so hard to capture with a camera. This was my best of 4 shots. That little light in the bottom left is somebody's lantern at the north pier.
This last shot was one I took while fishing the "under bridge" bridge. Lovely. I really had hoped that we'd get us some mangrove snapper by moon light, but it just didn't happen and school/work was the next morning.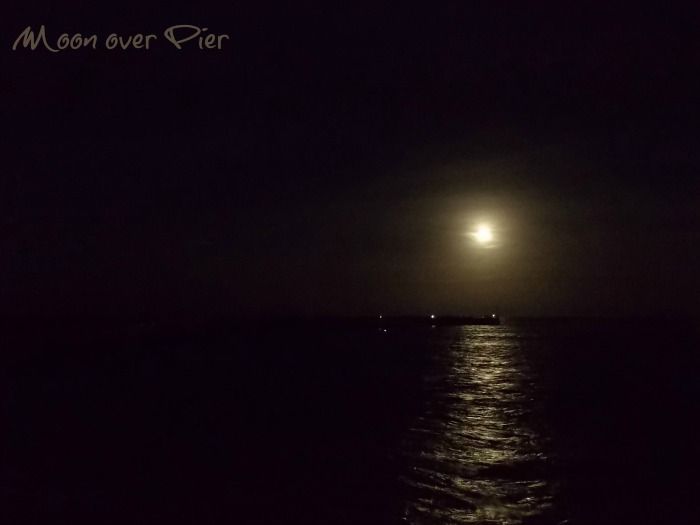 While on this bridge, I did catch a nice little Jack - released. Then, I hooked something but we couldn't see for the longest time what it was. I started bringing it up the 20 ft of water to bridge landing space and we could see it was a STONE CRAB!! About 10 ft up, he let go and there went our dreams of eating a big fat crab claw. Oh well. I'm not even sure they were in season or not, but it sure was fun dreaming.
Last, Jack hooked a big BIG fish. He fought it a while and then, between fish weight and super-fast current, the line broke. Certainly, it was a nice keeper something. Not long after he lost his fish, a boat drifted by and hooked up too. They were able to land and keep their fish. Looked a bit like a red fish but it was dark and a bit far away to be certain.
Well, it wasn't about the cooler but rather the good company and fun together. Jack and I rarely have time to talk through the week days, especially about complex things. It is always good to have date time and really...... just time together. I don't want to grow old and one day realize, I don't even know who I'm married to. I want memories like this.
Tight lines and bring a loved one with you.
Robin