WE HAVE A WINNER
- Ms Renee!!
by Robin

You are right, we're going to the Keys. I'm going to bring you back a souvenir.
I would have called it a vacation, but folks around here seem to call very short trips, in your own state, a staycation. Hmmm...., but we're definitely not staying home. Sorry for any confusion.
Our first clue is of Jack's first house, down in the Keys. He was born & mostly raised in Key West. He roamed the island by bike almost every day of his life. So, we're taking our bikes and going to park the SUV at the hotel.
This is my version of a cheeseburger in paradise. (no cheese) I put it poolside and snapped a shot. Renee, I ate it. I haven't had a homemade hamburger in over 2.5 yrs. It was delicious!! I really can't stand red meat much any more, but this..... well, settled well on my stomach & tastebuds.
My third pic is of the infamous chickens that roam the island. I'm half-tempted to steal some eggs or chicks for my back yard. Maybe that is illegal. I'm not sure. Key West is also famous for a line of 6-toed cats. Funny little island, but I'm very glad observe micro-evolutionary changes. Keys deer are smaller than other deer.
Clue #4 was of Ernest Hemingway's house.
Clue #5 are murals & mosaics that can be found around town. I'm going to steal some decorating ideas for my own house. Maybe even come home w/ some knick-knacks if I can afford them.
Here are a few more pictures I had picked out for the Treasure hunt. Jack wants one of these flags.
Conch_Republic
This declaration was a tongue-in-cheek protest from 1982.
Fort Jefferson is in the Dry Tortugas which is a National Park out past Key West.
Dry_Tortugas_National_Park
Jack's grandmother traveled with her mother frequently out here to take care of the prisioners. One of the most famous was Dr. Mudd who took care of John Wilkes Booth after shooting Abraham Lincoln. The fort was used to house Union Army deserters and held about six hundred prisoners when Mudd and the others arrived. If I remember right, Jack's Great-Grandfather was a guard out here, but when he wasn't doing his civil duties, he was running rum illegally. Yes, we have a little bootlegging in our history. :o) Probably both sides, if truth be known. We will not be able to take the tour boat out to Ft Jefferson on this trip.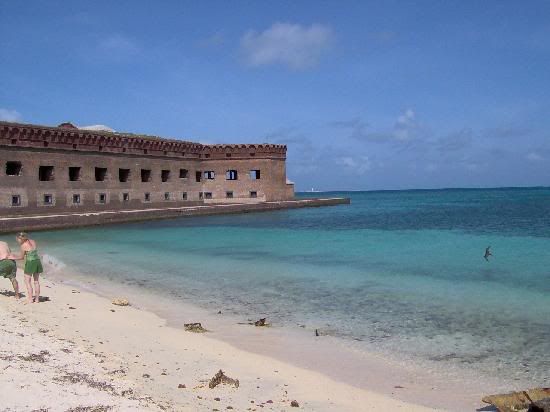 We already have a Mile 0 sticker on our SUV, but this is where US 1 starts and then travels all the way up the eastern coast of Florida. I have no idea who the woman is. I got this picture off a travel site.
So, we're counting down the days now. Ten days to go before our mini-trip. I just pray a hurricane doesn't decide to ruin our plans.