by Robin
Where were we??
Link to Part 1, if you missed it.
Oh yes, we were done with sandwiches & ice pops at the marina and looking forward to a peaceful night fishing at the Crystal River Reef.
At this point, we're all still smiles.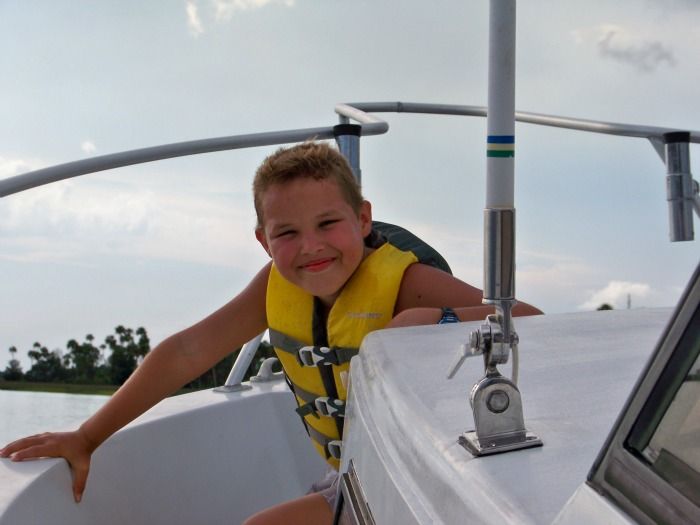 We get past the no wake zone and head 25 knots east through the river to the port opening. Now, I did see all these clouds over land but had no reason to fear anything. As you can see, those thunderheads in the background were pointing south. Wind was going north to south. That was the plan.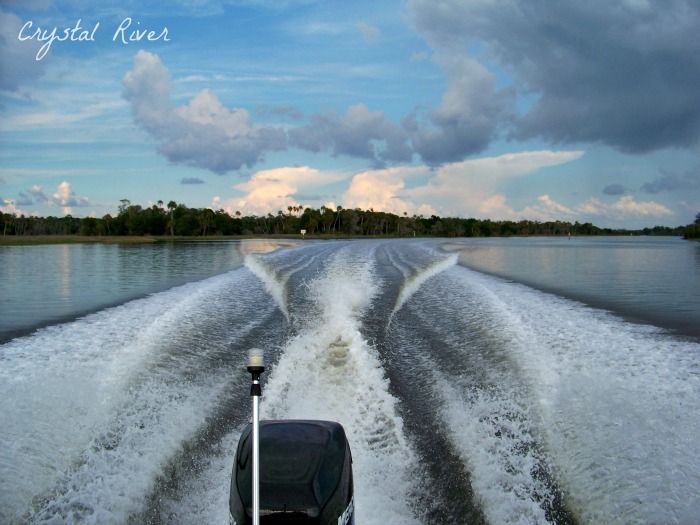 As we head east, everyone passes the little party island to the south. Many people tie boats up there, hop out and cool off in the shallows for the hottest parts of the day. I'm sure many take grills and have the best memories of how they 'played' Survivor for a couple hours in the sand & sun.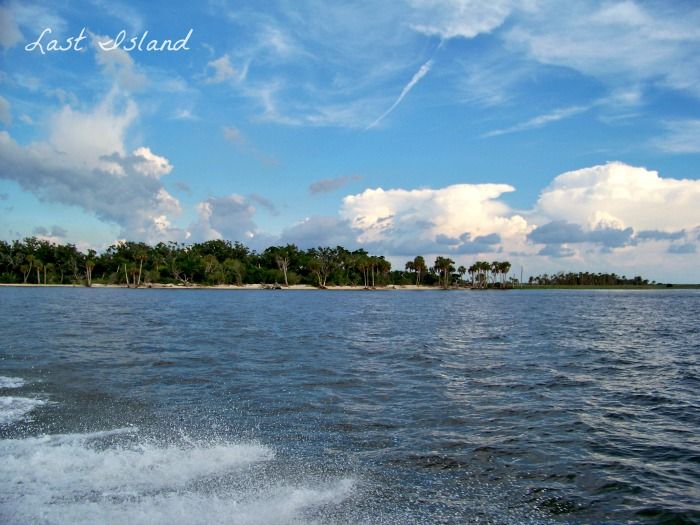 Right after you pass the party island, look north and you will see the powerplant. It seems like such an ugly hunk of concrete. I had no idea at this time how its beautiful orange glow would give me comfort through the night. No idea. As long as its distant lights stayed in the same general area and the same approximate distance, I could put my head back down to suffer out the rocking-induced nausea another hour.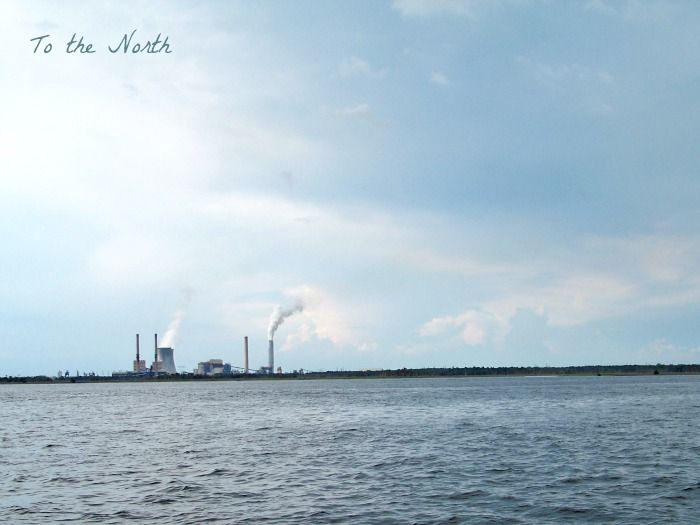 And then there was an amazing sunset to the West. The thunderhead clouds hovering over land were lacking over the water. The Gulf had upper-level whispy clouds, meaning no rain. At this point, we were finally 17 miles west of Crystal River port, over the Reef. I had plenty of time to anchor up, find the mound of rubble under water covered up in fish, according to our fish finder.
I was busy transforming the cuddy from storage unit into a bedroom suite for 3
(Jack had planned on sleeping on the deck (cockpit) on a bean bag.).
As I played interior decorator with sheets, towels & pillows, Jack dropped a line over the side. He was instantly bowed over with something huge from the sea. Excitement filled the air as visions of sugar-plum fish danced in our heads. But, the excitement was short-lived and Jack's pole popped back straight. He reeled up and his hook was bit in half!! Wow, what was that? Jack thinks it was a shark.
It was about this time that I felt nausea set in. Our 2 ft waves or less felt more intense the longer I stayed in the cuddy, hence the name "Cuddy of Death." But, I convinced myself I could remedy it by fishing. I held a pole in my hand about 1.5 minutes before Jack noticed the rest of the crew looking green and took a vote of who wanted to go back in. Apparently, I wasn't the only one fighting a little nausea. The vote was 3 to one. So, we pulled anchor.
While pulling the anchor, we heard such awful news over the radio. It was a back-n-forth relay between the Coast Guard and some man who was thinking he was having a heart attack. Good golly!! Not ANOTHER heart-attack person. What are the odds that two people would have heart-attacks the same day, out of the same port? We did not hear how that concluded because we were soon underway and the drama that was unfolding was drowned out by the hum of our Mercury. Out attention was more focused now on what was building over land. Still no fear at this point because the wind was taking it South. Right? Right??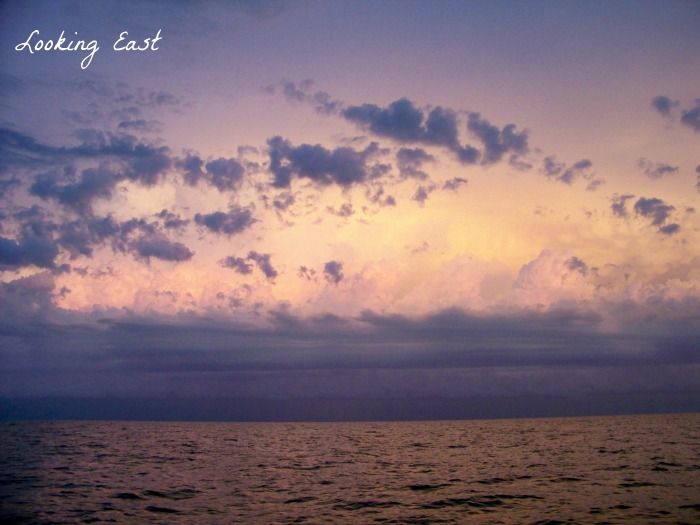 We started towards the Port for less than 1.5 miles and Jack stopped the boat. It was useless. There was frequent lightening right at the port entrance (left side of picture). In ten minutes time, we could see the south end of the front bowing outward and I think that was the first time I remembered panicking. It confirmed that the winds had shifted eastward and we were going to confront our biggest fears. A solid line of thunderstorms coming straight for us. There was also lightening in this section of clouds (below), too. It was less severe than the lightening to the north, though.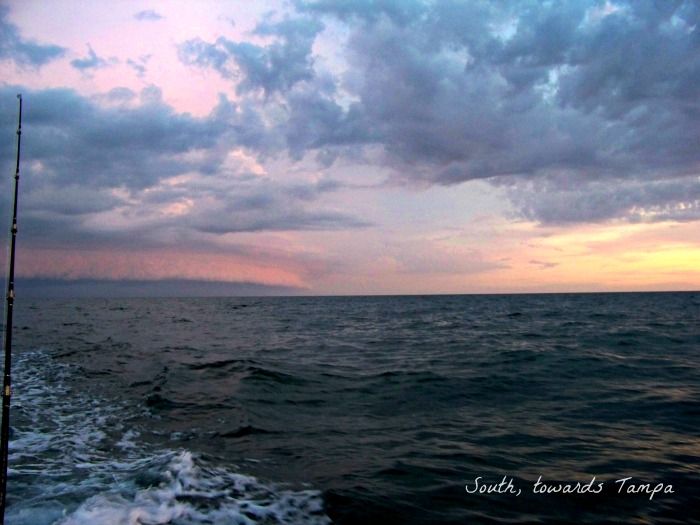 Pretty much, by this time, we were so confused and had run in most every direction. We couldn't go north, south, east or west. The sun would be gone in no time. The storm was coming at us at 25 knots NE. We called the Coast Guard and let them know of our location and asked them about the weather. They seemed a bit put-off that we asked for a weather report but hey, they're the ones with the radar screen and knew if there was any break in the storm cells. Afterall, pilots get navigational help from air traffic control when they hit bad weather. Here's a good lesson learned... the CG is not the ATC. The CG told us they could not suggest which direction we should go in. I could barely get that sunk in when my 12 yo screams out, "We're gonna die!!" Now
that
, I could not let sink in. There was no time to entertain that fear. Partly out of necessity and partly out of selfishness, we had him go down below and start praying. I am so glad that my Father in heaven did not treat his fears like I did. We asked him days later what he prayed forwhile he was down there and he cannot remember. I'm certain of one thing, it must have been that he wouldn't die and God answered that.
After speaking with the CG, I believe Jack radioed his coworker who was on his boat with his wife fishing deeper seas. They had some nice red groupers already in the box when they heard our call. For just a moment, I forgot our urgency and found comfort in knowing we were not in this alone. J and B were going to head west as fast as they could and then cut north into the port, through the storm, lightening & all. We were hoping to have contact with them later in the night. But, we never heard from them again.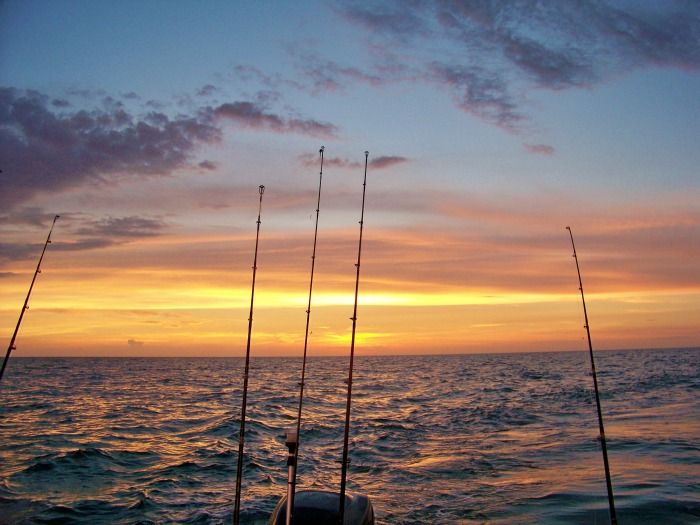 As the sun disappeared over the horizon, it set the western skies were set aglow from the top of the storm to the heavens. It was magnificient. The only thing that kept coming to mind was the phrase, "Purple majesty". It was majestic. The entire sky, not 25-50-75%, but 100% was a canvas and it was captivating. Even mesmerizing. It came close to lulling me into a sense of peacefulness. But then, a lightening struck (never once captured on digital- sheesh) would snap me back into reality. I set this beautiful Scripture onto the last photo I would take of the clouds that night.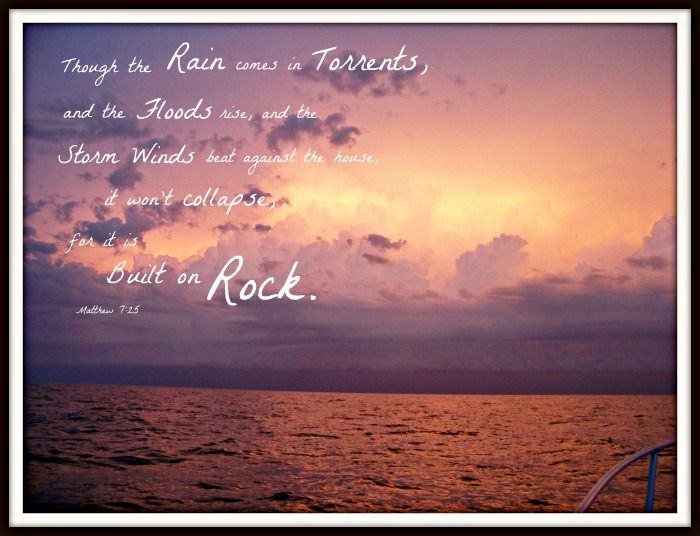 From that point on, we began running for what seemed like our lives. The kids were in the cuddy with the dogs. Lightening came closer and closer. I shot this video while we were running full speed. Forgive the annoying buzz of the engine competing with my shaky voice. When I viewed it on my bloggie & the tv, I could actually see lightening strikes twice on the left side, but I don't think the HD quality translated very well in the upload. The light you see in the back is our navigation light. Sometimes you can see those clouds to the south and at the end, you can see the last seconds of light with the sunset.
As I was closing my entry, Jack stops the boat and we discuss strategy again. A blast of very cold air hit us smack in the faces. We began running again. Jack could no longer see out any of his windows. I became his eyes as the sprinkles turned into sheets of rain. It was that sinking feeling that we could no longer outrun something so powerful & fast. The best we could hope for was that we were between the worst of lightening cells and the one still to come, headed our way, was the lesser of three evils.
The boys handed me my huge life-jacket and I went quickly about my business. An hour before, I was untangling a couple hundred feet of rope via Jack's request. He even said something about it being so important, it could save our lives one day, and now, every bit of that was going to be our lifeline. I dropped anchor.
And the anchor held.
Two dogs, two boys and one very wet mom stayed in the 'Cuddy of Death', rocking side-to-side, as Jack broke 4 glow sticks and shook them. He tied two to our bow and two to our nav light over the engine area before joining us down below.
Wait, I do remember one really cool thing before I went below. The glow sticks had attracted a bait school around the boat. I thought I may have seen a couple shimmers of bio-illuminescence. My nerdy science side was so fascinated with trying to see flashes that it spooked me then to see some fish sky-rocket out of the water and fly about 20 feet across the water. Ok. I'll mind my own business and head for the cuddy. Eventually, Jack joined us there.
We were sardines awaiting torment in our home away from home. Jack asked me to pray. I could hardly get a word out. My voice quivered. My thoughts were unable to connect words together coherently. I remember asking for a hedge of protection around our boat. I remembered that Jesus slept through the storm that came up over the Sea of Galilee. The disciples did not have faith, waking the Lord from His sleep. " 'Peace, be still.' he spoke." I repeated those three words a few times. His power was so incredible that three simple words made the winds and seas obey Him. I begged for that kind of faith. If ever there was a time in my life I needed to muster up the faith that created such power to make the weather behave, it was NOW. There was no doubt that I believed God to be Creator of this world and all that it held. There was no doubt that I believed He had that much power; afterall, He spoke everything into existance. I had to trust in that. That same power was inside of us when we trusted Him with our lives years ago. Now, He was asking me if I believed all that beyond being vocal in the church pew. Was I ready to trust in His power with my entire family's life, for real?
We did our best to lie still, moving the battery-powered fan from time to time. You could hear the rain pounding the boat. From time to time, we saw lightening flash the sky from our tiny window slats. I counted three times, but I am sure that was not accurate since I did my best to lie still, closing my eyes. The 'Cuddy of Death' rocked back and forth for some time.
And the anchor held.
I do not know how long it took for the storm to pass, but Jack was first out of the cuddy to have a look around. I'm sure it wasn't but minutes later and we had our first casualty of nausea. Our eldest ran out to vomit. He came back, drained but a much happier camper. Our youngest did his best to hold out but even he succumb to nausea and vomiting. I was very proud that he made it out to the ocean and not spilling it in the cuddy. A few weeks ago, he had a tummy virus and didn't make it to the bathroom.
For me, I did my best to ignore my surroundings. I was going to fight it with every ounce of my being. I tried deep breathing. Breathing through nostrils. Fight that nausea, Robin!! But, then Jack asked me a question. I do not remember what it was, but only that attempting to use my stomach muscles created some convulsion of stomach muscles that could not be stopped. I sat up and began heaving. I flew up two steps and heaved again. But, gross as this was, I did my duty and kept my mouth shut until I reached the gunnell and then released it overboard.
Oh my Lord, how much more can we take of this? I could not go back into the cuddy. I needed fresh air. I needed this rocking to stop. That's when it dawned on me that I had stars overhead. To the north and south, there was still lightening & thundering, but we... we were in the clear. God had answered prayer.
(I did not take this picture, but it was the closest thing to what we saw that night. I'd never seen so many stars in my life. And I saw hazey glow like this too. )
Lightening had stayed aloft in the clouds and never once struck to the ground. Being the tallest thing on the water, I was certain it spelled doom in my worst nightmares. But, God had put the hedge of protection around us. The lightening and clouds HAD obeyed Him.
We were free. Free! I was ready to head to the port and put all this behind me as I drifted off to sleep in ANY hotel room. Shoot, I would have been grateful to sleep in the passenger seat of my suburban for all I cared. Whatever. I didn't care. Who was I to be picky when I was feeling so grateful? We survived a front with lightening and now we could go home.
But, Jack was very opposed to all this excitement about navigated in the dark, in 2-3 ft wind waves and not having proper knowledge of the area. He insisted that we stay put until morning light. Oh noooo, my nauseated stomach could not agree with him. I had a moment of panic. I wanted to go. I wanted off this ride. If I could have, I would have walked right across the water until I reached dry land. It was 11:30 pm and waiting six hours of daylight was too much to ask for. The sea-sickness was like kryptonite to me. I couldn't pick my head up. My muscles turn to jello.
How was I going to make it six more hours? Was that the last of the storms?
To be continued......