by Robin
Ok, these made the top 50 pics that I had time to upload and down-size for the blog. I regret that I have no video because my underwater camera broke on the 3rd day, before we went scalloping. The video from the springs has disappeared. I am just ever thankful that the I did not lose everything.
Dropped Jack off at Pete's Pier and he motored over to the Days Inn for First Choice (our boat's name) to stay in slip #1 for the week.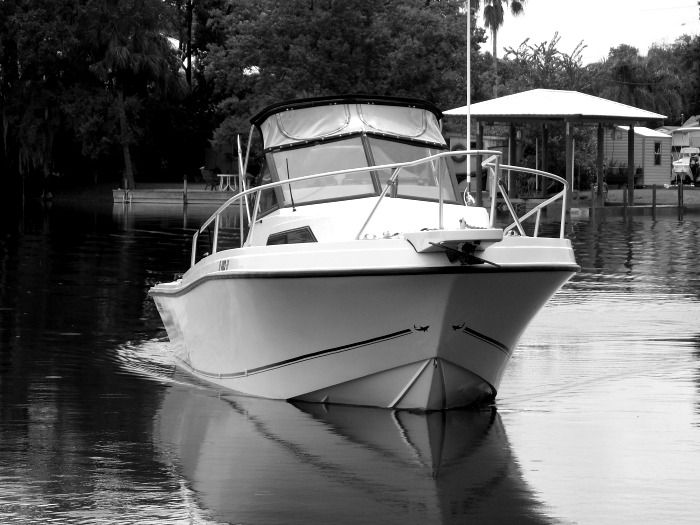 First day. Boys with too much energy wrestling in the pool.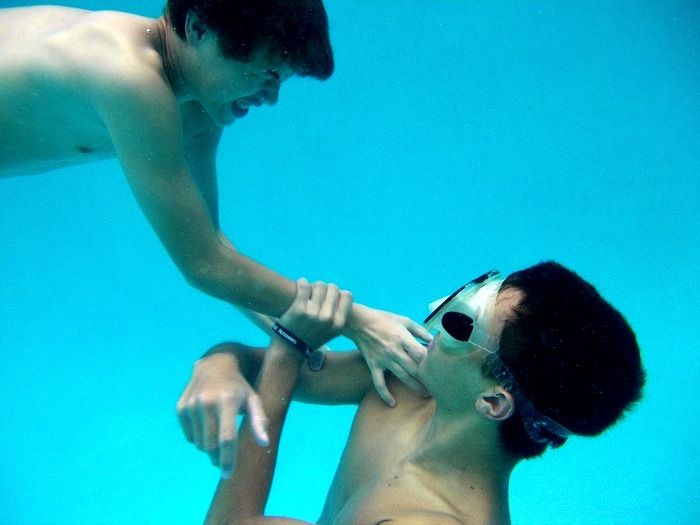 Day 2: Went out of Crystal River only to be met with 2 rain cells merging into one big t-cell. 180 turn-around. Head to Three Sister Springs for manatee viewing and ice cold swimming.
When we arrived, we saw many tour boats there with people in the water all looking down. I jumped in and captured this picture of the 2 green blobs lurking, I mean sleeping, on the bottom. Kinda creepy to swim through water this dark. I am SO GLAD these images didn't turn out to be gator shaped! Tour guide complained at my youngest because he was wearing flippers. Me too, but I kept mine down until he left. Ooops.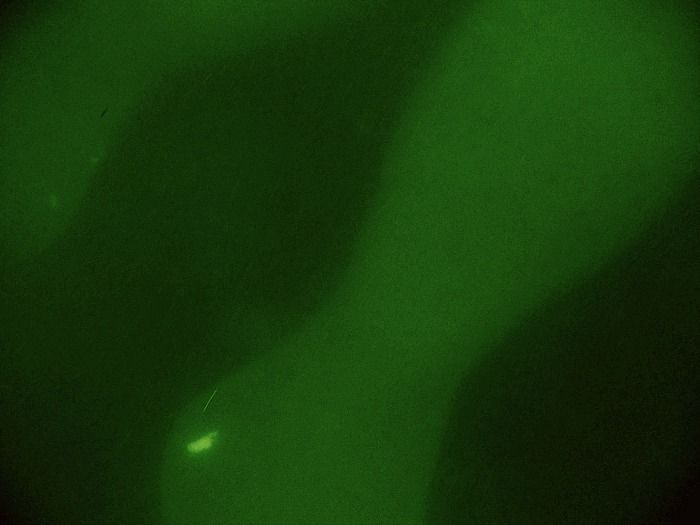 Ok, so I head into the springs. These are slightly out of order but starting with the prettiest one first. :) This is the deepest of the 3 big springs back there.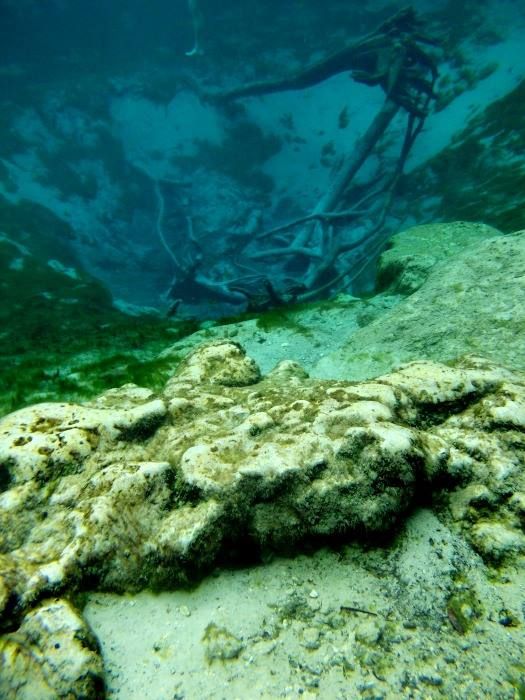 This is a grouping of tree roots just to the left before the area opens up to the springs.
I feel like I'm going in backwards order, but the rocks are right after the underwater gate. Some pretty little fish live in the rocks.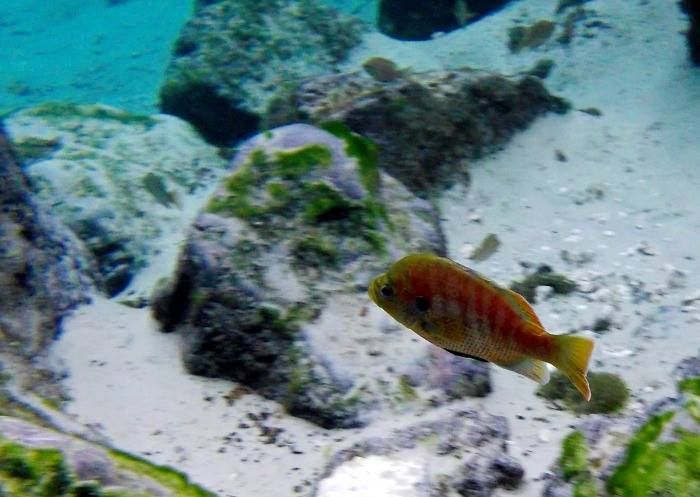 My eldest going under the deepest branch. I wanna say this goes down about 20-25 ft. I don't know how his lungs and ears aren't killing him.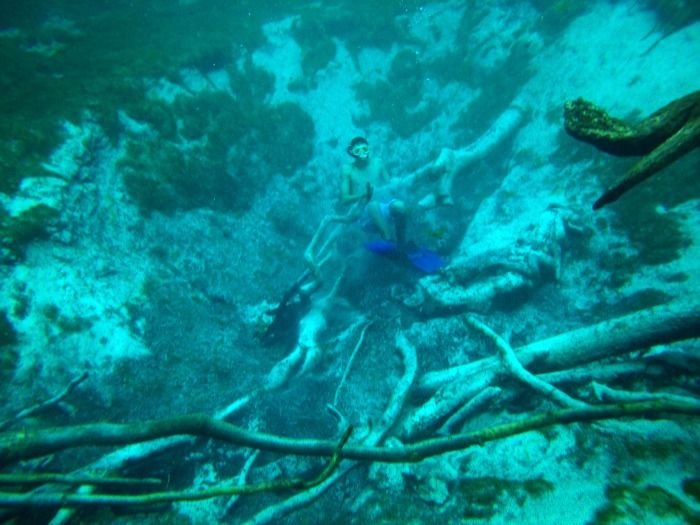 Wait, maybe they were!! I really do feed this boy. (He is my garbage disposal.)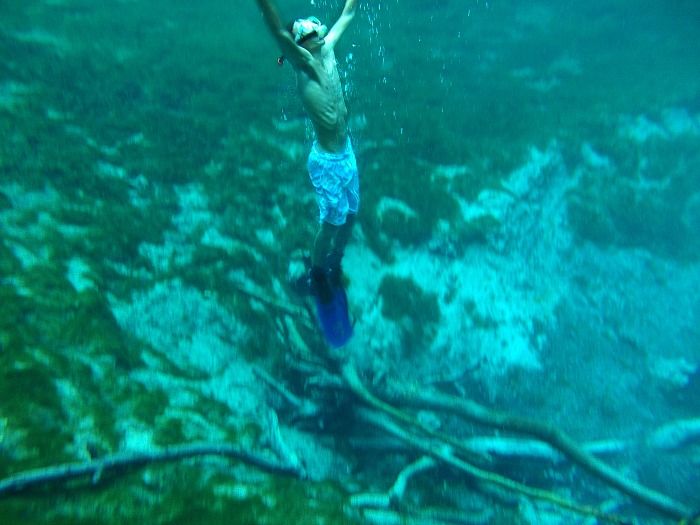 My youngest needed to work up his nerve a little bit more. Afterall, it is 71-73 deg water. See him shivering??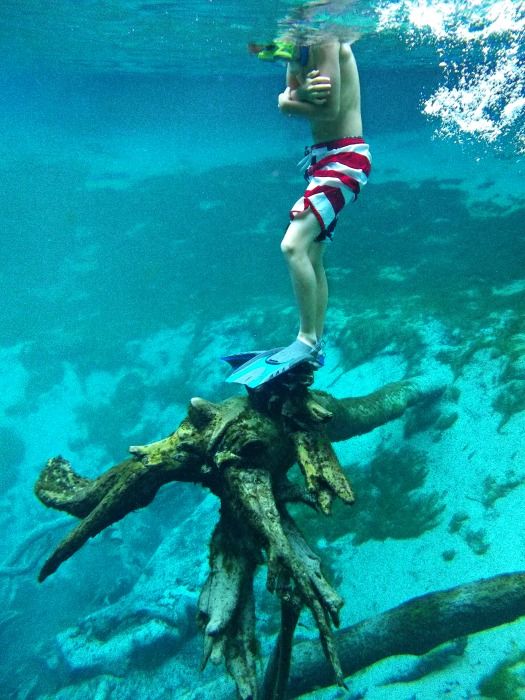 Another dive.
Thumbs up!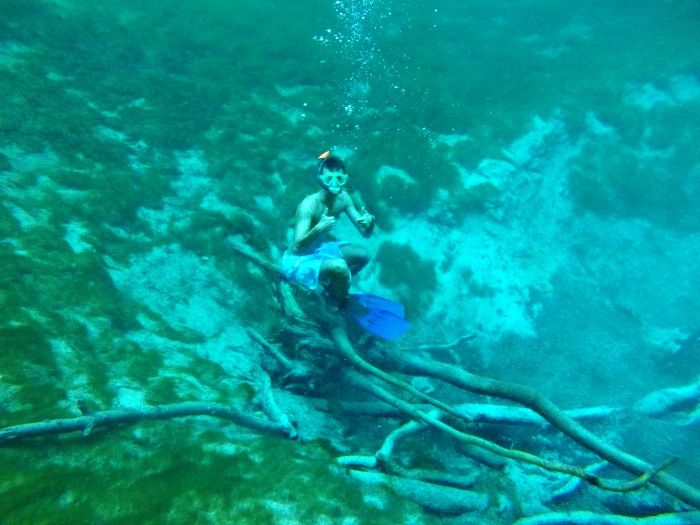 My turn!! He actually went completely under that branch.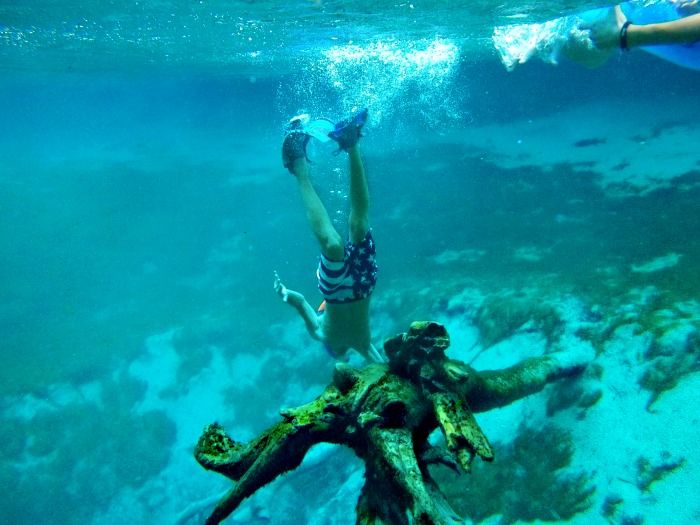 So brave! Multiple dives down about 15+ ft.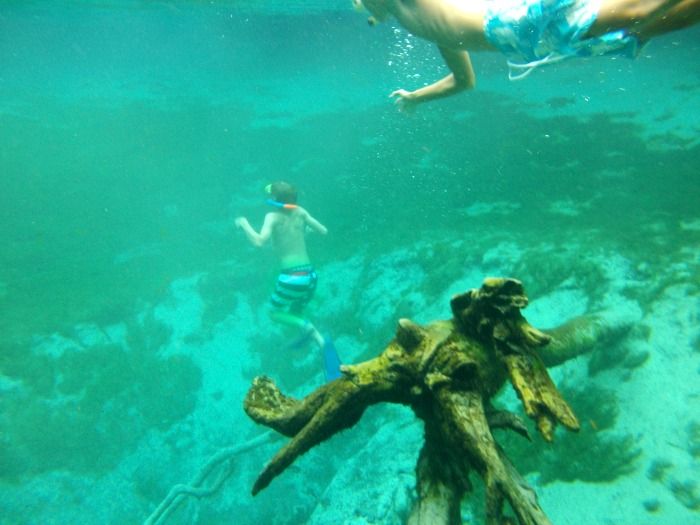 Ok, well that didn't last for long. We heard the thunder catching up to us and had to head back in through a downpour.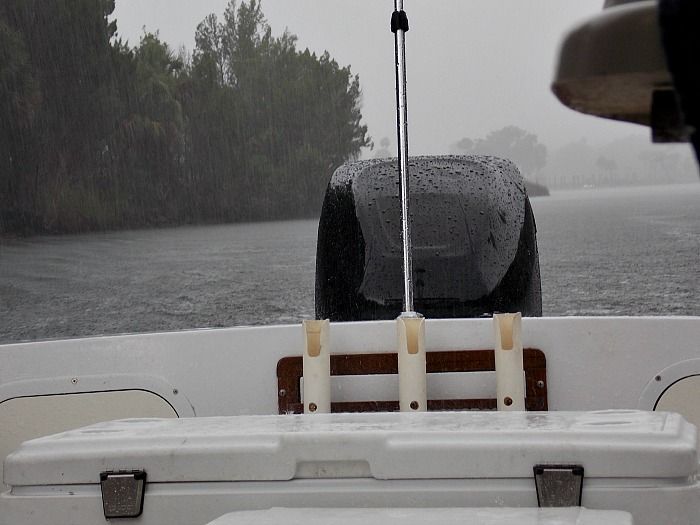 And it rained ALL NIGHT. I bet the dogs are very glad they didn't come with us.
Here we are waiting it out. The hotel owner told us we could cancel our trip and head home without any cancelling fees. We are debating that. Why is the vote always 2 against 2? Good thing I won out this time! LOL. We stayed and tried to wait for weather to clear.
Bored, swimming in rain. As long as there was no lightening, we were fine.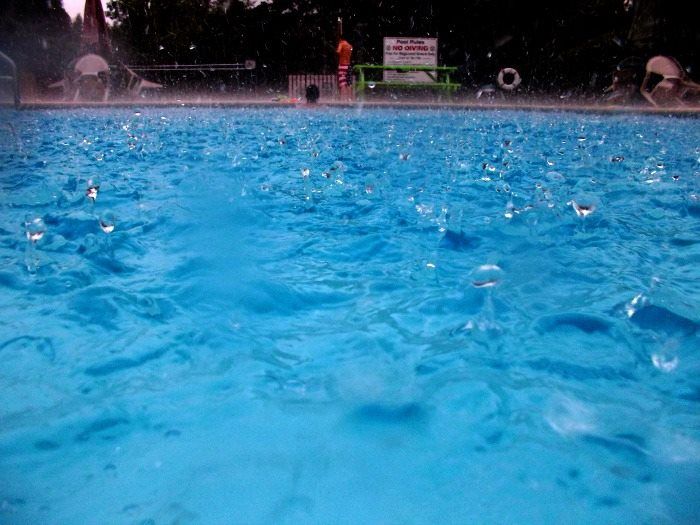 This may have been somewhere around Tue evening. Weather moved through but it was too late to head out scalloping. Hubby and I went to the end of Fort Island Trail and went out on the fishing dock.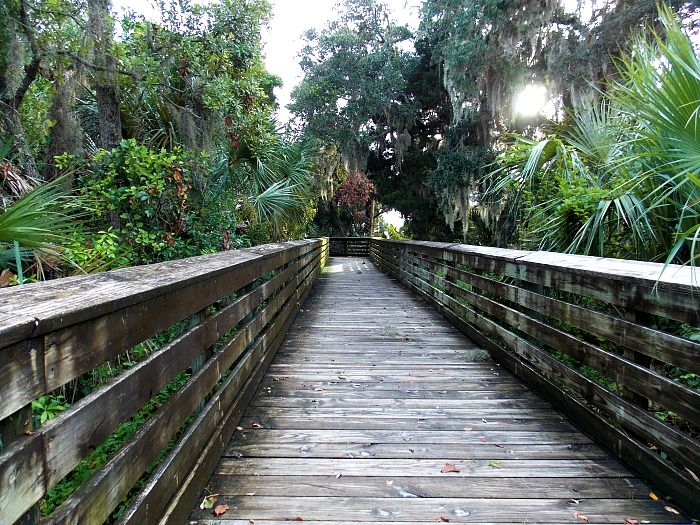 Our view to the left. Nice little marshy area and the man-made beach is beyond that.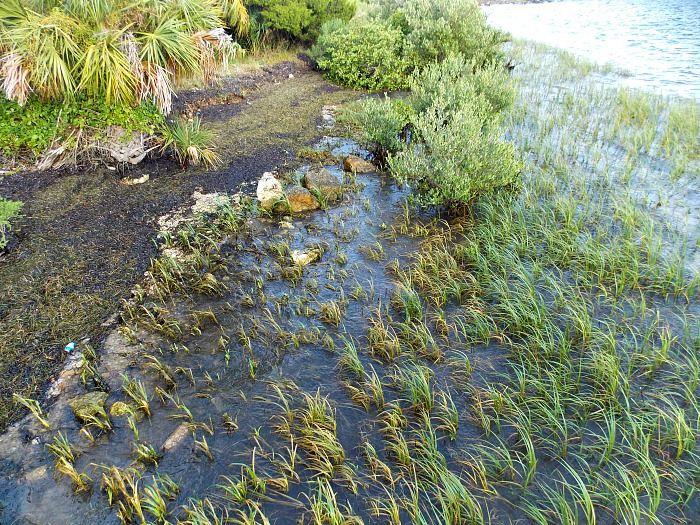 We did look up the sunset times but I forgot to add an hour of daylight savings time. Oops.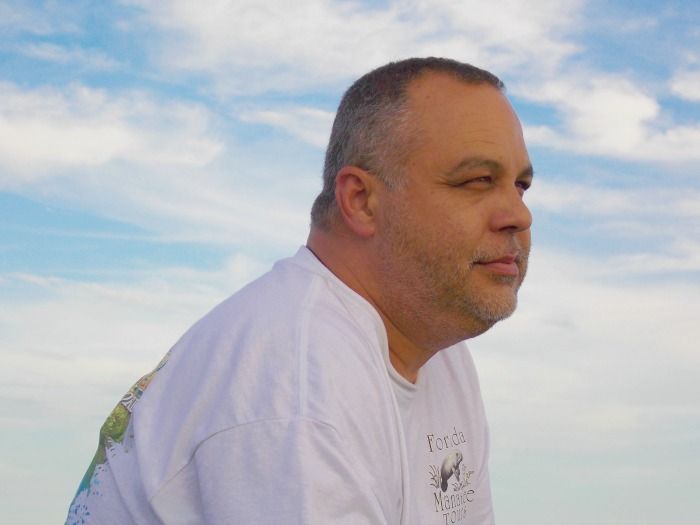 We were killing time so we took some pictures of us with the camera timer and it sitting on a tri-pod. Not bad!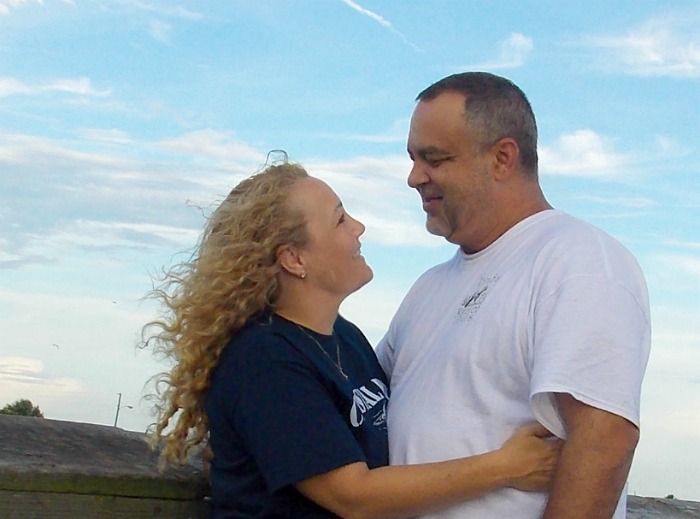 A young lady almost lost her pole over the side of the rail. I saved it. She pulled this guy up but was too scared to touch it. Jack stepped in and held onto it so the boyfriend could dehook it.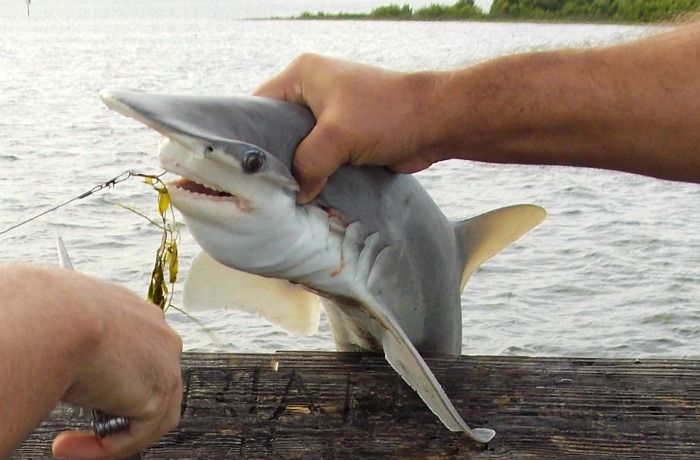 Back to some nice pictures of Jack.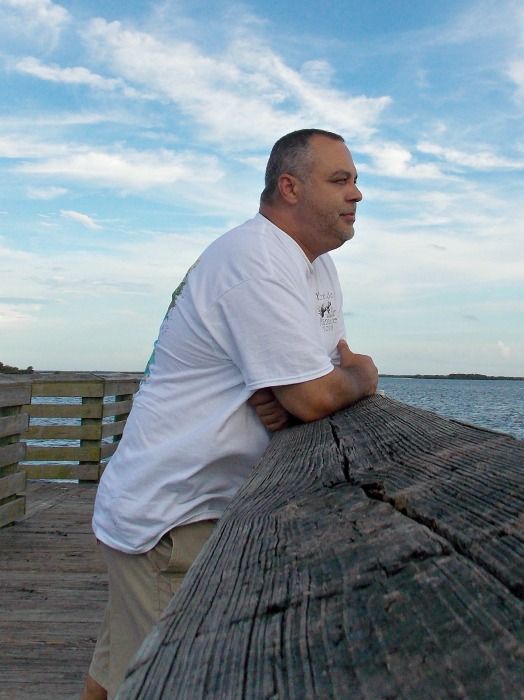 Well, I didn't downsize the sun setting but here is one from right after it set.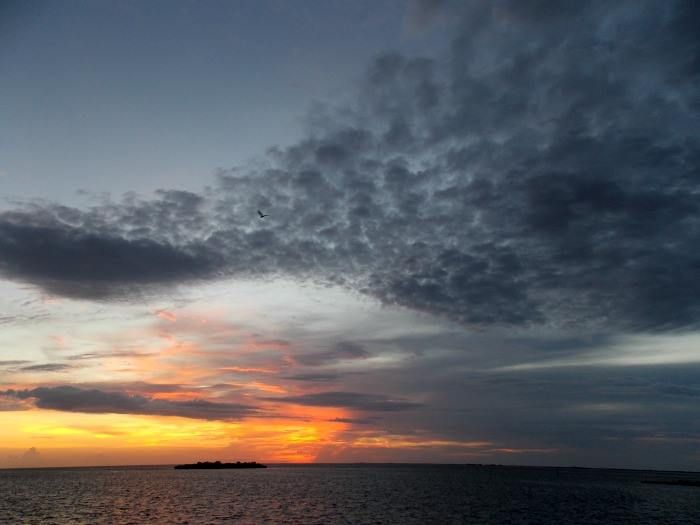 We totally enjoyed our evening together.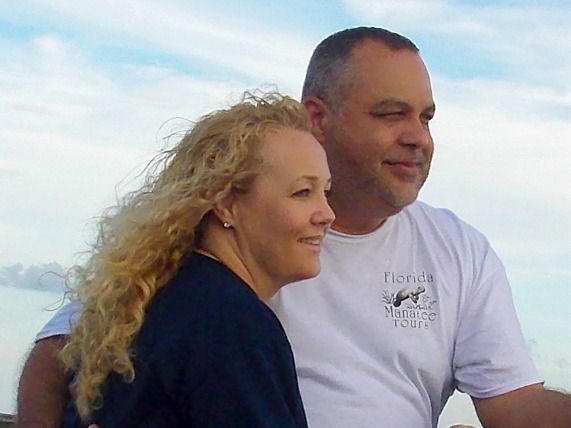 The colors were magnificent.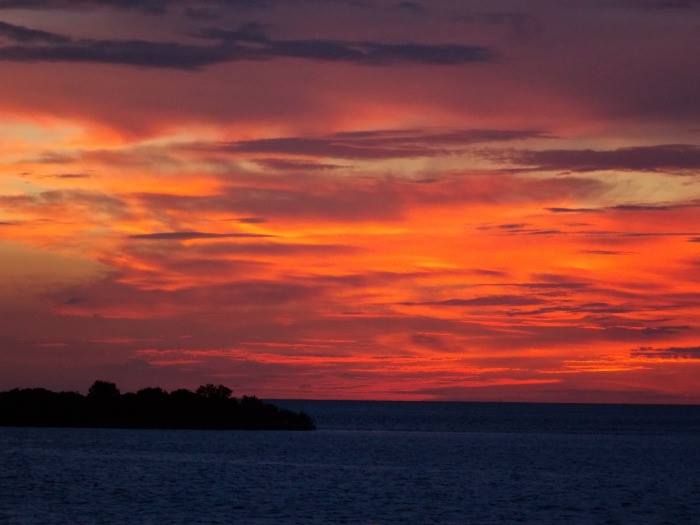 After sunset, we had an appetizer at Cracker's restaurant. Conch, Gator bites, and Clams.... while watching Shark Week.
Wednesday, we finally were blessed with a dry day. Time to throw on the suits and snorkel gear and hunt up some scallops.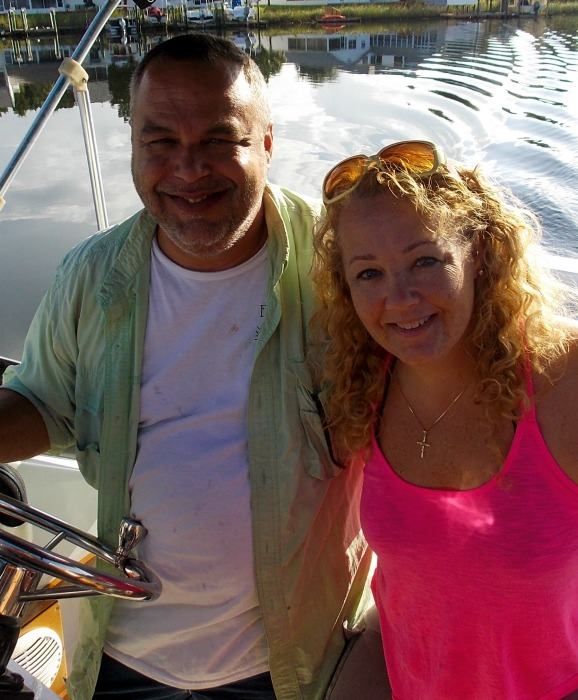 We traveled through some beautiful area. I turned the camera to get a vertical shot, but I think I prefer it this way. Looks like a Llama to me. Any else see that??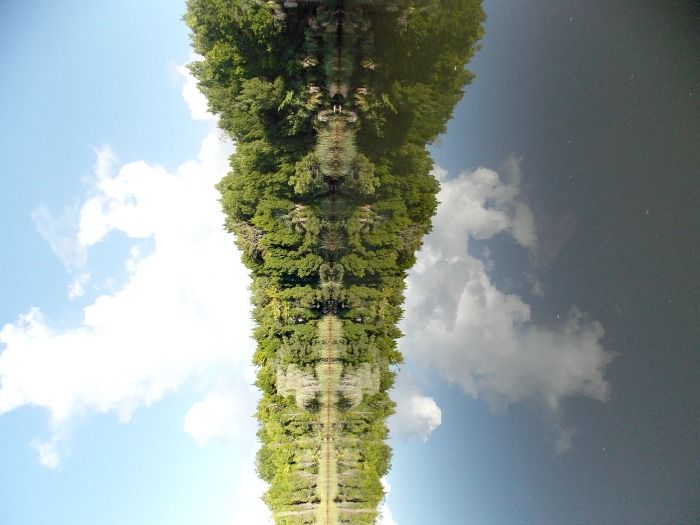 These two have been sitting up here for several years. Life jackets change but the fun conversations never stop. It does my heart good to see them getting along.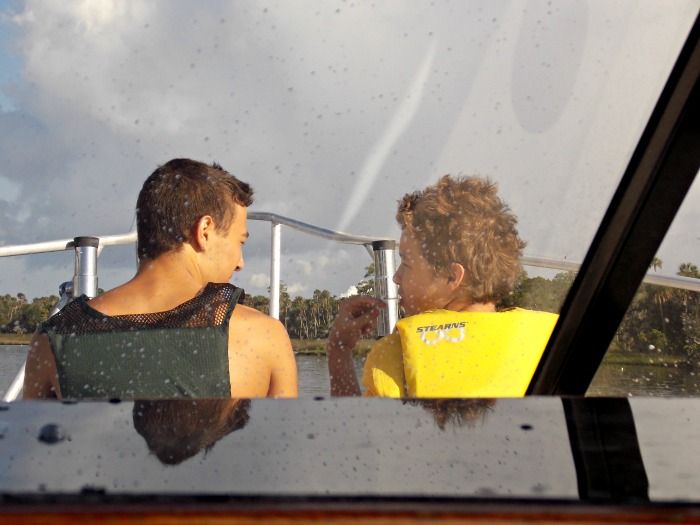 Oops, a throwback to the canal again. With sunglasses this time.
At one point, I was in the cuddy, organizing all the gear and sending it up to the guys. I think I must have said something funny to get them to smile. Hmmm. It worked.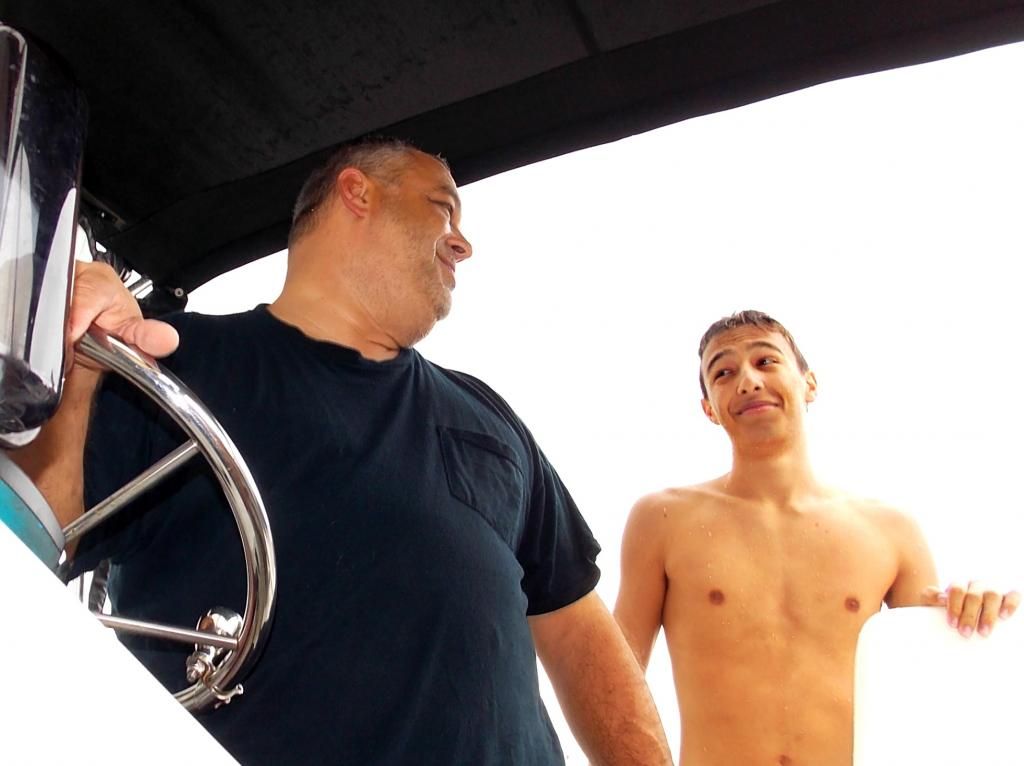 These two get along so well. Hard to believe our son is 18 now.
If you've known Jack for any length of time, you will know that he makes a lot of funny faces, especially for the camera.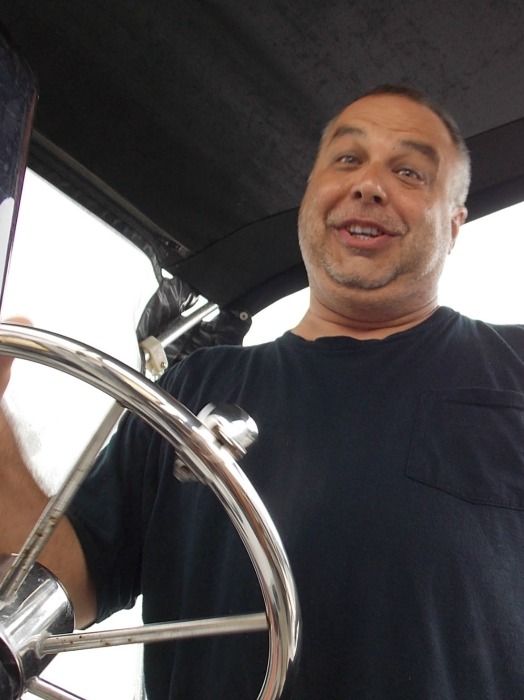 I do have more scalloping pictures but forgot to down-size them today. Here was our entire catch for the day (& trip). Very pitiful this year. Current was ripping because of the full moon. There were times I was kicking and kicking and wasn't sure I could make it back up to the boat. I was concerned a little bit for our youngest. He was smart to stay by the boat and extended rope we leave drifting behind it.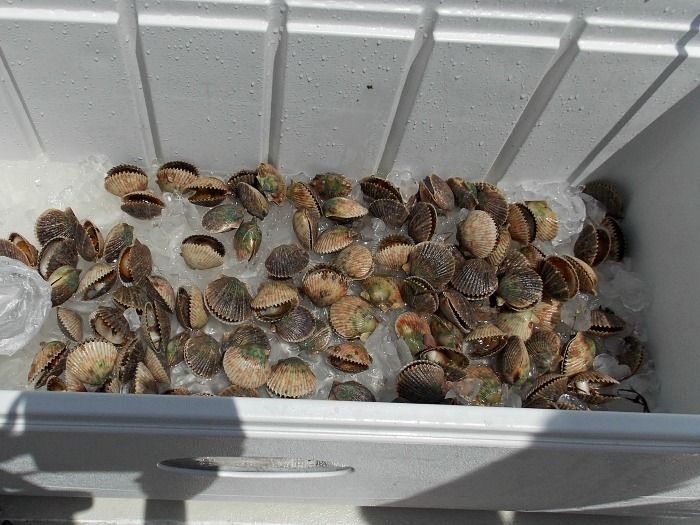 We came in before dark so we could explore Shell Island. We thought it would be like a mini-paradise. We were SO WRONG!! It was filled with biting flies. Couldn't enjoy 2 minutes out there without getting
bitten,
stung!! Jack swam my camera out to me so I could take these photos.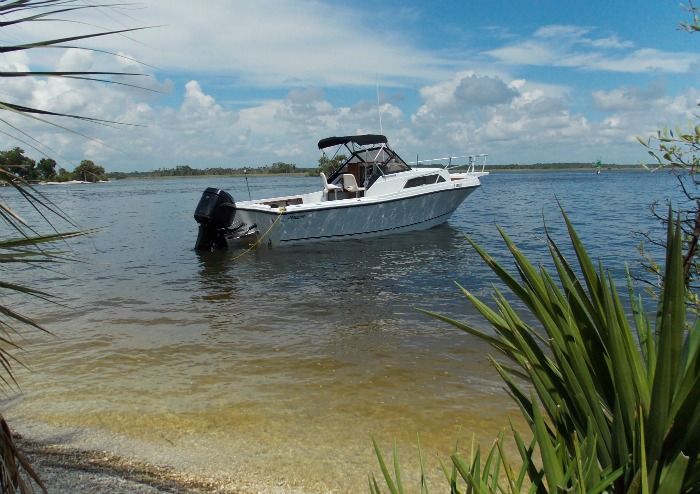 The boys are already back in the boat in the picture below. They just laid down. ha ha.

I think this actually goes on Tuesday night pictures... playing with the underwater camera.... while it rained. Then, the camera bit the dust while looking at the pics online. Waaaaah. No camera for scalloping.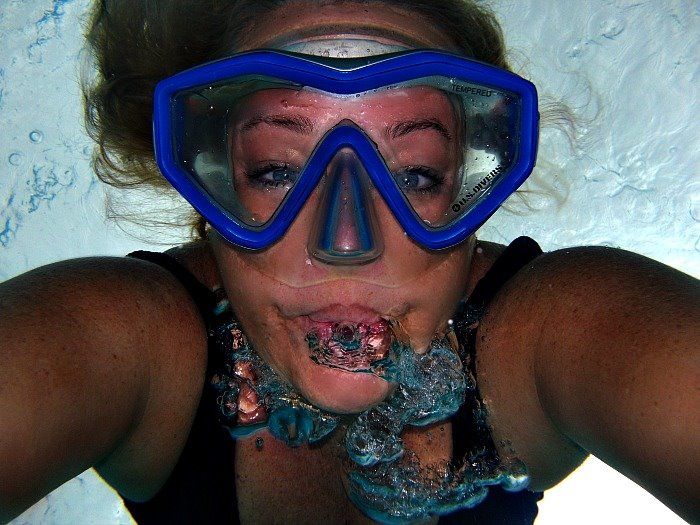 Thursday, we loaded the boat back up and then left it at the hotel while we went down the Homosassa Springs Wildlife Refuge. So many great pics, but here are just a few.
Horned Owl.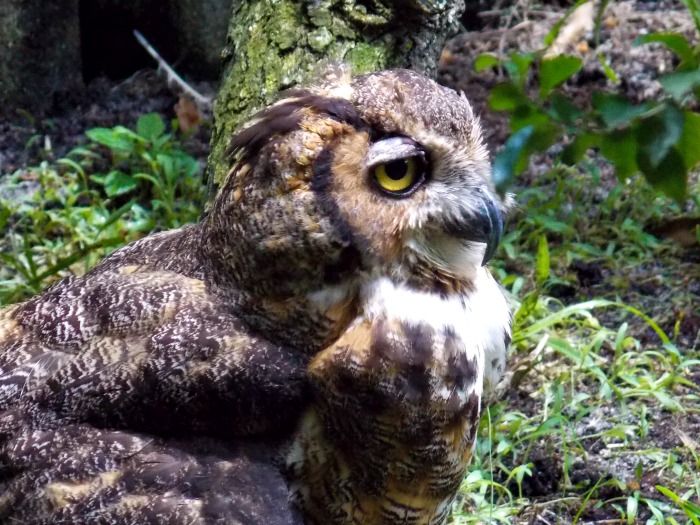 They have Louie the hippo (honorary Floridian). He didn't want to participate much for the crowd. I have one or two pics that maybe I can try to show later.
We saw gorgeous birds, foxes, bears, deer, gators, manatee and fish! We saw they were building a Florida panther exhibit too. Should be coming soon.
These are Barred Owls.
The whole center is built around a protected spring. Boat and people are not allowed back in there. But, they have this fantastic underwater observatory. (There is a manatee in this picture!)
My Captain, O Captain!! (in honor of Robin Williams, who passed while we were on vacation) Love him.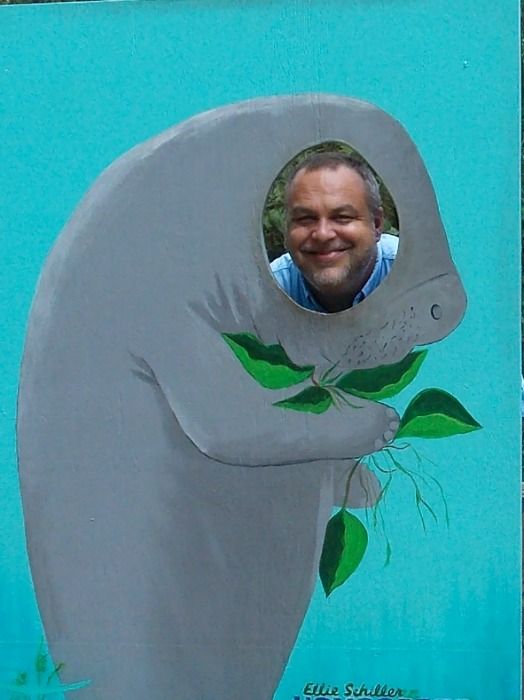 And I am his Mommatee!! LOL. Hey, if you're going to be a manatee... you need to do it in style.
I could not stop singing, "Barbara Manatee". We showed up in time to see their feeding time. Kids called this cabbage but I think it is more like a bok choy. Right?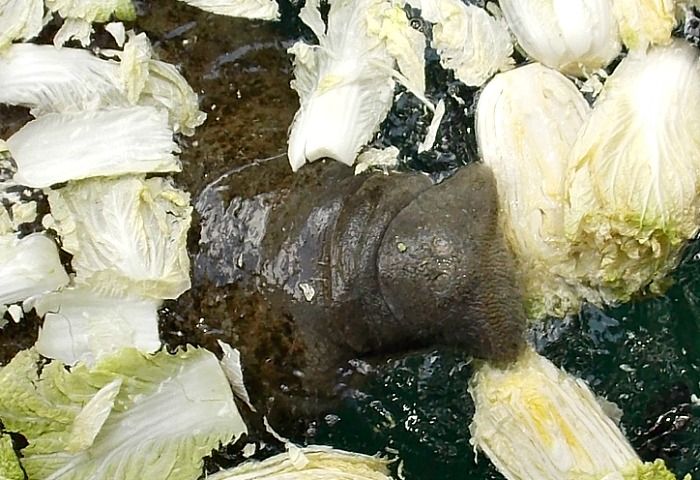 Ok, this picture (the really big, quality pixel one) is going in a frame or a calendar somewhere. Love it!! Those are healthy Sheepshead feeding with the manatee.
Hungry??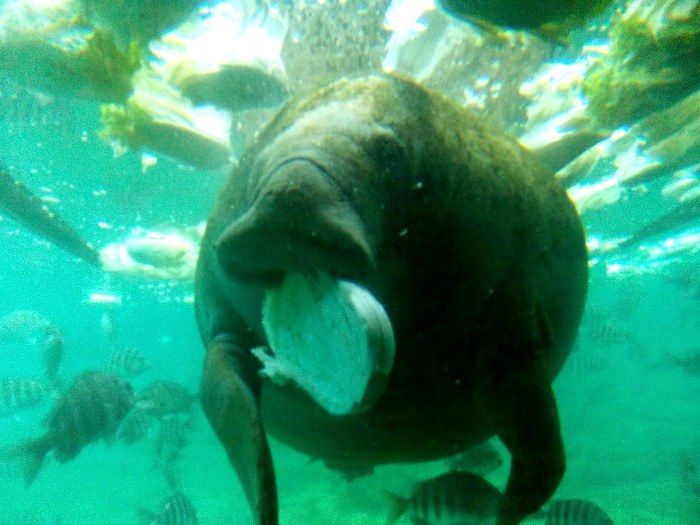 We could have stayed here for hours. They even use their flippers to hold the food in place. LOL.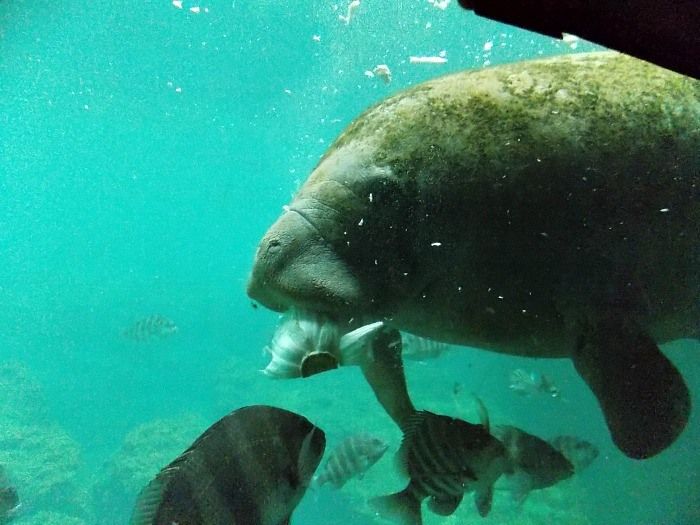 Well, that's a good portion of the pictures. Hope you enjoyed them.
Happy Vacationing and Beginning of School,
Robin