9.28.09 - OFFSHORE FISHING
by Robin
I had to drag Jack out of bed at 6am to check the weather reports. We loaded up slowly and were getting gas by 8am. Not exactly "Crack o'Dawn" stuff. We were clearing the port a little before 9am, greeted by the prettiest high-level clouds. It was going to be a gorgeous, rain-free day. Plus, we were fortunate enough to have some cloud cover for the morning.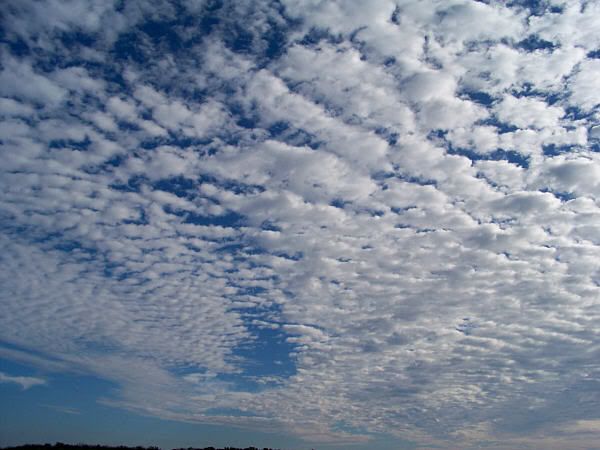 Unfortunately, we were also greeted by the occasional 5 ft wave once we stopped on our first site about 17 miles offshore. We caught the usual customers. Black Sea Bass & "short" Red Snappers. We kept a few larger Sea Bass. Then, at one point, we decided to change locations. The 2nd & 3rd locations seem to be the nursery for baby Black Sea Bass which got rather annoying since they tried their best to swallow a lot of hooks or lose an eye w/ hooks. Jack begged me to go further offshore and troll some lines. Since we weren't pulling in those mutton and lane snappers that I so hoped for, I agreed.
He was hit in less than 5 minutes on the first line but we didn't know what hit it. We drove a short distance further to see the waters crashing to the right. (Gee, it doesn't even show up well after all the uploading & downsizing.)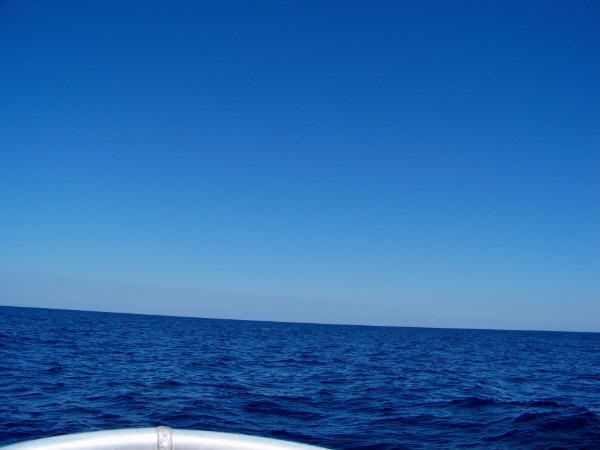 Here it is with some cropping. Very large Blackfin Tuna were in the area and skyrocketing out of the water. We did our best to trolling around for some of them. Nobody wanted to eat OUR ballyhoo.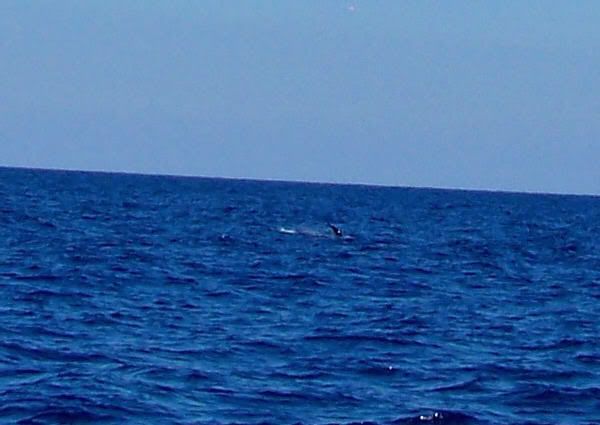 I think about 45 minutes later, we gave up trolling, but noticed the seas had settled down considerably with the heat of the day. So, we went back to bottom fishing.
Truly, he's happy, but the sun is in his eyes. Poor son. He puked 2x in the morning. I would have too if it hadn't been for the ginger pills.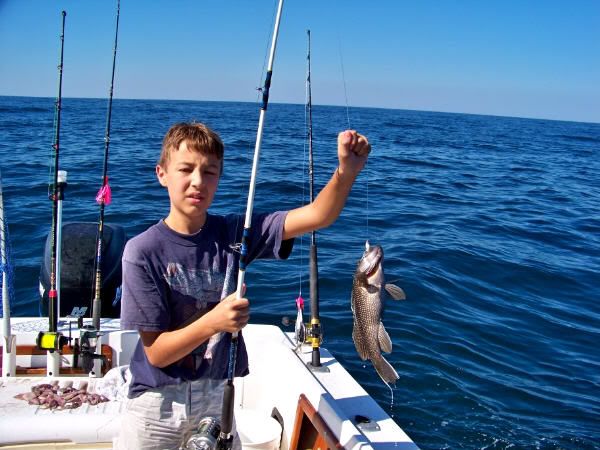 Jack pulled in a lot of short Red Snappers. This is one of the smaller ones. I just love the color. This color has NOT been enhanced.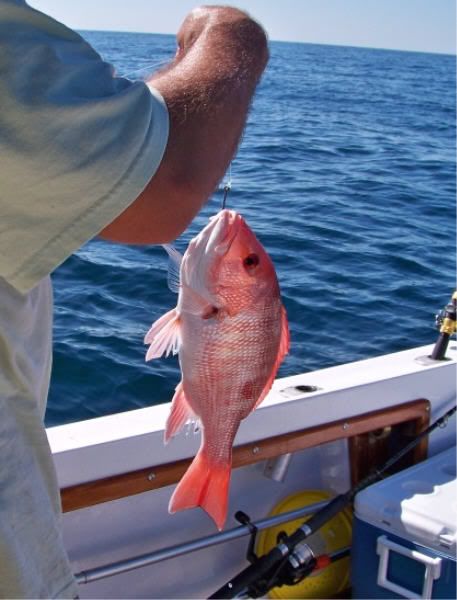 Here is our son learning to take the hook out of a fish that swallowed it. We lost so many hooks to save the snapper. I lost a nice circle hook on some monster grouper that rocked up. We're almost certain that it had to be a Goliath grouper (about the size of a VW bug). My Sturdystick rod amazed me by not breaking with that fish. I had my drag on too tight and the fish couldn't pull line off the reel. I had to use my full body weight to keep from losing the rod/reel combo. He was a big'un.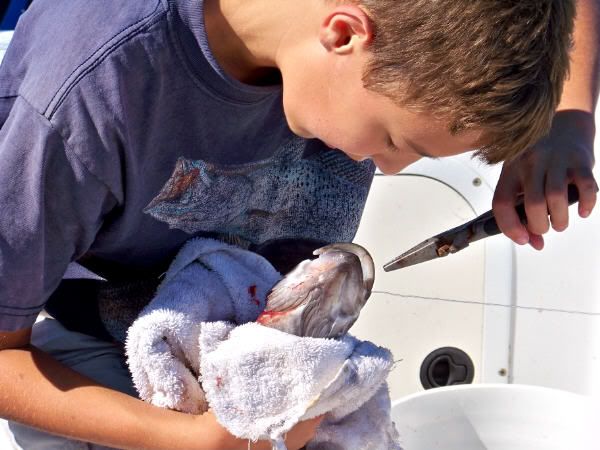 Anyhow, dear son was so careful with this fish. He hated that it was bleeding. I did not because I knew it was good eating size and he was going in the cooler anyhow. The towel is also for our son's protection. I can't tell you how many times Jack and I were punctured by fin spines. The hydrogen peroxide came out a couple of times.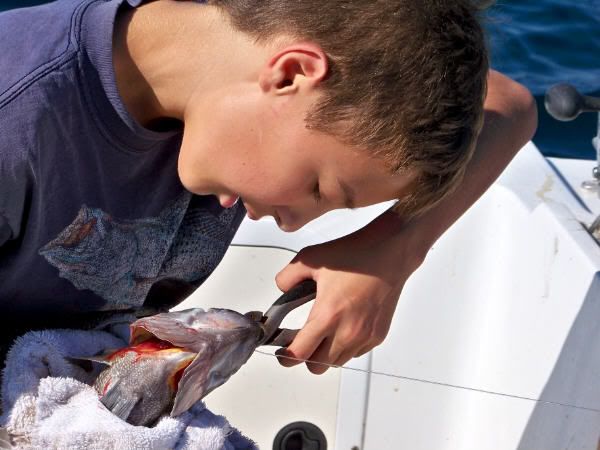 Oh, did I forget to mention that Jack found a nice patch of ground that was holding Triggerfish. I pulled two up back to back. These were really nice eating size.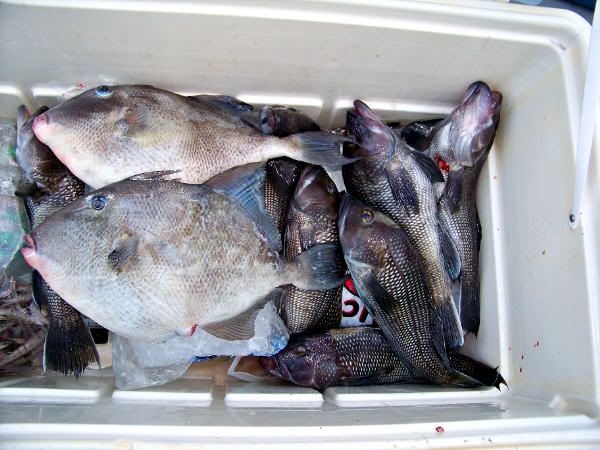 The kids and I made a deal with Daddy that we would clean up the boat if he cleaned the fish & made dinner. He made some delicious triggerfish sandwiches and deep-fried french fries. YUMMY, especially after a day of being nauseated on the water.