by Robin
My husband took a day off from work and my son was out of school and had a day off from his job, so.... they went fishing. They also took a long-time friend, Mike, who had seen some grouper pre-opening season (May 1st) and had to let them go.
Today, was revenge. Time to scoop them back up and put 'em in the cooler.
I was busy with last day of school things with my youngest so this was the guys' account of things that day.....
Cleared the Port by 8 am and it was a sloppy ride out to the first drop site. Jack didn't like a couple of the places he was given coordinates to go. No fish showed on the fish finder. So, they motored over to our favorite dinner-reef fish area. First drop, Son hooks up with something huge. Fights it a few minutes and then loses it. While getting a new bait to put on the hook, they realize his first hook had no barbs!! So, they change that out.
Second drop with a live pin fish, he hooks up again. He's fighting and fighting. And up comes this gorgeous gag grouper!! Awesome because you can keep one of those in your grouper aggregate of 3 fish.
It was by-far over the 24" size limit. In fact, we measured it at home and it went 35"!!!!
Third drop, Mike gets his bait chewed on but no hook-up. Seconds later, Son hooks up AGAIN!! He fights and fights his fish and this is what pops up. Another quality fish but Red Snapper are out of season and so they vented it quickly and it dropped down. Oh my goodness, the heart-break of not getting to keep such a beautiful and tasty fish.
But, time to fish again. New pin fish. Drop. Son hooks up with another fish. They fight a bit and a small Amberjack comes to the surface. They release it too. Not as heart-broken over that and they didn't even bother taking a photo.
By this time, Son is absolutely feeling jello arms and the seas are giving him some nausea. He's out! Mike drops a few more times and it produces nothing.
So, because they had at least 1 quality fish and 1 sick kid, they decided that was enough and called it at a half-day.
Here are the last shots before they filleted it up amongst the families. Mike's wife knows how to make fish head soup and use every bit of the fish. We took a nice side, including the ribs to fry up.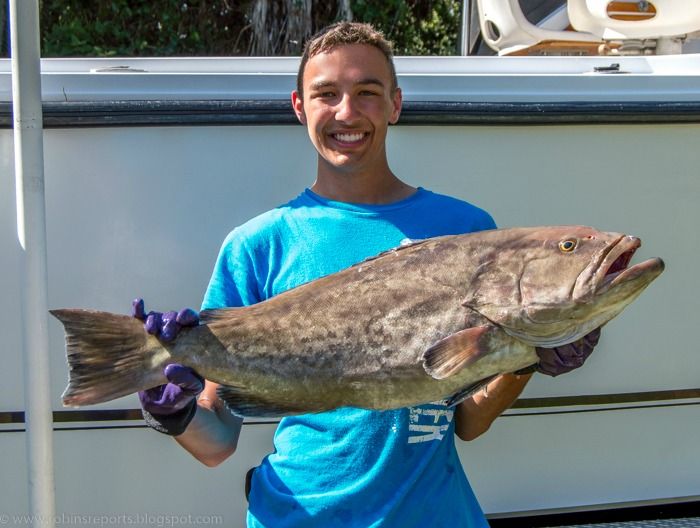 Next week, Jack has some vacation time and we're going to head out and try for more grouper. Praying God blesses us!
Grouper teeth!!! That would hurt if you got bit.
Happy Fishing,
Robin