4/24/09 - COBIA

by Robin
Fishing was very slow for Jack on Thurs, the 23rd. But, we still decided to head out Friday as I needed my blue-water fix and it was another day of no wind. The forecast predicted that the winds would kick up again for another week after that, so we went.
We had no expectations except to have a fun family day out there. We were not disappointed.
God blessed us before we even dunked the water with having an internet fishing friend give us a tip on where he had seen some manta rays & cobia when we was up flying in a helicopter for his job. WOW. What a tip.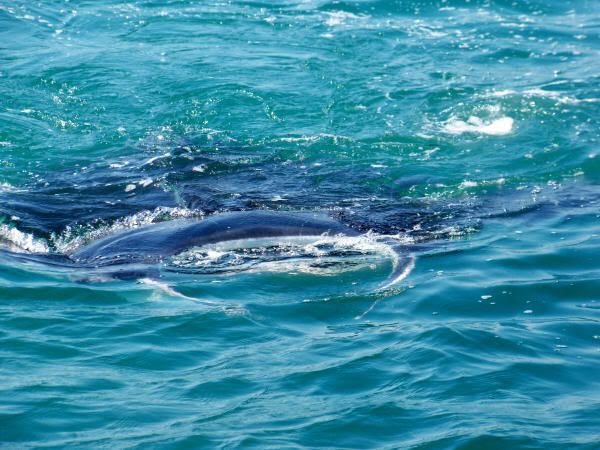 We followed him out, but tried not to tail him too much. We turned left at the port entrance and followed the coast of the cape until we came across a beautiful "girl" who was practically sunbathing while slow-cruising her way north. Jack made his first cast in front of her and instantly he was hooked up with a cobia.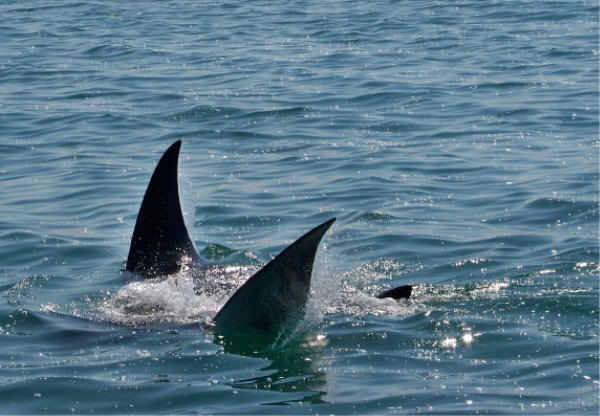 I love it when your morning all falls into place so smoothly. Fish in the cooler within the first 30 minutes. We casted more to "her" but she didn't have any more cobia following her. Then we spotted 2 "boys" who were in a big hurry to swim south to our gal. Jack cast towards them but they were clipping so fast on the surface that the jig & one's wing met in the middle and ...... resulted in losing our favorite pink jig.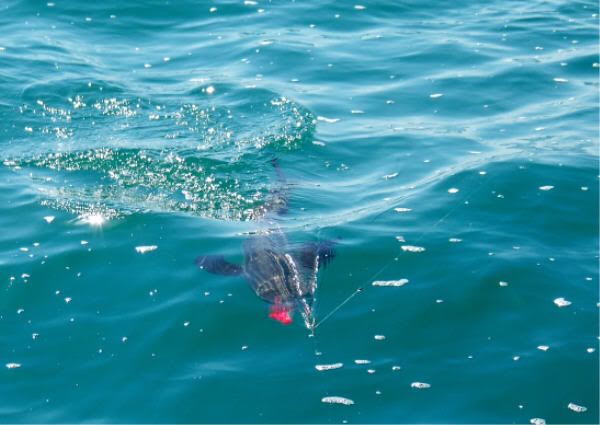 All three did a little dance, spinning around and eventually the "boys" took off, leaving our "girl" alone to slow cruise again northbound. We did see one free-swimming cobia but he was very spooked so we were wondering if our friend had already played with this one before we got here. Regardless, he was not going to help us make our limit on cobia for the day.
From there, we went to a shoal called 8A. We were looking around for any prospective bottom dwellers when I spotted a school of small mahi mahi. I chummed to them right away but they weren't having any of it. They disappeared in a hurry.
Jack wasted no time in deciding to head out to deeper water to troll some lines to possibly pick up some bigger mahi. Well.... long story short... no mahi for us. Very few were being caught in 300-600 ft water. It may still be slightly early in the season. Water temps were 77-78 which is borderline low-end of what the phins like.
We ran into our friends out on the water. These are Jack's coworkers.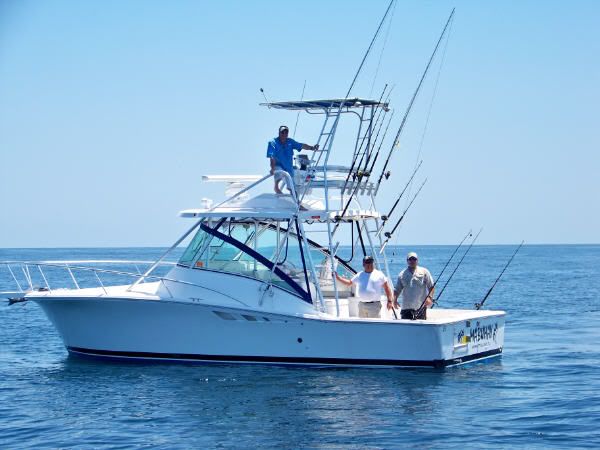 From here, Jack decided to end our day, only I didn't know that. I had taken to sunbathing on the top of the big cooler. I asked what we were doing. Jack said, "Going home." I guess I gave the biggest, disappointing, "What? I haven't even wet a hook." Jack never questioned or replied. He meerly plugged in new numbers and south we headed.
We ended up anchoring on a great little spot. Lots of little fish - blk sea bass and short snappers & a couple grunts. Nothing for the cooler.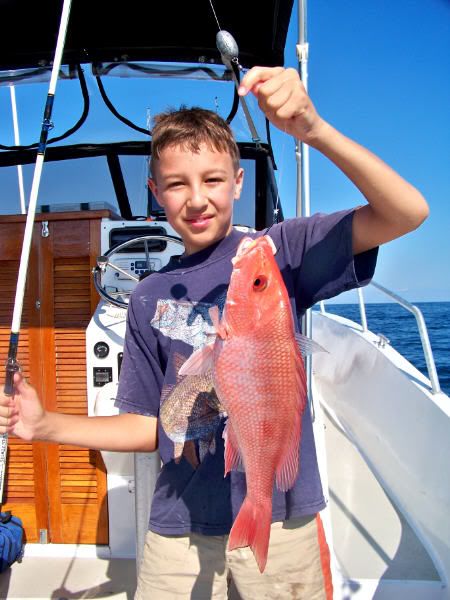 We left that spot at 5:30 for the port, 20 mi away. Pulled in the driveway at 7:30pm. Finished with boat & fish cleaning by 9:30pm. Wow, what a cool day.
I'll have to post up more pictures in another day or two of the Kennedy Space Center launch pads. We saw a rare treat. Both pads had shuttles sitting on them. I'll make a separate post for that.
Happy Fishing!!
Robin