6.8.09 - Final Saga of Bottom Fishing
by Robin
When you spend hours and hours offshore, there are so many things that happen and so many great ideas for stories. I had to split up this one from the rest of the reports.
Mike and Helen have this beautiful sportsfisher boat. Huge! I tell ya. Huge!! Here's Helen with her Chocolate Chip Porgy. It's big enough for 2 small families to fish together (or one large family of 14 Renee - LOL)
They also have a teenage son, but he decided to stay home this trip. BUT, I'm tellin' ya, their daughter LOVES to fish. I don't know many 14 yr old girls that love to put squid on a hook, send it down, then reel up fighting mad fish.
And then, she even knows how to take them off the hook. She is quite the angler already.
Plus, she has blossomed so much since last year when we met a little girl. Now, she's becoming a young lady and well..... my guy was totally embarassed to have to pose with her. I hadn't realized it until I snapped this photo that they were somewhat avoiding each other all trip. We're not "into" girls quite yet, but it is on the horizon.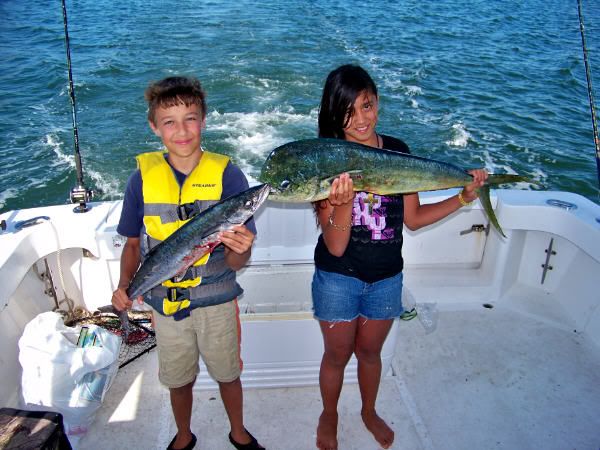 For now, driving the boat is where his interests lie. Not posing in photos with girls.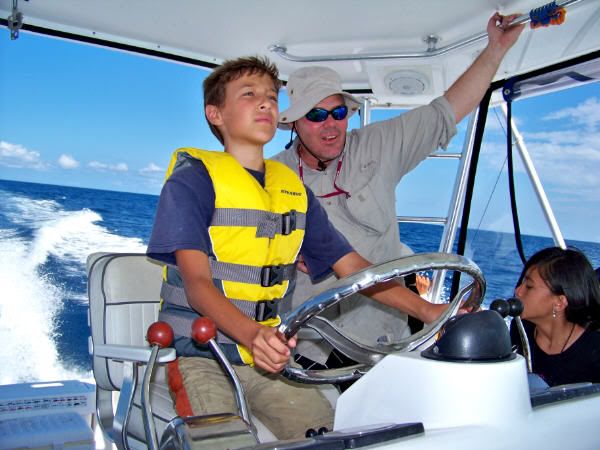 Thanks Capt. Mike for letting my son take us home aboard your vessel.
Happy Fishing!
Robin