6.8.09 MIKE & HELEN's BOAT
by Robin
We had a great time on Mike & Helen's 32 ft Luhrs Sportfishing boat yesterday. I'll throw up a couple pictures now and then try to add more pics & stories as the week goes along.
We got the boat "dropped" into the water by the forklift at 7 am, took a couple tries at catching the foot-long mullet in the marina. Didn't catch any. Headed out the inlet with the guys on top of the tower. I was standing in the cockpit where you fight fish.
I love the look on my youngest's face. It say a lot about how he feels about fishing.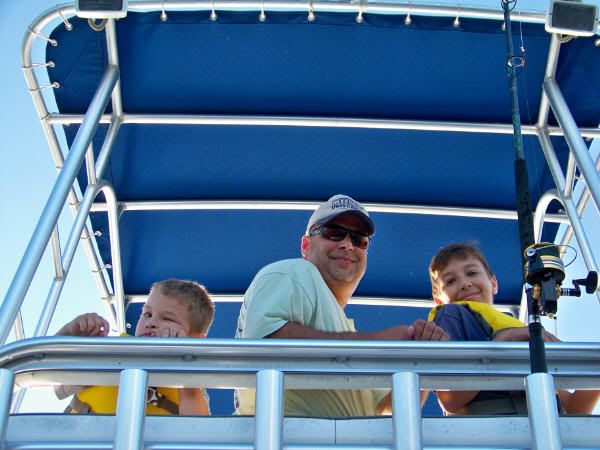 We stopped about 70 ft and start trolling. Our eldest is first up and he hooks a kingfish and brings it home.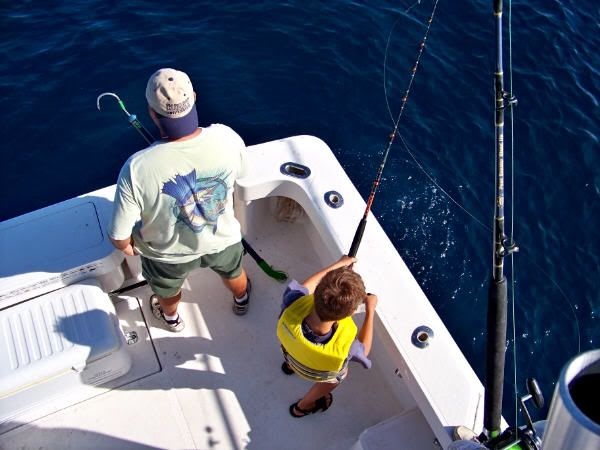 Daddy gaffs it for him and puts him on ice. That gray you see around the fish is a big puff of diesel smoke.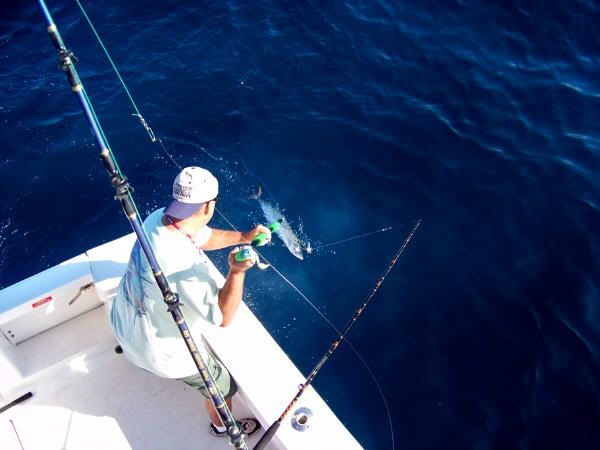 Here is our eldest helping Mr. Mike with rigging up another ballyhoo to put on a trolling line.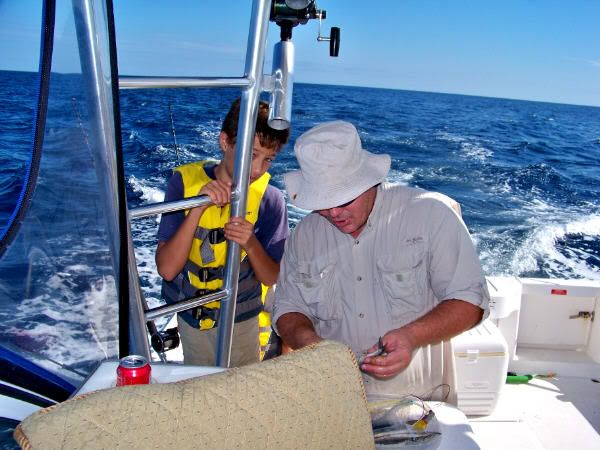 We move to deeper water (145 ft) and put lines in again and run alongside a rip (will be explained more later). Next is Mike, who owns the boat. He fights a gorgeous Mahi mahi.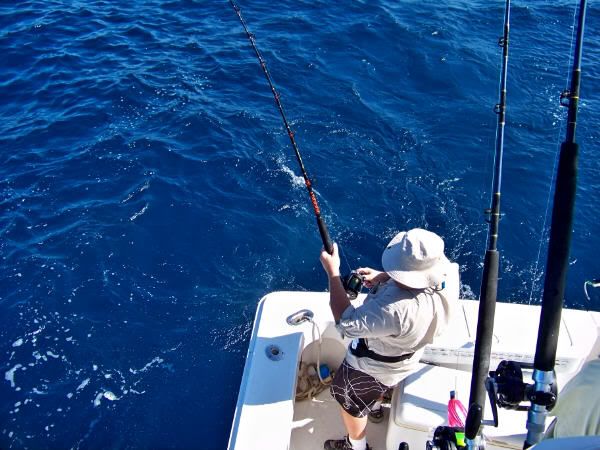 The bull was so calm for the longest time.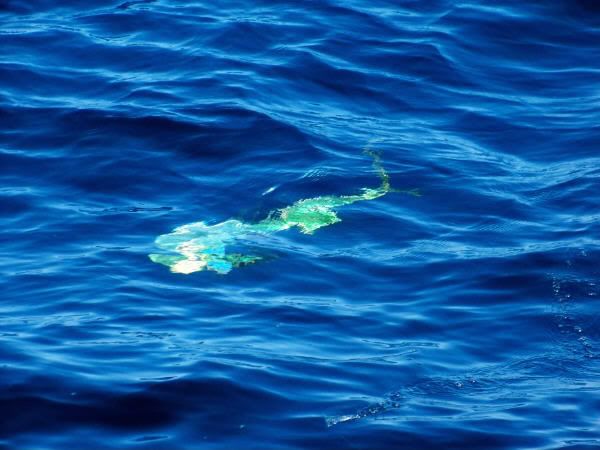 Then, he jump once he was boatside. I think he was trying to tell us he didn't want to go on ice.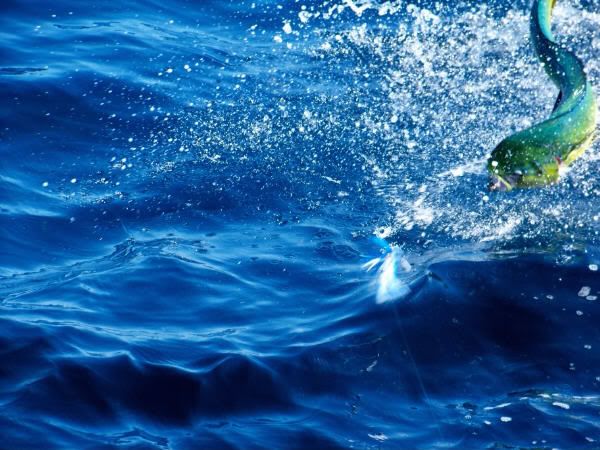 Jack did a great job of gaffing him quickly and putting him on ice.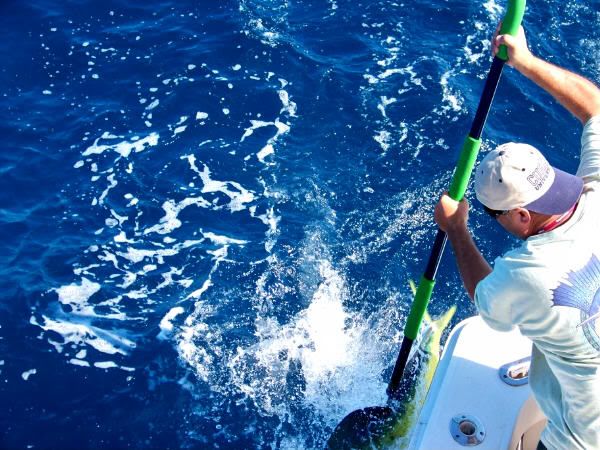 Next, Helen hooks up with another mahi but not long after the fight begins, the fight is over. The lines were crossed (by the fish) and somehow, he gets some slack and spits out the bait & hook. Awwww. That happens with fishing. That's why it isn't called Catching.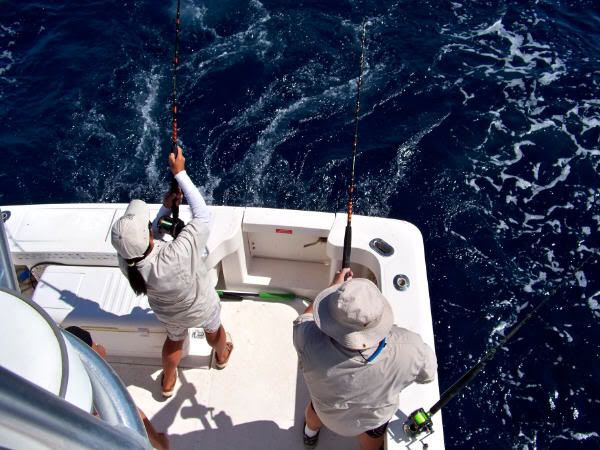 Then, we're rudely interrupted by a submarine. (LOL) I know many of you think this is rare and odd but actually, we see it fairly frequently. It's almost annoying because we have to keep a wide distance from them and they were right in our way of trolling. Many times, they delay our entering or exiting of the port.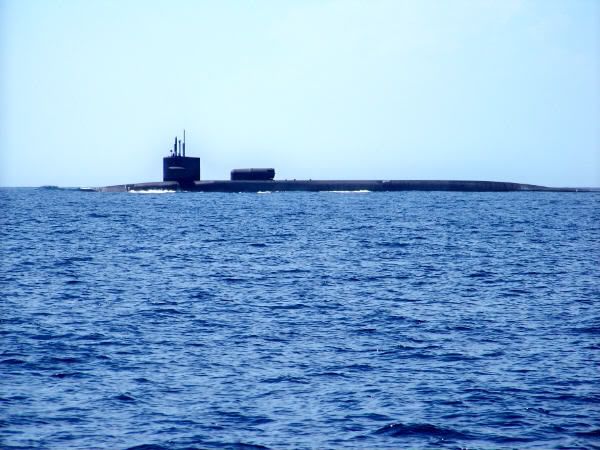 We trolled a little bit longer with no fish to show for it and then we decided to change locations and bottom fish. I guess our *10 o'clock bite* was officially over. More on that another day.
Happy Fishing!!
Robin