WHEN is COBIA SEASON??
by Robin
Well, that is a good question and there are some signs that can help you to determine when to start heading out to hunt for your cobia out of Port Canaveral.
(Jack with his 43 lb cobia in 2007)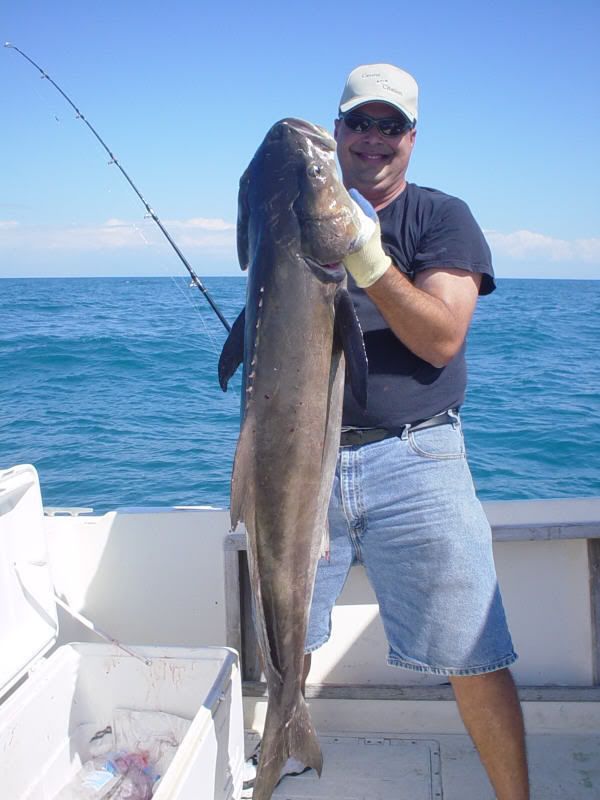 While we have cobia here close to year-round, mostly those caught in the "off" season are taken while bottom fishing off of nice ledges or wrecks. Many times, we get a nice bonus cobia in January or May because they've hung around our area, but are staying warm with the water temps at the sea floor. That is how Jack and I caught my big 60+ lb cobia last May while snapper fishing.
However, sight-fishing for cobia is a lot of fun. You don't have to get up at the crack of dawn. The days are warm and you need a lot of sun to find the fish. The water is usually flat or waves come in gentle swells. Our family always enjoys the all-to-short season when I hop on top of the cuddy cabin and spot cobia for Jack to cast to. I enjoy being the spotter and he's a waaaay better caster.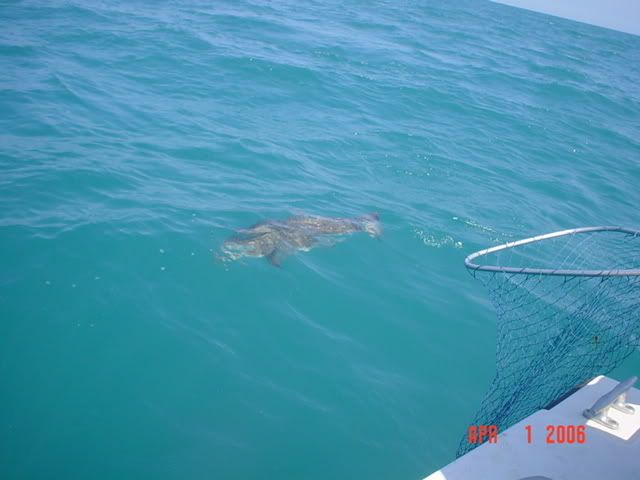 Sight-fishing for cobia can be broken down into two ways. One is obvious, you see them free swimming either alone or with small groupings. Sometimes they spook if they've seen too many fishermen already that day or sometimes they will hang around because they're curious.
The other fun way to find your cobia is when they're hanging around other marine life. I've heard you can find them under turtles but we haven't had that pleasure yet.
(Small manta with no cobia on the back, right below our bow - pic taken in 2006)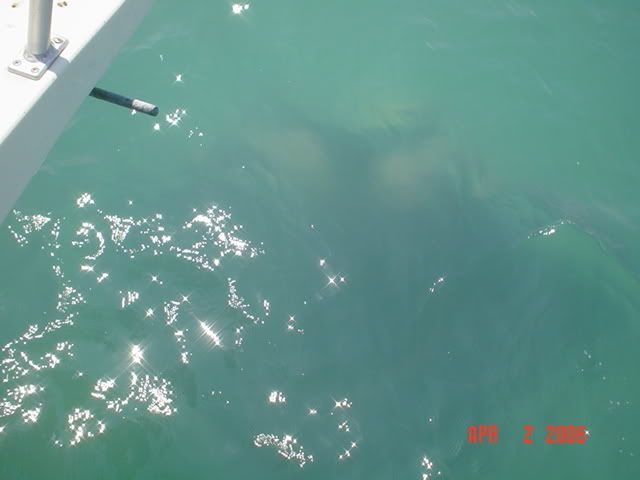 BUT, we have the most fun chasing down manta rays and checking their backs for cobia hitching a ride. This is so much fun and yet frustrating because those mantas get wise to boats following them and they dive down for a while and might pop up several hundred feet away. If you're stealthy enough, you can slowly cruise up behind or beside the mantas without disturbing their "flight" and cast ahead of them. This gives the cobia time to swim off their backs, take the jig and then you be in a good fight while the manta swims off totally unharmed and unphased.
(Here is a pair of mantas with cobia--you can barely see the brown blip above the right cobia's shoulders)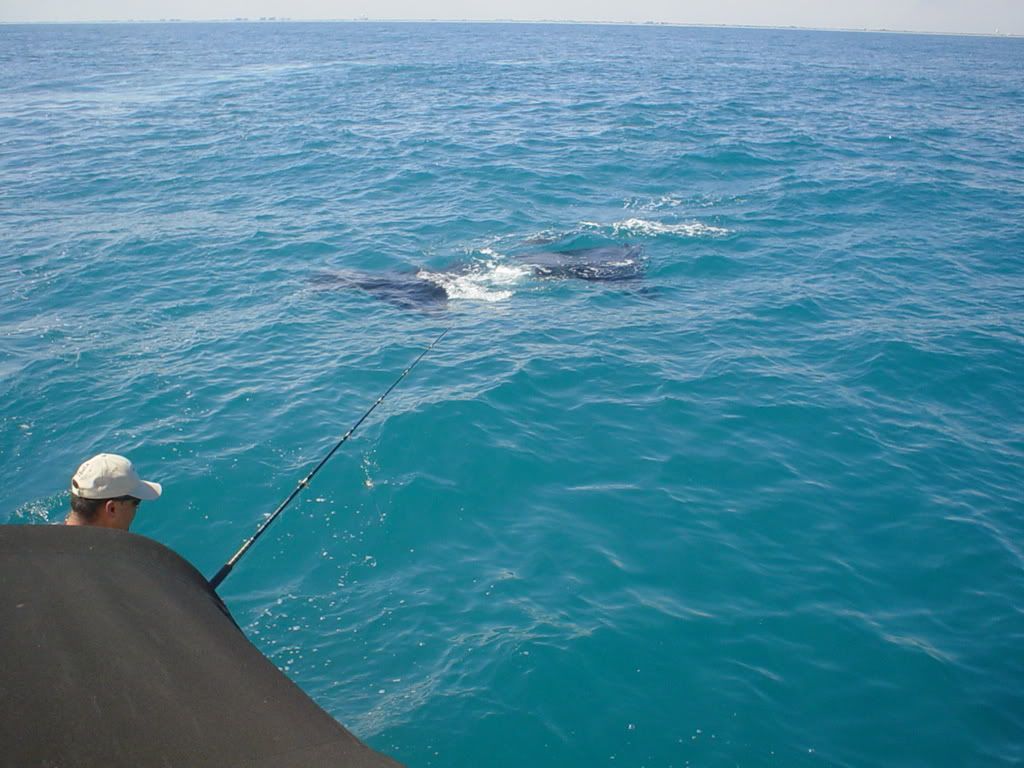 Many years ago, I tried my best to cast in front of a manta and ended up not moving the jig fast enough before the manta swam into it. I thought I had a fantastic cobia on the end of my jig but all that excitement disappeared when we realized we were being dragged out to sea by my catching a manta instead of a cobia. Oh no. Jack had to recover as much line as possible and then cut it once we got close to the manta.
How do you know when to start sight-fishing for cobia? One of the old fisherman's saying is to watch for the azaleas to bloom.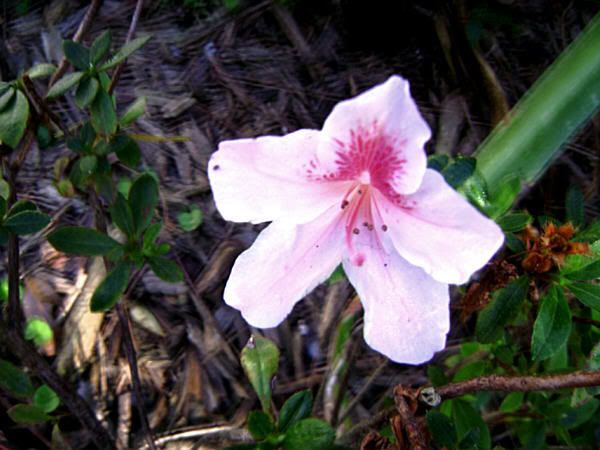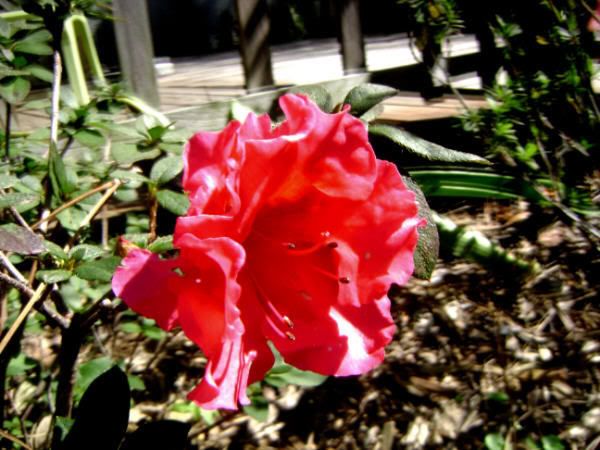 I've had a couple bloom in the yard this week.
Secondly, we watch the sea surface temps to rise up to the magic number of 70 (give or take a degree). Here is a sea surface chart from last week. See how right below the Cape, you'll see more of a blue/green look?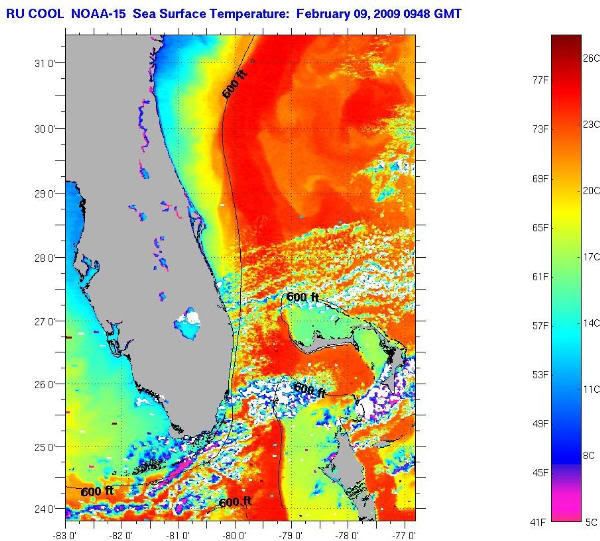 You're waiting for that to turn yellow/orange. We're getting closer but still not there today. I believer we're going to have an early cobia run this year.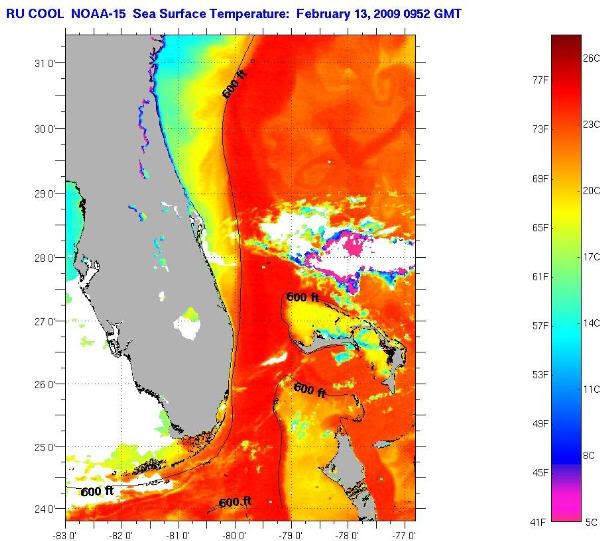 Once that happens, get the boat gassed up and dust off your chartreusse jig. You're ready for cobia season.
Happy Fishing!!
Robin