FAMILY DAY @ THE BEACH......
...ending in a fish fry!!!
by Robin
After this past month's hard freezes, we really need a day in the sun. I don't think we made it up to the 70's but it sure felt good to be in the sun and not in the house. This is the way we got to the beach without getting all sorts of sand in our shoes & car!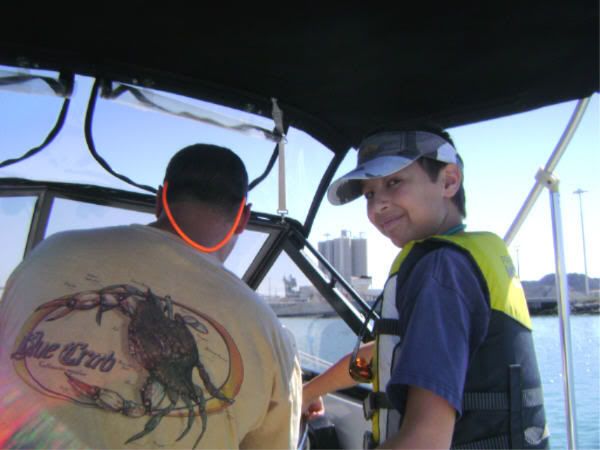 We let our eldest drive out of the Port all the time while Jack and I do the setting up of equipment. There wasn't too much for me to do this time, so I took some pictures.
Little man went to the front of the boat and kept an eye out for surface fish, pelagics. Also, we had a perfect view out of the port of a shrimp boat with its arms extended out.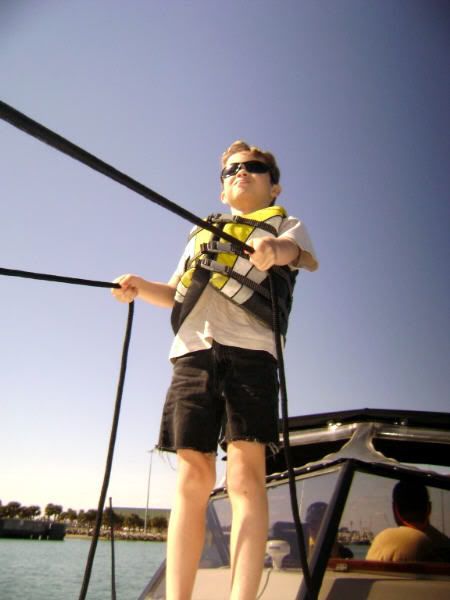 Once out of Port Canaveral, we made a hard right turn down the beaches and headed towards Patrick Airforce Base beaches. We were hoping to see some manta rays or cobia, but dolphin are an exciting thing to see as well. Sorry for the graininess. The dolphins were at a distance and I cropped the photo so you could even tell what they are.
They were probably traveling in a pod of a dozen or more. I missed the big "money shot" closer to the boat. Sigh. He jumped slightly out of the water. I was not prepared --shame on me.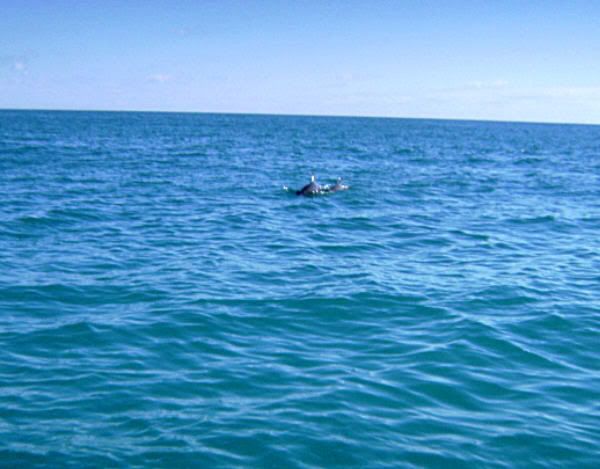 My sons told me I should have has the movie setting on and then I could have caught something better than above, but not quite like this stampede in the video below.
We anchored up once we arrived to Patrick AFB and got our shrimp out.
Hooks in! My eldest caught the first fish, a whiting. (Little man is below)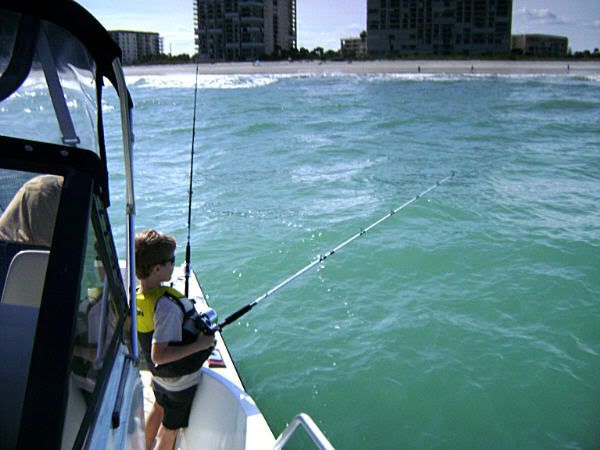 We changed up spots because we were basically getting nothing here. We moved up a couple miles to the Indiatlantic beach. Jack got us a little closer in to the beach. We were right behind the first wave break. It took about 30 minutes of casting for one of us to find the exact place of the underwater trough and then we all started catching fish. As you can see, I found the trough first. It paid off with a small, but delicious pompano. We also caught so many whiting that we ended up throwing a bunch back.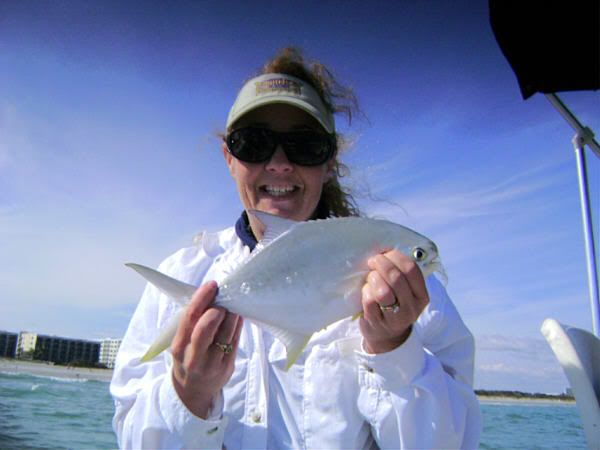 At one point, I thought I had this huge fish (maybe shark) on my line and enjoyed a good fight on light tackle. Unfortunately, it was this rather large Southern Stingray who tried his best to whip Jack as he pulled the hook.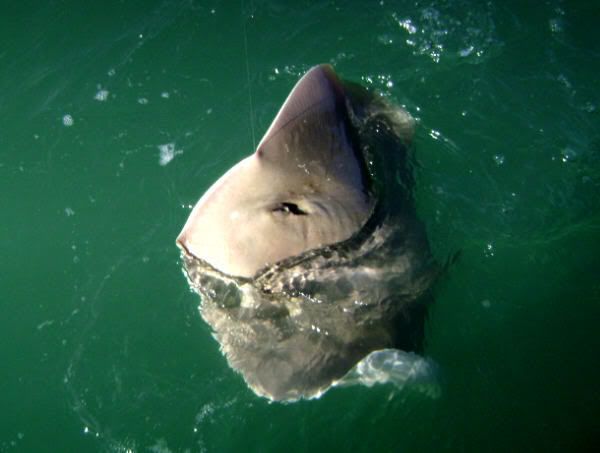 I began to get nauseated from the wave action and begged the family to please head home. Good thing we already had enough for our fish fry last night.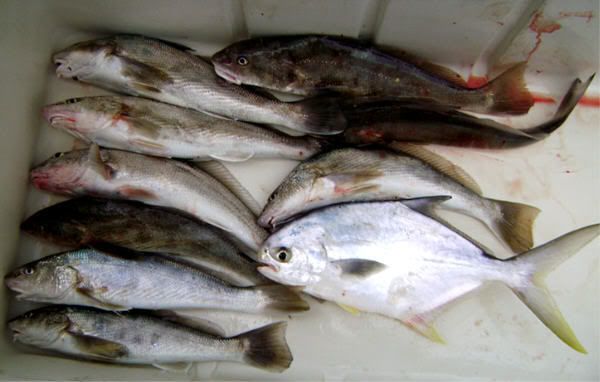 The guys were so good to do most the boat cleaning while I put up stuff. By this point, my nausea was completely gone and hunger set in.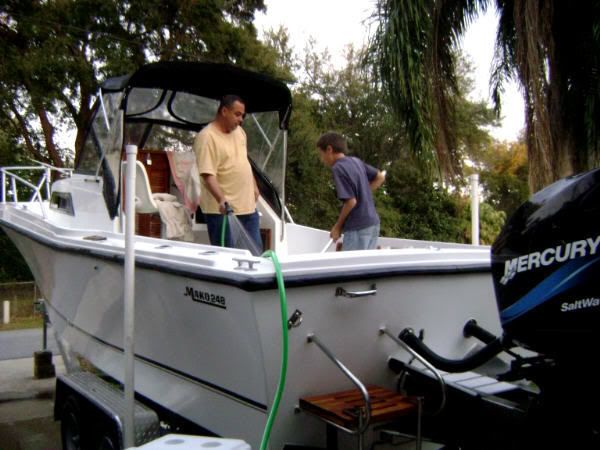 I know this is a Foodie Nightmare, but we had cornmeal coated fish (think catfish dinner), with cornbread and corn for sides. Thank goodness for applesauce, right? (Oh, for those of you who know I do my best to follow veganism plus fish & eggs.... the cornbread is made with Dream rice milk & vegan Smart Balance.) Either way, it was delicious and I stuffed myself silly.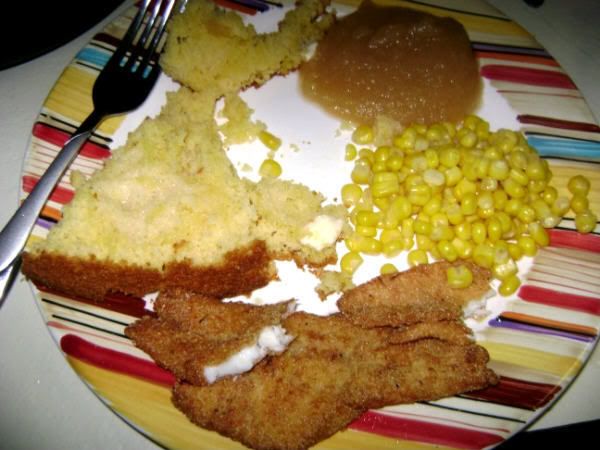 The other report is that we did not see a sign of whales, cobia or manta rays. The waves were low, but wind wave kicked up pretty good as the day went along. Beach water is always green & stirred up. Lots of rip currents. I was hoping for a lot of warmth, but the wind was still cold. The kids have pink cheeks though.
Happy Fishing (or Going to the Beach!)
Robin