NORTHERN RIGHT WHALES
by Robin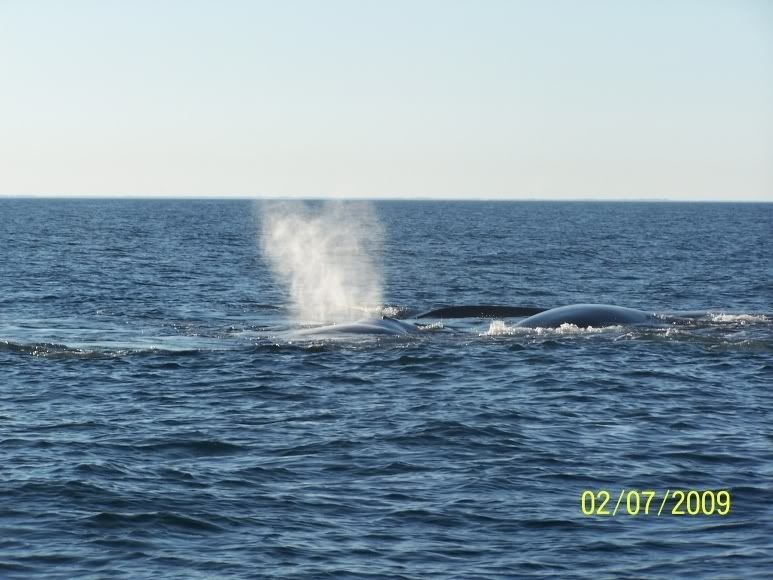 It looks like we have missed the N. Right Whales migrating up the Atlantic coast. Last couple weeks, the fishermen out of Jacksonville (Mayport) have been posting up pictures left and right of whales. One of them (Mark of Middleburg) took this wonderful picture which I am borrowing to show here. He has a great series of pics on the Florida Sportsman Fishing Forum (NE fishing reports). Great photography.
Anyhow, I hope that we still get to see one or two before spring/summer arrives. I missed last year's migration too because we were still completing the boat restoration.
The seas have been kicked up to 3-5 ft last week and this upcoming week. My parents are coming into town tomorrow night but I think the weather is going to prevent us from doing any offshore fishing. We'll be lucky if we even get a river ride. What we do intend on doing besides visiting with each other is eating SEAFOOD. Yum.
I will post up some delicious dinners here next week. I believe Snow crab, clams, shrimp, fish, crabcakes and lots of limes are on the menu. (I bought a whole sack of limes & two tubs of Smart Balance.)
Must run and complete a lot of laundry & tidying up the guest room before they get here.
Happy Fishing if you can safely get your craft offshore!
(Pompano are still running the Canaveral National Seashore)
Edited to add: Lowrance did get the new fishfinder here on time and .......... be surprised.... it works!