WAHOO STEAKS
by Robin
I haven't tried googling this but I wonder how many folks out there will tell you about how delicious Wahoo steaks are. For the most part, it is commonly understood that wahoo is a dry meat. It needs a sauce. It may be gamey or oily. Not so....
I'm going to take you step by step through our process & how to cook it. This is definitely not the be all, end all story; however, it was a beautiful beginning to a new relationship with eating wahoo.
First off, catch you any decent size wahoo. Ours was 18 lbs. I suppose one could cheat and buy wahoo steaks at a fish market if you don't want to invest thousands in boats & fishing gear.
He is shown here without ice, but right after I took this photo, Jack and I made a slushy ice/water bath to cool down the meat. (It was mid to upper 90's this day, off Port Canaveral.)
Jack took off the head, tail and gutted the body of the fish from the entrails. Make sure you rinse this area out well before moving onto the fileting part.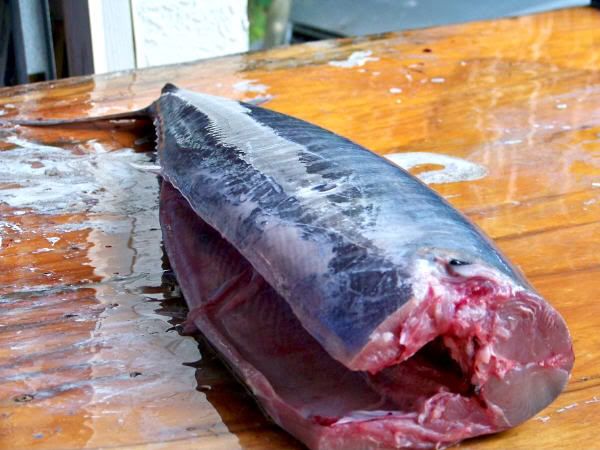 Most fish are fileted along the length of the body, taking entire side off and then removing the skin, like this..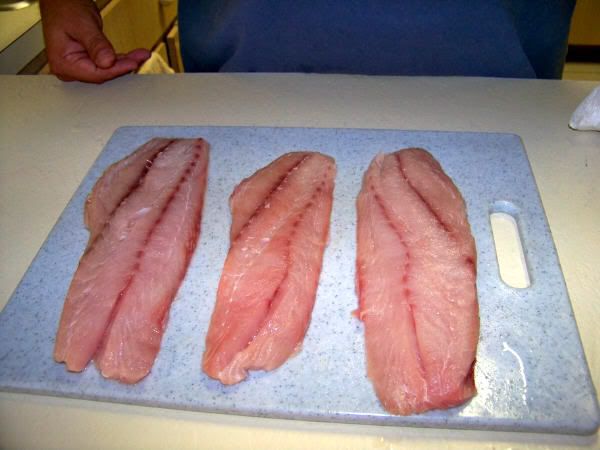 Not Wahoo.... they are made into steaks at our house. And sometimes it takes a small hacksaw to cut through the vertebrae bone.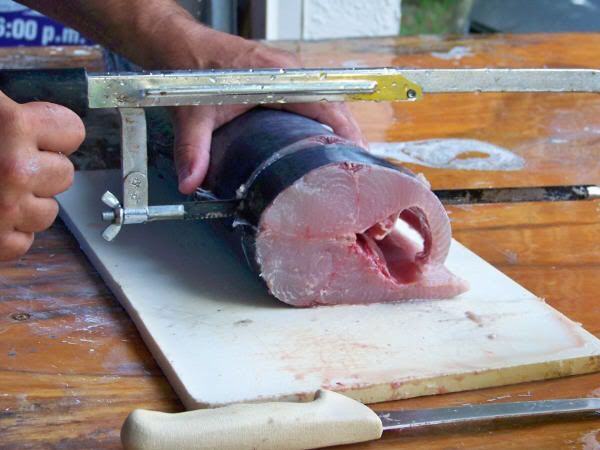 Jack fileted the wahoo into steaks approximately 1" thick. You can do more or less, but this seems to be a full portion for an adult. I ate one and it was PLENTY! (almost too much, really) We vacuum-packed two steaks to a bag until we got down to the back-end and then did a few small ones together.
Fast-forward a couple weeks, Jack quick-thawed the steaks in a pot of room temperature water. Not long afterwards, they were thawed enough to begin seasoning. I used 1 steak for me and 1 went into the frig for later this week. I'm guessing that Jack has used the usual & customary seasoning suspects (i.e. salt, pepper, garlic powder, old bay after rubbing EVOO on the steak).
While my dinner was absorbing the spices, Jack was preparing a grill for his ribs, as well. My guys love babyback ribs.
Last night, Jack used a gas grill, but he would have preferred a charcoal one if he didn't need a bigger space for all the food. I do believe he threw in some mesquite chips for a slight smoke flavoring.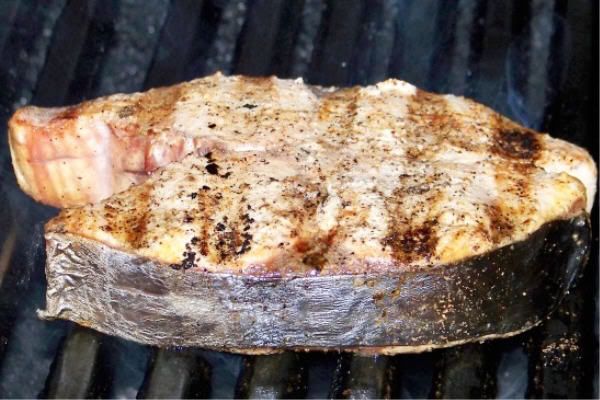 He grilled the wahoo a couple/few minutes for each side of the steak. You'll have to be the judge of how long your steaks need cooking. You want it white, flaky but not raw inside. Save the raw for tuna. With that said, do NOT overcook your wahoo steaks either or else you will be eating dry fish.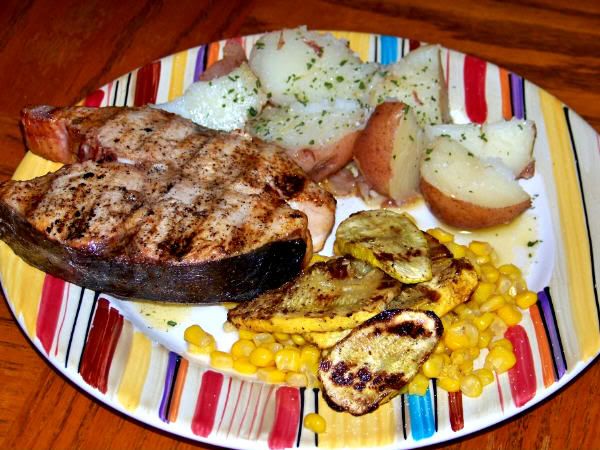 Then, I like to put some great side dishes together. Squash is a grilling favorite here, along with red potatoes. I used Smart Balance to complete my dairy-free meal.
I should also tell you that Jack suggested I make a nice sauce for the wahoo. I went to the garden and all my dill was gone (I make a mean dill-tartar sauce), so I came up with a fantastic substitute. I used plenty of thyme, 2 sage leaves - chopped them up. Add them to a couple tablespoons of Smart Balance, 1 small onion from my garden, 3 garlic cloves, a couple dashes of lemon juice and warm on the stove.
Pour over your steak liberally, and if you have extra, pour over your potatoes. You will not regret it. I felt guilty for eating so well while the guys were having ribs. I had died and gone to a 4-star restaurant in my own kitchen.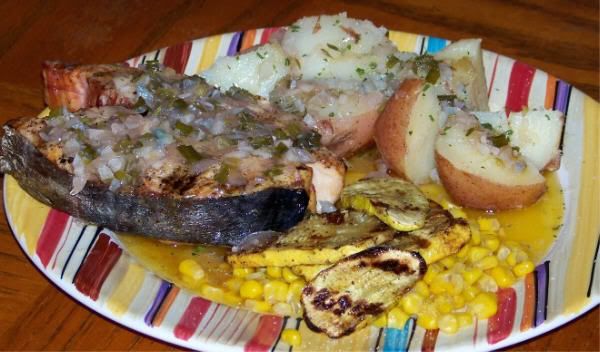 Mmmm, mmmm, good.
(Oh, I may need to add a warning: do NOT eat the outer skin, be careful of the upper spines that may be leading from the spinal column to the dorsal fin area, AND don't eat that skin in the belly area. )
If you try this dish, please come back and comment to let me know how you liked it (or not, ....but you will).
Happy fishing everybody and enjoy a good fish meal if you can't get out.
Robin