6/20/11 FISHING JETTIES
by Robin
Plan A:
We had intended to go tripletail hunting on flat seas, but NOAA got it wrong. They were correct in saying there were no waves BUT the wind wave was kicking white-caps. Plus, the wind was not from the west or the SW. It was a total summer "Noreaster" as Jack and I joked.
Jellyfish were EVERYWHERE and so it was difficult to check under every "brown spot" to see if it was jelly or triple. (forgot to grab that jellfish photo, but I'll show you tomorrow.)
So, motoring off the beach, looking for triples was out.
Plan B:
Head to the buoys and see if anybody was home. Lots of baitfish and sometimes up to 7 barracuda lurking on top. I caught one tiny black sea bass as we went from can to can. Of course, this is at 3pm so that may have something to do with it.
Plan C:
Head to the N. Jetty rocks at Port Canaveral
We anchored up so Jack could fish as well. It put the back end of the boat right in front of the rocks. AWESOME anchoring job Capt Jack!!
We had 3 dozen live shrimp in the livewell. And we went through a good dozen of them just trying to figure out the right size hooks, weights and knowing when to set the hook. But, once we started to get the hang of it and avoiding the underwater rocks that stole some lead & line from us, we were in business.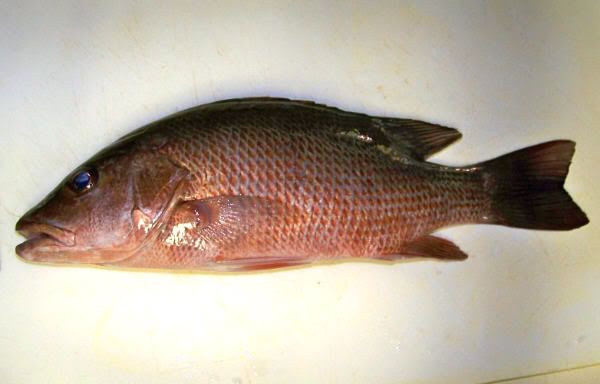 I pulled in the first barely legal mangrove snapper. Yeah!! Not long afterwards, Jack gets a small, but decent enough flounder. Yeah!! Now, we're starting to think fish fry!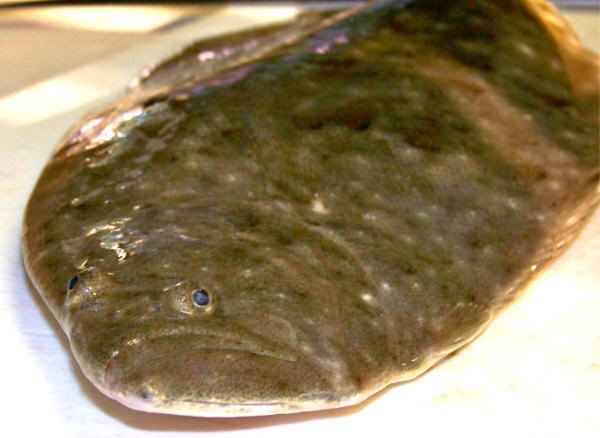 We were interrupted by a pair of lovebirds... or is that love-manatees. Honestly, go get a room. Can you not do that anywhere else besides next to the boat??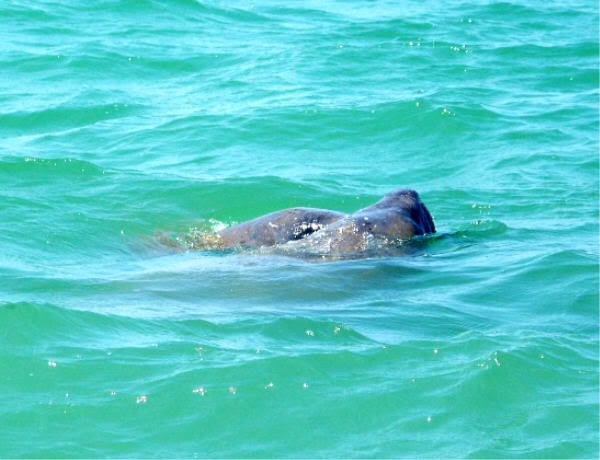 I got rocked up by something very, very nice. Wish I knew what it was. Fought hard and then hid in the rock until we had to break line. Oh well, that's fishing. Then, Jack brings in this nicer-sized Mangrove snapper to go with the other. We've definitely got a good dinner going.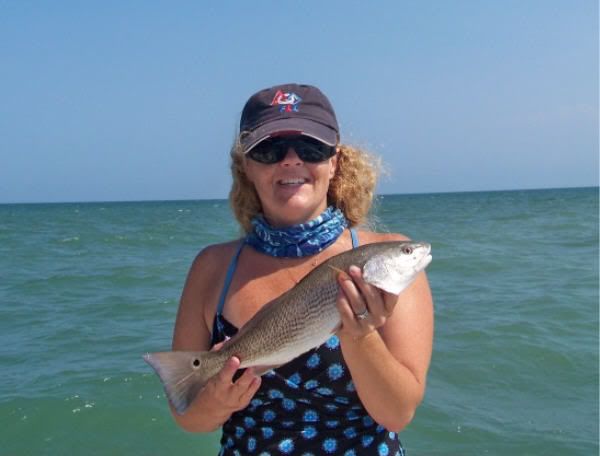 To end it all, I caught this great, young red fish, which measured 17". So, technically, that's a catch AND release because they have to be 18" to be legal. Jack said there might be a rule about oceanic reds vs river red fish. Either way, we're safe because he's alive & well ,back in the water.
We motored back home. Spent about $20 to have more fun than a barrel full of monkeys. ha ha.
God bless and Happy Father's Day
to my sweetie, who deserved a fun day like this (compared to Sunday where he worked his butt off under the sink playing plumber).
Robin