6.13.11 - Mahi & Wahoo Trolling!!

by Robin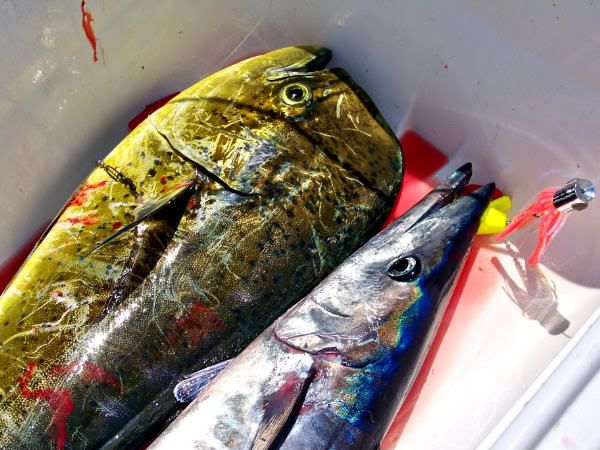 I don't have time to give the full story, but wanted to share with you some details & a picture we took on Monday.
In short, we trolled an hour with only 1 24" mahi to show for it. Went to the weather buoy, north of it, then started south of it. Somewhere a couple miles south of the weather buoy in 139 ft of water, about to give up and do some bottom fishing, we were hit by a nice 15-18 lb bull. As Jack was reeling, we had a 2nd hit on another line. I reeled on that a little bit but had to put it back in the rod holder while I helped Jack land his bull.
Then, we had 3 mahi in the boat and were gasping for oxygen in 101 heat index. (all smiles though) I let out the one line I had brought in when we thought we were going to leave. Set the boat to 6-7 knots and we got some water to cool down. Before Jack could even rig another ballyhoo, that line was hit. Line peeled off and it skimmed the water surface. Jack thought shark based on its actions. Then, it saw the boat, did a 180 and went down.
Reel, reel, reel...... it tried to break off in the prop (my bad for not getting the boat turned fast enough). I saw silver and thought big king! Nope, Jack is next to scream "WAHOO!!!!"
I took the pole, he sunk the gaff and it was an ice bath for Mr. Wahoo. Yeah!
He hit a yellow hoo-head with red weight with a pink skirt in front of it, off the surface (82 deg). Amazing. Usually you have to use a downrigger for wahoo.
So, there's the short story.
Happy Fishing.
Robin