KINGFISH DIP!!!
by Robin
It's that time of year again! If you're looking for great recipes, feel free to try the links at the bottom right corner of my page. Our recipe is similar, but different. It's secret because it's
so
good, we may just have to market this.
First off, we were blessed to get all this kingfish meat from a friend. As you can tell from the regular size scissors, it was one huge king. I'm guessing there is 25 lbs of meat in the below picture.
Set aside an entire day to slow-smoke your fish. One day, we hope to have a big daddy-type smoker, but for now, this one works. Our biggest downfall was that we had to do the process multiple times to get all the fish smoked. By bedtime, all the fish was done, bagged & cooling down in the frig for day 2.
Look how it puffed up! That's Mesquite smoke. Heat about 150-225 deg.
When it looks this great, take it off.
Here's Chef Jack (not a trained chef, but one at heart) with the tray of meat that we deboned together.
Not only is this a lot of meat (2 bowls worth), but LOOK at those ribs. Do you see those 4 spikes in the lower, center part of the picture? I can truly imagine that a long-time ago, Indians used these for something.
Here are some.... most (?) of the ingredients. Some things we didn't use. The spices & secret ingredients are not shown. We bought in mass quantities which made the grocery store folks laugh.
Skipping a few steps, but you can see the master at work.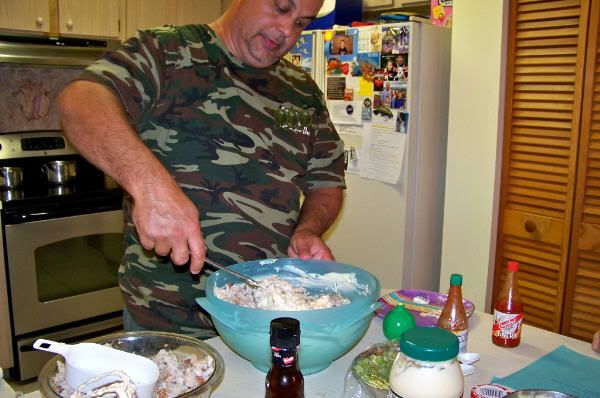 White meat is gently folded into the mix.
We filled 17 small containers with dip.
Jack took bunches to work and the report is that it was inhaled before noon. He also took boxes of crackers with him.
This morning, I realized that we never smoked the 1 smaller pkg of meat, so we will be repeating all of this again soon.
Actually, we enjoy doing all this work. We love cooking together. The work goes by much quicker when we have each other's company. It is a big reward to gift people too.
Happy Fishing!
Robin