7/10/10 - S. PELICAN FLATS
by Robin
I'll keep this short & sweet since it being done through lunch. Jack took Saturday off from work because the weather was so beautiful. We were up at 5am, down to the port by 7am after filling up gas for a long while. I had forgotten how long the ramp lines were on the weekends, plus one ramp was damaged so nobody was using it.
We borrowed a friend's ledge - coordinates and anchored up perfect the 3rd try. Stayed out there 'til 1:50pm when we decided to pack it up because the heat was unbearable. We did use a chum bag for the first time. The jury is still out on how useful it was. We did ok fish-wise, but we also had 1 large shark at first, a good dozen remoras consistently off the back of the boat and 1 cobia that we couldn't catch because the remoras were eating bait before we could feed it to him. Our eldest hooked him up for a short while but he never did get the hook sunk perfectly. So sad.
Nice cooler shot.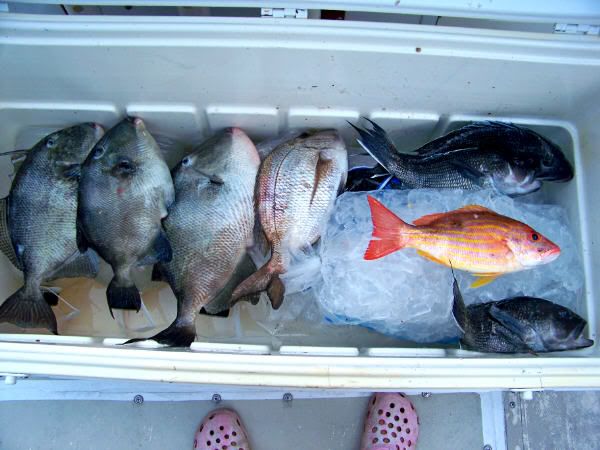 Below is an image I grabbed off the internet. I caught a red porgy that was shy of the size limit so we threw it back. It was a first for us. I took pictures of our day but lost them all in a camera formatting issue (about to kill my camera). The only picture saved from that day was the cooler shot that I sent my mom & sister. Too bad.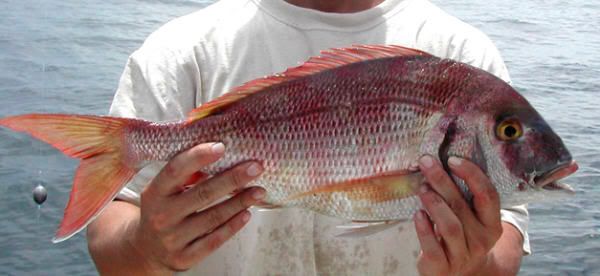 Nice, smooth ride in. Saw a school of dozens of brown sting rays. Loaded up the boat easily considering the wind that was picking up.