8.10.09 KINGFISH with JEFF
by Robin
On Monday, Jack and Jeff went out in search of edible fish. Mahi mahi really haven't been around in big numbers like they were in spring & early summer. So, Jack refocused on Kingfish found on 8A. They did troll further out, but after one peanut dolphin, they came back to 8A.
He couldn't get the lines in the water fast enough before the reels would start singing. So, they brought home 3 kings and 1 barracuda. Jeff's wife likes to cook barracuda and this one was relatively "small". Do not keep big barracuda as they have a toxin in them! (The barracuda is the one on the bottom w/ spots.)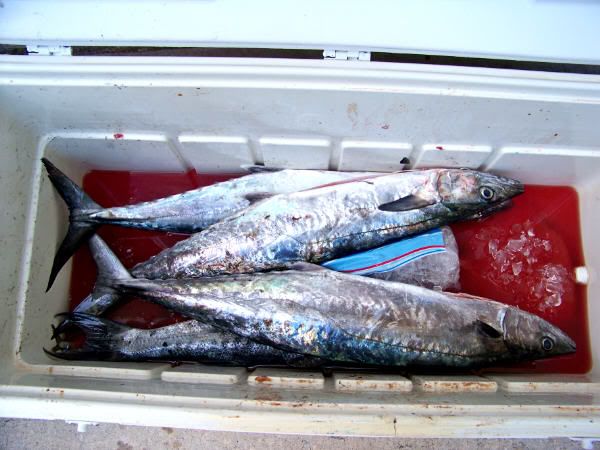 We kept one of the smaller kings for smoking and making dip. It was DELICIOUS. We're making a 2nd batch tonight because all our friends & neighbors are addicted to it. ;o) Our basic recipe can be found in the right-hand column of this blog. I have a link there.