SEAFOOD DISHES
-
inspired by parent's photos from Italy
by Robin
A couple weeks ago, my parents returned from coastal Italy. My parents shared with me many photos of their Italian dishes, many having fish or seafood in them. (I'll have to steal a couple for future posts.)
I was very inspired by their platters of seafood and decided to make some of my own with what I had freezed back from the spring mahi run.
I love the color in the dishes. I loved the fresh citrus too.
Below is pan-seered mahi mahi & crab cakes on white rice, surrounded by grilled zucchini & squash, seasoned w/ salt & pepper. Garnished w/ oranges, limes and cherry tomatoes from our garden. Yes, it tasted as good as it looks.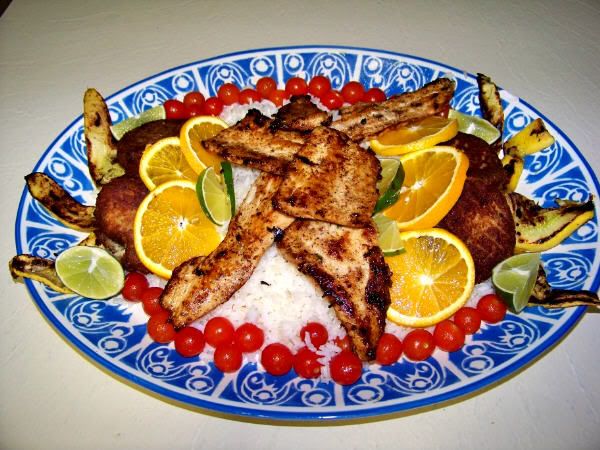 Below is garlic, onions & shrimp on pasta, surrounded by pan-seered zucchini. Garnished with Roma tomatoes & citrus. I like to think of it as one-stop shopping. I'm a carb freak so this was my piece of heaven.
I'll have to get permission to show you the other Italian dishes. You'll love them.