OUR ARSENAL
by Robin
Not many people actually ask us what type of gear we fish with but I was noticing that I receive a lot of google hits for different types of fishing gear that I mention. So, I'm going to make a collective, fairly boring, blog of what we are using, more as a reference.
Being offshore fishermen, we need heavy-duty equipment to withstand saltwater, sun and torture from large fish. Our unspoke goal is to bring in fish of 5 lbs or greater into the boat. Sure, we catch a lot that aren't that, but our target species generally range from 5 - 60 lbs. That's a pretty big range, I understand. I guess that is why we have a wide range of rod/reel combos that we put on the boat each time we head out.
First, let's start with the kids' poles. We have about 3 different kids poles. Two are Zebco's (Tiger & Cobalt Blue Firebird) which work really nice for inshore or smaller reef fish. This is primarily little man's territory. We did invest in a better light spinner for our eldest this winter. It's called a WAVE 4000. Nice light action pole about 6.5 ft. This is our back-up for tripletail. I can't recall but I'm guessing they're loaded with 12 or 20 lb monofilament.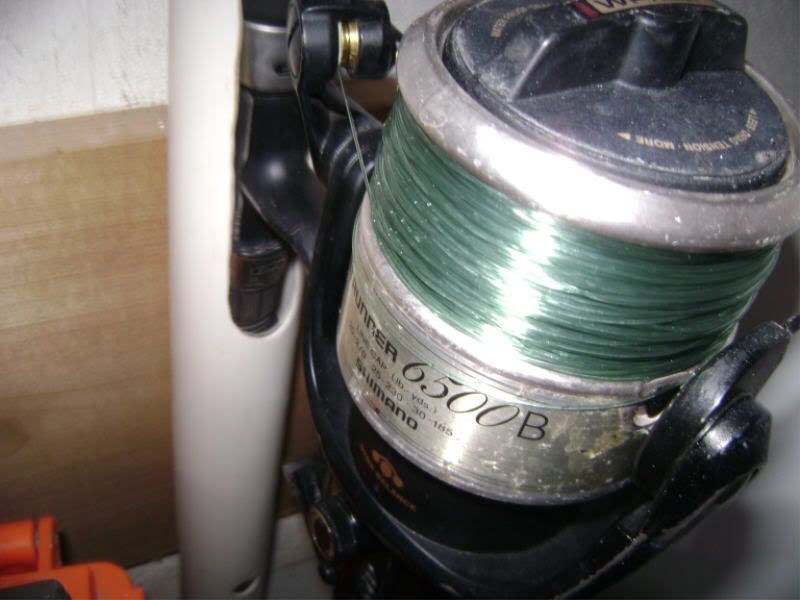 Next, we have the big boys - Shimano Baitrunners 6500. These are very nice spinners even though they look beat up. We have caught many nice mahi, cobia & tripletail on these. These reels sit on 6 ft. Shakespeare Tidewater poles. We've recently respooled these with Trilene 30 lbs in dark green. Shimano makes a nice 4500 that we've seen a lot of in fishing pictures.
When we bottom fish for snapper or grouper, we like the Daiwa Saltists. We have the Torque and High Speed types and I love them both. Our life got much easier when we switched over to these. These can double for trolling reels, but they best perform when used for bottom fishing. We've got these sitting on 6 ft Shakespeare Sturdy sticks - Heavy duty.
Again, you can see the Trilene, 30 lbs. We replaced last year's PowerPro braid because we really weren't happy with the number of break-offs we were having during trolling season. Braid has pros & cons. Love the strength, hate the lack of stretch that you sometimes need to keep from losing a fish.
Here is our older rod/reel combo - Daiwa Sealine.
It has been beat-up badly over the years but I still like it. When the guys were fishing the Powerpro on the Saltists, I was enjoying the monofilament on my Sealine. That also helped us make the decision to go back to monofilament.
Today, we invested in a new trolling rod/reel combo. It was an impulse buy but something that we were beginning to research and decided we would need to invest in at some time in the future. There it was. Calling our name. I knew we wouldn't walk out of that store without it. As money allows, we're going to pick up its twin sister. (ha ha)
Trolling rods! Trolling rods are important because they have rollers. Rollers allow that line to zip off easily as the wahoo or tuna makes a run. We officially have our first Blue Diamond roller rod, 6 ft. It looks wonderful and we hope to see it pay off on the ocean. Attached to it is the Okuma Titus Lever Drag - T30. This is a bad boy!!! (
By that, I mean really awesome.)
We loaded it with 500 yds, Trilene, 30 lbs, dark green
(sound familiar?).
Whatever you do, if you go offshore fishing, do not forget your gaff for big fish. Be careful!! They're meant to pierce through flesh with ease!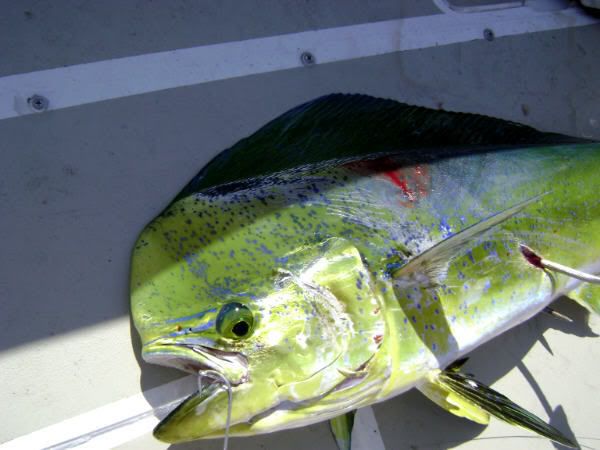 And if you're going cobia fishing, don't forget a small bat for ..........well........ I hate to say it in a public setting, but....... for quickly killing your fish. I never really thought it was necessary until we brought in our 60 lb cobia in May 08. Sixty pounds of fury on your boat is no fun and it is downright dangerous. These fish save their fight for once they are IN the boat with you. Jack did his best to sever the spinal cord with a knife but the knife broke (and the blade went flinging). Not good. The best we could try to do is grab the tail with a rope and Jack keep the gaff in the shoulders before trying to put him into the cooler. Ummm, the only problem was that the tail was much faster than my eyes and I got tail-slapped twice. In the mouth.
(Stop that. Stop laughing! It's not funny. It hurt.)
I can only tell you that it would have been much more humane to put him and ME out of our misery.
So, that is our arsenal of gear to pull in our fish that you see on this blog. When I was a teenager, my parents warned me about being "horse poor". My horse would end up taking all my money and I'd be penniless. Well, they were so wrong. It's not horses that I spend my money on. It's fishing and
fishing gear
and boats and bait
and ............
Happy Fishing!
Robin