by Robin
We had some wonderful food around our house for 4th of July. I only spent $40 on seafood and fed the 4 of us two different meals that would have cost us well over $100 in a restaurant. For lunch, we fried up some oysters that were already shucked for $14.99/ pt container. There were 2 plates full and so we loaded up our sandwiches. The guys added cheese to theirs. We had tomatoes, onion, homemade dressing and ate like Kings (& 1 Queen).
Very filling lunch for us as we did a small list of honey-do's. Then, in the late afternoon, my youngest and I knocked out the other couple dishes for dinner.
We seared the outside of a small marinated (overnight) pork loin that had a dry rub on it all day. After it was seared, we added a little bit of Diet C*ke into a double-tin foil wrapping and put it into the oven at 225 for 2 hrs. It slowly cooked all by itself. We let it rest for maybe another hour before dinner was served. This was the end result. Very moist and tender.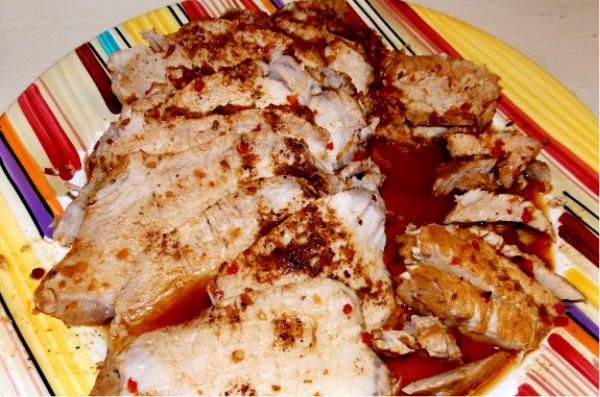 These thinly sliced pieces made into more hoagies for those that were still hungry after the seafood. Oh... back to seafood. Right.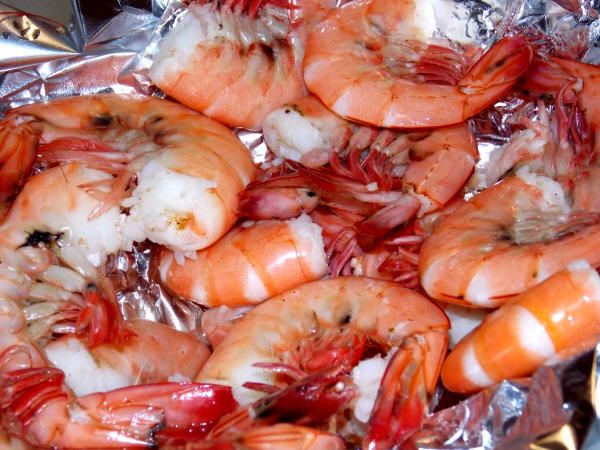 Boiled some already de-headed shrimp for a couple minutes. Seriously, shrimp do not take long so don't overcook them. We put them on ice immediately and into the frig they went. We prepared a homemade dipping sauce of ketchup, horseradish (hot) and lime juice. Yum!
(If you're keeping up with the costs, I think these were $13.99/lb. I bought 1 lb. Normally, I can get a better deal on this, but the day before a holiday, it just didn't fall into place for me.)
Then, I steamed the clams until they opened up. Middle-necks are only $4.99 for a dozen and so I bought 2 dozen. Our local guys always give us a handful more in case some do not open up.
Never eat a clam that is open BEFORE you cook it (dead) or is CLOSE after you steam or grill it. Something is wrong with it.
We made a Smart Balance, hot sauce, lemon juice broth to drizzle over the clams. Yummy, but I don't eat much of this. The oils in the smart balance can sometimes gives me reflux issues... Oh, but it is so good.
Now, that is our meal. Of course, we top it off with good veggie sides and usually a pie. This year, I got slack and made the pie 5 days later. ha ha.
God bless & Happy Fishing. Our water was blown up again last week and THIS week, we get Tropical Storm Chantel to stir up the waters.
Robin