This is actually our 2nd time to Sea World this year but the first time, I did not bring my camera. I didn't regret it but I also wasn't going to leave it home every trip. I wanted to capture some sea life pictures for the blog this week.
Enjoy!!
This one reminds me of the surreal underwater paintings that were popular a few years back. This is the real deal. My photo.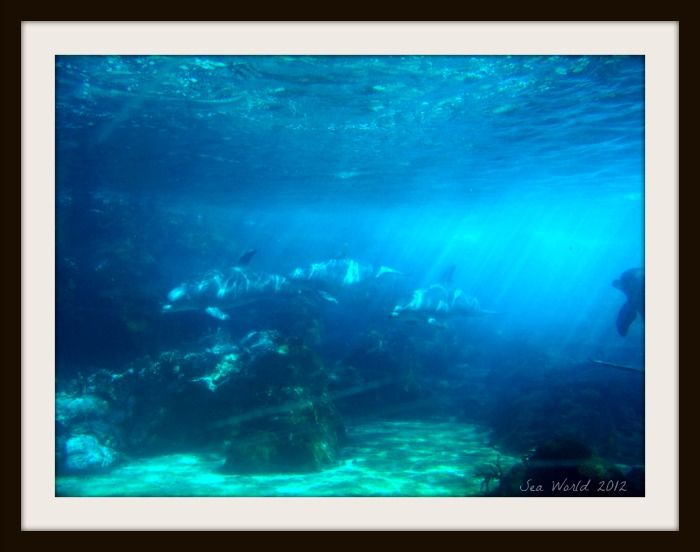 I just love this one. He's smiling at the trainers waiting for his fish.
Right before the trainers & people-who-paid-extra-to-"feed"-the-dolphins came out, the dolphins would pop their heads up to see if they had arrived.
Sweet son moment. I waited for this place at the wall for a long time. Eventually, it paid off with him being able to touch a dolphin. Of course, the trainers are paid to discourage anybody non-payers from touching the dolphins. "They Bite." Ummm...... maybe. But, probably not as bad as your Shamu did last year, right? We'll take our chances ma'am.
Sea World has thought of everything to force you into buying their "feeding the dolphin" experience tickets. A couple years ago, anybody could go along the wall & pet the dolphins. Also, the little tricks were signaled from the far side and the dolphins performed wherever they wanted. NOW, they make sure the non-payers are on the end with the lesser trained dolphins. No tricks for us, except for a "sit on the wall" move. Folks at the far end get to see all the jumps. Good for me, I can take a decent picture. HA!
At least petting sting rays is still free with the price of admission. You can buy shrimp, but if you wiggle your thumb like one, the sting rays will visit you anyhow. They will even vacuum onto your hand. My son was bit but there are not teeth. It's more like a hard gumming. Funny, really.
Here's a tip if you're a Floridian and have the Fun Card passes for the rest of the year (or Annual passes). Buy the $20 preferred parking. Take a cooler full of your own better-tasting, non-overpriced food, non-allergenic food, plenty of water bottles and some chairs. When you get ready to eat, avoid the long lines, $50 (minimum) for a family of 4, and run to the car. It wasn't even inconvenient to hit the parking lot. It was shorter than running to the far side of the park for a restaurant. We relaxed & enjoyed our food (mine, vegan). We returned with more water bottles, saving MORE money. I think it is something like $3.50 for water. The water fountains are unfiltered sulfer water, purposely unfiltered to make you want to buy their overpriced drinks.
Well we managed to avoid as many touristy $$-makers as possible. We spent $30 the whole day. NOW, that is doable in a bad economy.