NEAR SHORE - 4.11.11 Part 2
by Robin
I left off this morning saying we were approx 7-10 miles north of the Port Canaveral entrance and headed south, looking for manta rays or free-swimming cobia.
I was so excited to see this beauty no long after we turned south.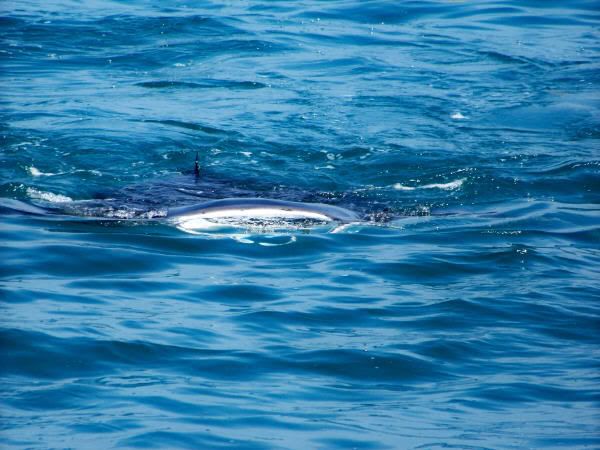 She wasn't extemely large for a manta but she was just sunbathing herself with no where to go. Unfortunately for us cobia hunters, there were NO cobia on her back.
We no sooner began to head south again and we spotted a free swimmer. Nice size cobia. BUT, this guy was not hungry no matter what we threw at him. Pink jigs, yellow jigs, squid, live shrimp.....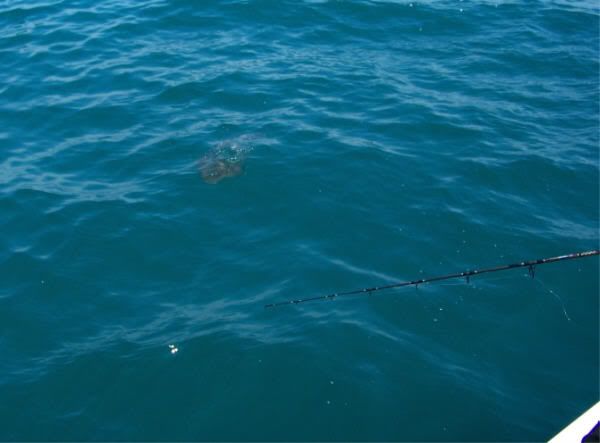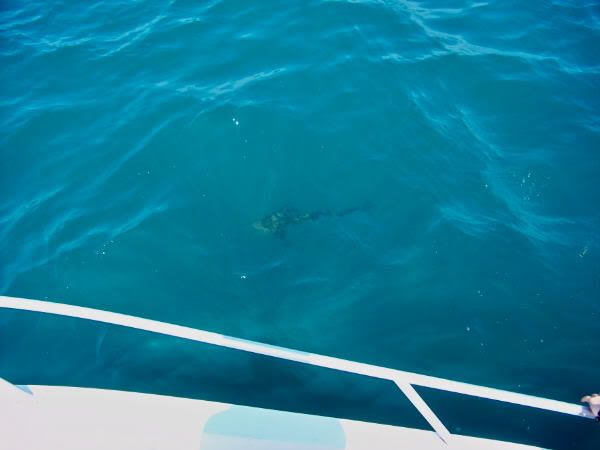 He pretty much tortured us by swimming right next to the boat and moving along without a care in the world. (See him, right by my youngest's right elbow?)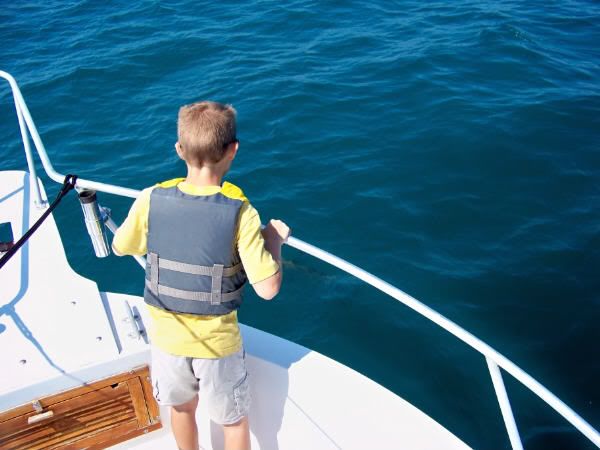 My eldest son suggested we just gaff him, which sounds good in theory but probably would not work on a green fish. Later that night, I suggested that Jack buy a harpoon so we won't miss on great fish like this. "Ahhh. NO." Was his answer.
We came up over a shoal (it jumps from like 20-25 ft to 6 ft). I loved the light color water as I looked for cobes. I think Jack feared more running aground. Anyhow, I could see thousands of fish that appeared & disappeared like ghosts. I thought they were blues but insisted Jack let the kids cast a shrimp to them. We took a turn playing with little blues. (Gotta keep the kids interested.)
From there, we were very close approximity to a set of buoys. We looked over there but nothing was hanging around the top. However, we noticed that to the east of them, there was a fleet of boats. So, before we barely got that way, we came across approx 6 free swimming cobia all by themselves. Woo hoo!
Jack's 1st cast. Not good. Jack's 2nd cast pulled one off from the group. He was hungry but caught a glimpse of the boat and took off. Next thing I know, these gentlemen speed over to us, cast and hook up.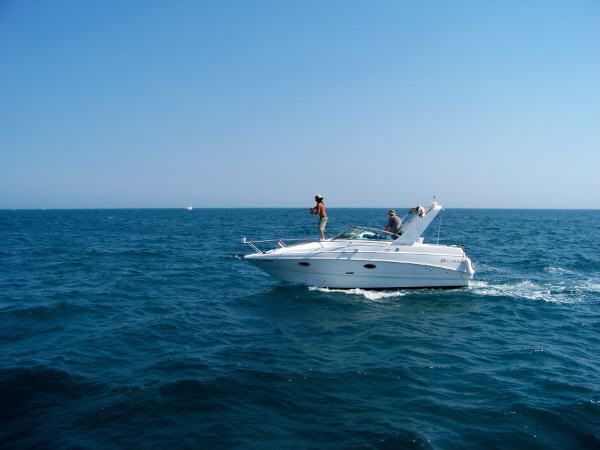 That was so nice of them, wasn't it? Jack yelled at them, which in turn my 11 yr old yelled the same thing. Quality family bonding.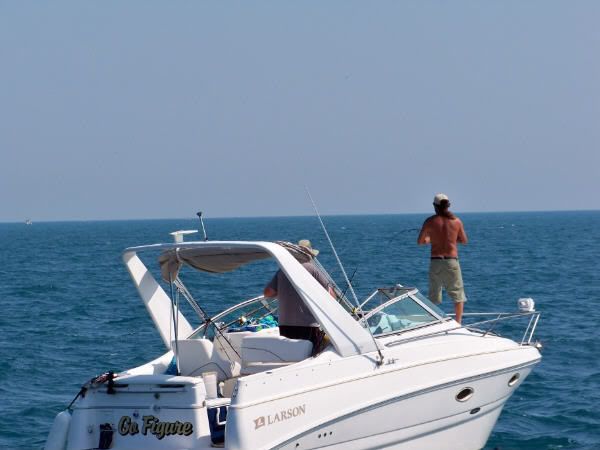 I took this picture and then guy without a shirt turns around to us, yelling, "You overshot the fish." Not exactly true. We drifted away and were going to reposition. It happens all the time.
Well, it was a great Christian challenge to not think murderous thoughts and hate this man as we watched him gaff his cobia and then high-tail it back to shore. I was preaching to the choir when I was telling the kids not to worry and we'd find our own fish.
The next 30 minutes, there are no pics because I had a pole in hand and took several casts at a bait pod. I could see it was holding predators but couldn't make out much of anything. At one point, I'm pretty certain I saw a tarpon roll. I didn't care if I caught a tarpon because it is on my list of species I haven't caught yet.
So, I'm jigging a bit off the bait pod and I saw a 25-30 lb cobia grab my jig and run with it. Yahoo! Game on. Then, 15 seconds later, game over. That's how fishing goes. I was on a light pole and didn't get the hook set in his mouth. Jack said that he saw the silver flash about that same time, so who knows what happened below. I know I saw a cobia take my yellow & red jig at the surface.
Anyhow, we saw a few more cobia (10 all day) but they were very spooked by 5pm and a crowd of boats around them.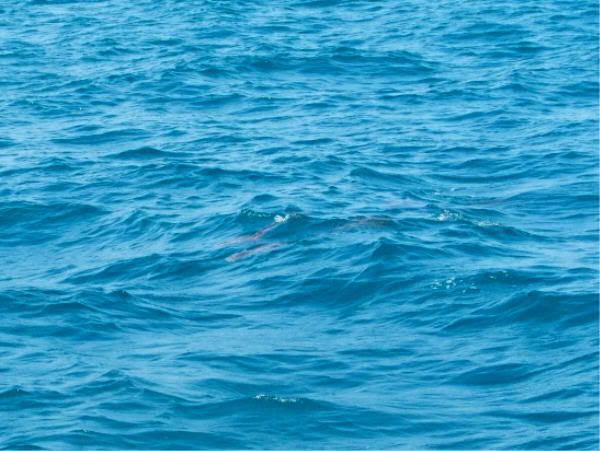 So, overall, very good day with keeping the kids interested in fishing and seeing cool stuff. Yet, I pout over the ones that got away. I wish I wasn't that way, but honestly, I am.
Last night, Jack fixed us one very expensive dinner of mahi fish stix. We'll catch a freezer full next time.
Happy Fishing,
Robin