1/9/12 No KINGFISH, but some PORGYS

by Robin

We decided that we wouldn't get up pre-dawn to fish due to the full moon, interferring with the early morning bite. It was a decent way to start the morning. An hour extra sleep makes me a happy fisherwoman. Left the driveway at 7:30 and through the port by 8:30. Loaded up with pinfish on Buoy 5. Headed over to 8A reef to slow troll for Kingfish. I mean, dead slow. Barely bumped in gear, slow. We wouldn't want to drown the little guys.
I knew that last Saturday, they were not there on 8A and on Sunday, they were at Pelican Flats, but we did not want to go that far south. We had a plan to do some bottom fishing for porgys in the afternoon after limiting out on Kings in 30 minutes in the morning. HA! - NOT!
An hour goes by and we got nothing on a "barely" troll with live bait off the back. Jack switches up to a faster troll with a rigged & skirted, weighted ballyhoo. Another 30 minutes, nothing. I suggested that he troll away from 8A, towards our porgy "hole". Jack took my advice and we did that. I stayed on the bow, looking for any signs of fish life. Twice, I saw something break the surface & make big splashes. We trolled through that area and still nothing. I found a nice "hump" while trolling & marked it. We pulled in the lines & tried to go back and bottom drop on it. Didn't have much success with that, or possibly, we weren't very patient with refinding it, either.
Knowing we were only 4 miles from the destination, we agreed that it was better to just move onto the known area. Once we got there, somebody else was fishing very close-by. It didn't seem to bother either of us, or the drifts (which were kicking!). They had their spot and we fished ours.
At first, Jack pulled up a spade fish, then a juvenile red snapper. Both were released, in great condition. I was frustrated because I knew there were fish there, tapping my bait, but I wasn't able to hook-up. Jack helped me a little with my technique and then I hit my stride.
Because there are so many closures at this time of year, our goal is to find the smaller reef fish that we are allowed & bring them home. It's plan B compared to the Kings, but it makes for a good panfish dinner.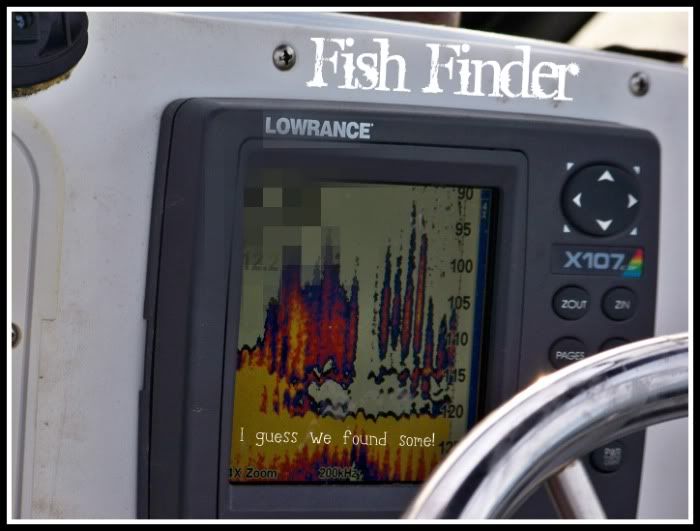 These guys are called Vermillion Snapper, or as the locals say, Beeliners. This was my first catch and he's a fat one. But, they're closed from Nov to Mar 31st, so he goes back to grow & spawn some more. However, I will be back in April to claim a few for the dinnerplate. They are extremely tasty, as most of the snapper family fish are.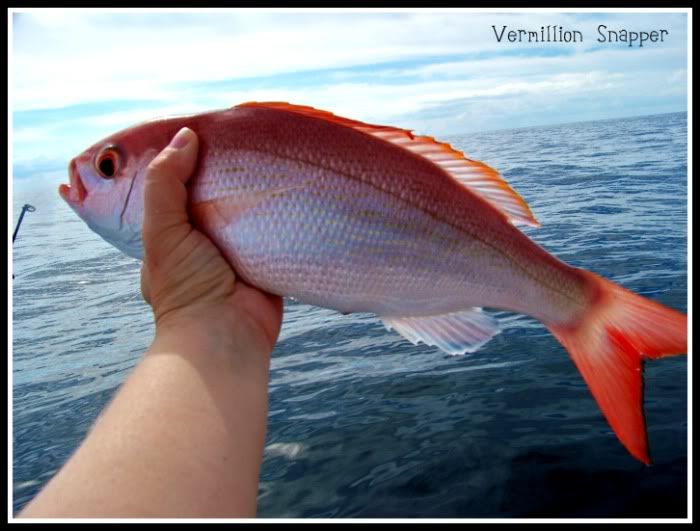 Here is the Vermillion's cousin, the Red Snapper. Red Snapper have been closed for 2 years now. They have been considered overfished, but that is highly contested & debatable amongst fishermen. Let's not go there today. Even with circle hooks, this guy managed to inhale the hook too far to take the time to mess with. They don't like being kept out of the water for too long, so Jack is cutting the line to send him back down ASAP. He was a happy guy. The hook will rust quickly & fall out.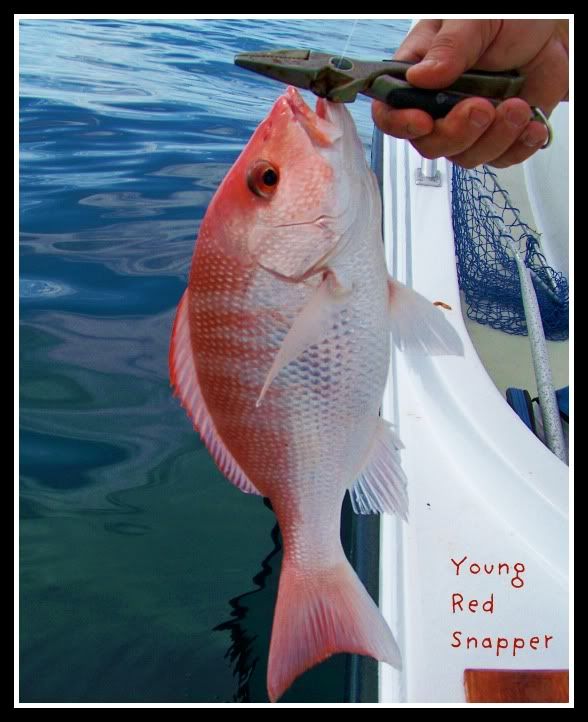 As the hours passed, the type of fish we caught seemed to change. We went from red to spotted! We call these chocolate chip porgies but they're officially known as Whitebone Porgy. Fun-fighting and yet, they're not too much of a challenge either. It's perfect for me since those bigger ones wear me out. The meat is exceptional! So, we kept all 5 of them, that we caught.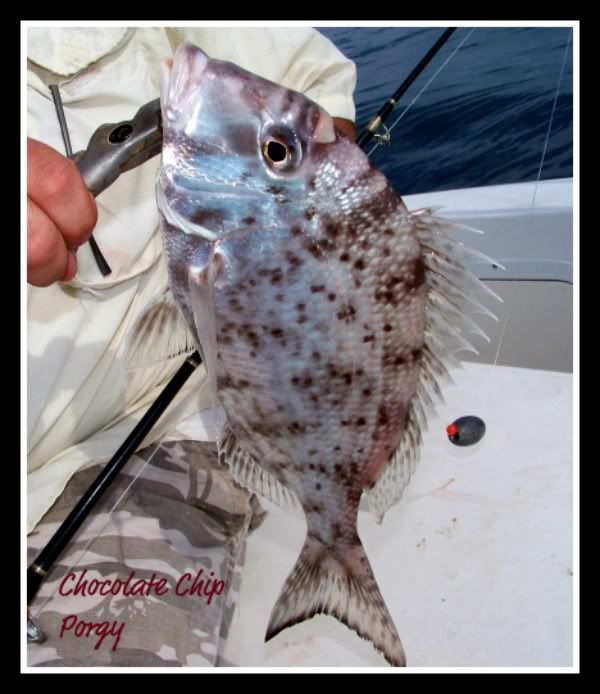 This is one of my porgies. Pretty nice size one. I was very thankful that we didn't spend our day weeding through any black sea bass, which are also closed right now. Down by Pelican Flats, you can't get away from them and it is irritating to spend all your energy bringing them up & sending them back down.
Probably, close to 2pm, the bite changed again. Whatever this monster was, he would take my pole and bend it down. I could not turn it towards the boat. Twice, he bit my hook in half!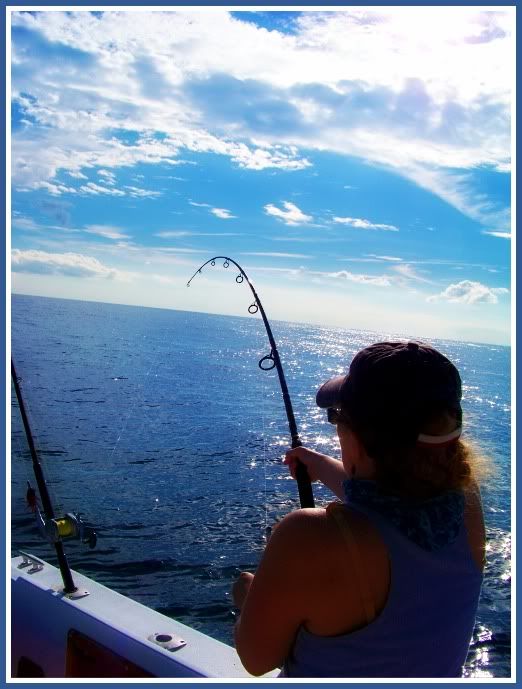 He even took Jack for a ride during one of the drifts, but Jack was fortunate to get his hook back in one piece. After I took this picture, below, I swapped to a heavier hook and don't you know, the fish never did try again. He either had a sore mouth or knew I was better prepared for him.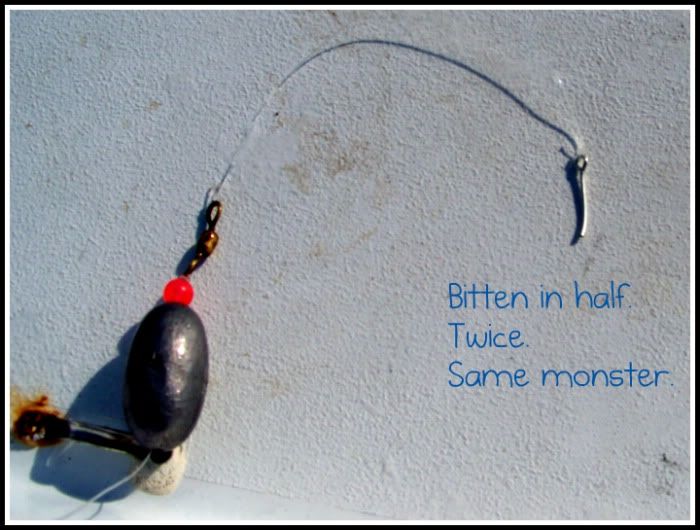 The ride back in was beautiful. Flat seas. Warm 79 degree day. Clouds giving me many opportunities for playing with my camera. It was a good time to reflect on the day. Jack did an awesome job of setting us back on the spot every drift, which wasn't very easy. The current was fast and so we only had 1 opportunity to catch something as we passed by the underwater castle. Jack nailed it every set up. Thank you babe!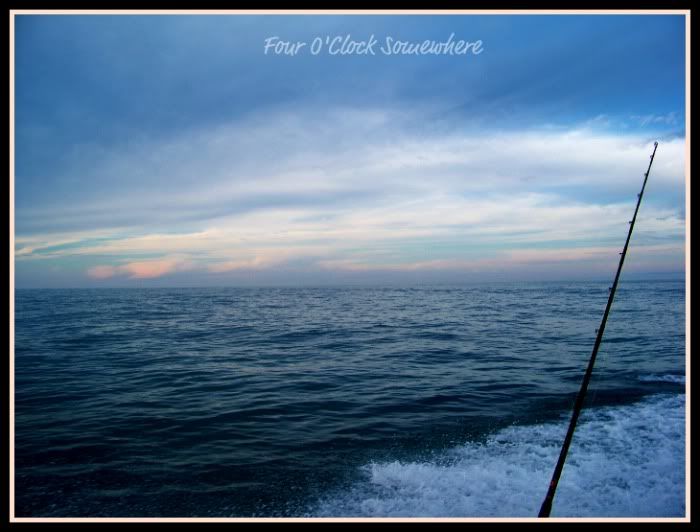 The last few minutes before entering the port, we got a gorgeous display of God's handiwork. Gorgeous!! I like the orange-pink skies normally, but it was hard not to love the blue/gold one on Monday night.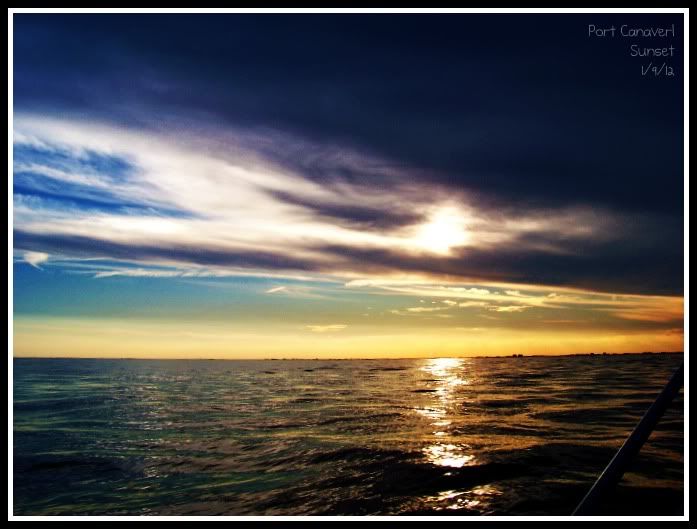 God Bless & Happy Fishing,
Robin