LACK OF FISHING
by Robin
I feel like I've been really neglectful of filling this blog with great fishing pictures. This has been such a crazy winter for fishermen. Today would be a great day to fish,.... but some people have jobs. Ok, one of us has a job and the only one is sitting here studying surface temps, wind waves and predicting fishing forecasts.
I've seen 1 offshore report in weeks and the guy says the water temps are still very cold for cobia. The only cobes spotted were in the Gulf Stream with is 35 miles away. That's far. They're suppose to be on the beach.
So that leads me to ponder a couple things. Are they going to continue migrating north but far offshore or are they still south of us in large numbers? Are they migrating while staying on the bottom of the ocean and going to skip the entire season of sunbathing in March? Only God knows. There have been times in recent years where the kids were in the pool in mid-March for a quick dip on the warmer days. Today is the 24th and I saw my breath in the morning air. I'm wearing jeans & sweatshirts still. The water in my pool is still in the 50 deg mark. Will we actually ever move into Spring in Florida?
I nearly had Jack convinced of taking the boat out on Monday to just motor around the inlet and by the time we had our sandwiches packed, it clouded up and threatened to rain on us.
So, instead, we had Snapper for lunch. (Grilled squash on the left)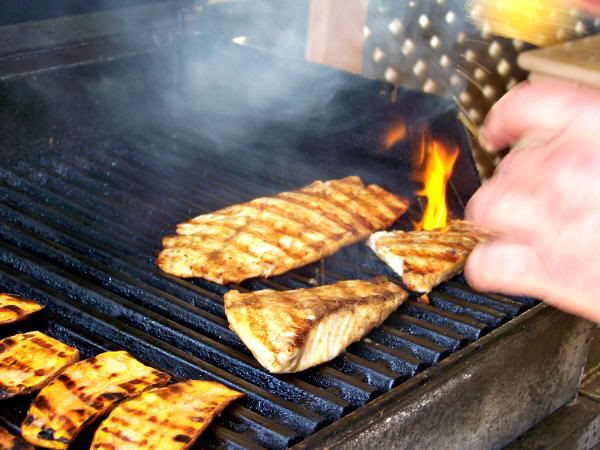 I do hope that we may be able to fish next weekend. Saturday is good but Jack is working. Will the weather hold until Monday? We will see.
Happy Fishing!!