by Robin
So, for the past three weekends, we got to do this massive under-taking. I say "we" lightly because it was mostly "them" and only "me" at the end with the light work. I'm more like their chef and cheerleader. Totally a way to involve the entire family and pretty much anybody who came onto the property. ha ha.
Step 1 was the dismantling of the original fence. It had a double-gate that was worthless. Couldn't even open the left side. We pulled two panels down.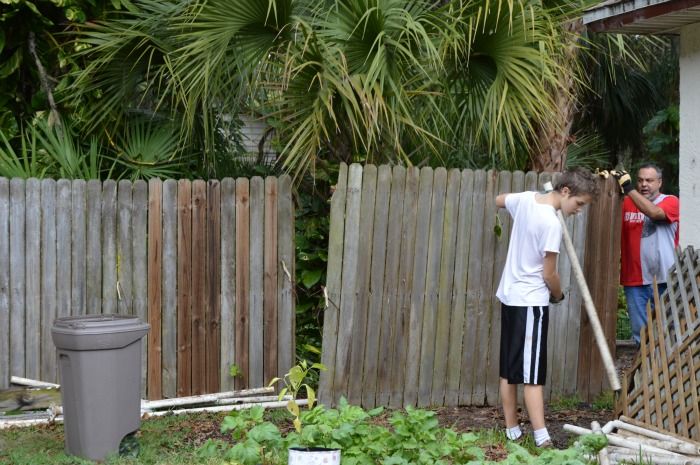 We were able to repurpose those two panels and then only custom build that last 7 feet and new gate. I love my new gate! It requires no lifting or pushing any more! Totally glides open with a slight nudge of a finger. Thanks babe!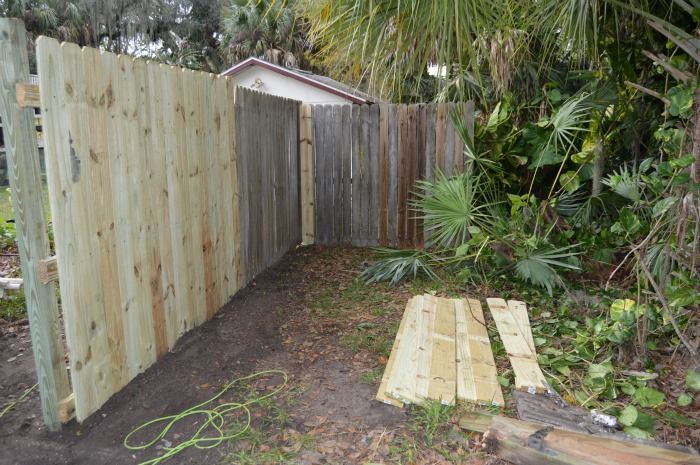 That was the first weekend's work. But then, we were left looking at this jungle in the space. Well, I just realized that we're missing the one dead tree. I guess they cut that down before I could take a picture. It was so dead and ready to push over.
Jack and my oldest took their chainsaws to the small left palm and a side-winding one, hard to see in this picture. Weekend 2 began with removing the bigger palm on the right. Two days!! Stumps were removed and dirt tramped down.
But, when weekend #2 was over, it looked pretty useable. We threw some extra stone there (but it needs more). I wanna say this gave us about 15-18 more feet of room.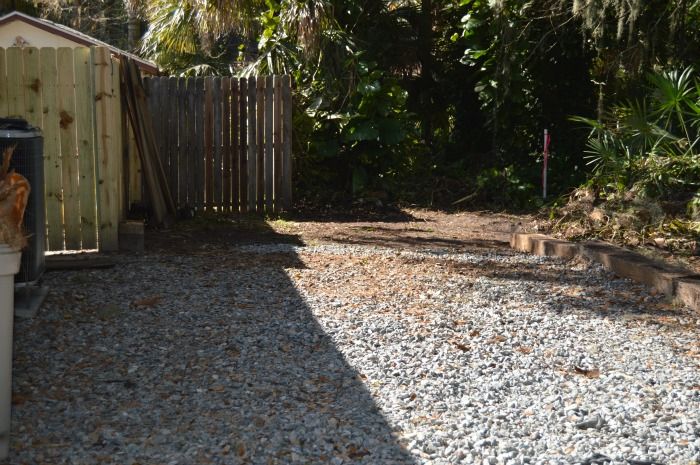 Weekend #3 began every morning with a trip to Home Depot or Lowe's. When you buy this much from HD, they think you're a contractor and give you the contractor's discount. Thanks Home Depot!!!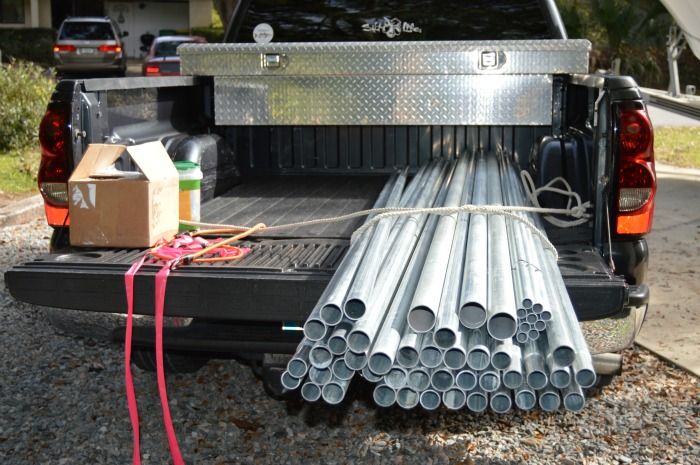 Jack followed a website called Frugal Living and this was close to what he recommended to do. Because we can't build over the water lines and we didn't want to go through the trouble of getting permits for a permanent structure, we built something that is (re)movable.
Jack and my youngest cut 3 ft sections of the largest pipe. Then, we drove the pipes about half-way in the ground. It was supposed to be a full 2 ft, but circumstances dictated where they currently sat. Also, some roots did dictate things too. See that red tool? Best $27 ever spent on a project. Slammed those poles right down.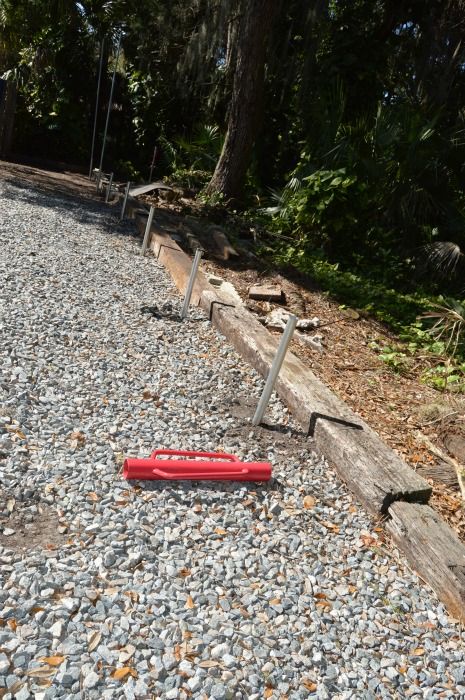 End of day 1. Bases in ground. Long side poles are sitting in their bases waiting to be adjusted for horizonal height. It's hard to see, but on the left side of the boat, there is a horizontal pole going across the tops. Little bolts were put into the base & side poles to keep them secure for height and for wind.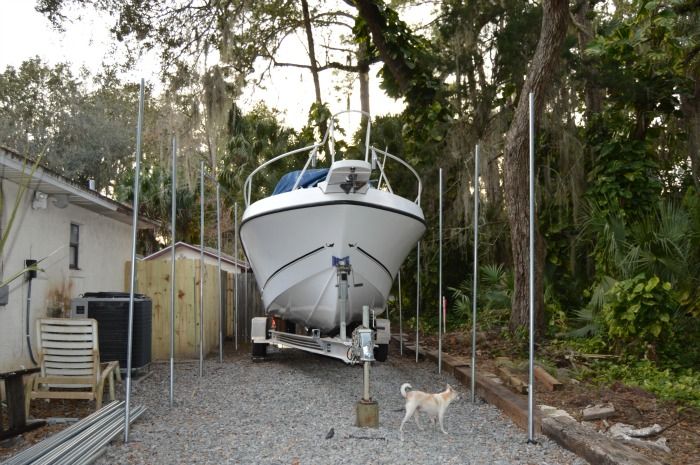 (Ignore my house! It's totally getting painted this spring!)
Below, you see Jack on the left and my eldest on the right. They put in 2 stabilizer poles (11 ft) after the horizontal edges were complete. Everything was checked for squareness. Since our eldest is in engineering school, he helped with the dimensions for the perfect pitch on our trusses. The sides are 10 ft 3 in. The top is 13 ft 3 in. We considered 4 & 5 ft but turns out 3 ft was exactly what we had envisioned. Also, while I'm giving out dimensions, I should note that our boat is 35 ft from tongue of trailer to propeller, hence the 40 ft tarp. The "barn" was actually shortened by five feet during our building process. (Didn't want to fight that one pole during the backing process.)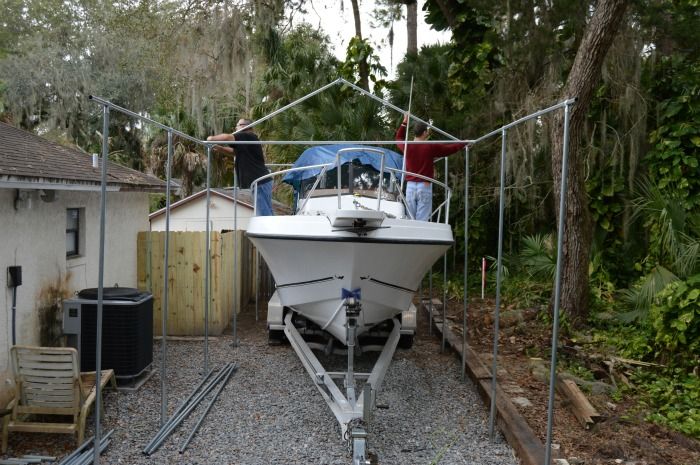 End of day 2 (3rd weekend, if you're confused). LOL We added in a 3rd helper. My eldest has his favorite girl helping to hold the backbone pipe.
It's beginning to look a lot like a boat barn! The front stabilizer bar is removed and we left the back one.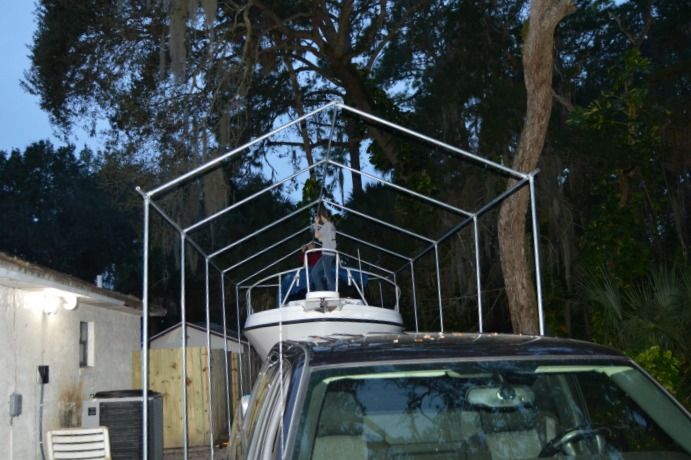 Beginning day 3 (of the 3rd weekend), Jack took the day off. He couldn't let the project sit with only the tarp to put into place. He also put in those little bars at the top of the trusses for more stability. (That was my idea!) He taped all the edges where nuts & bolts could rub the tarp.
By lunch time, we enlisted the whole group to pull the tarp over with ropes. Our eldest is on a 6 ft ladder, in the bed of the truck. Safety NOT first!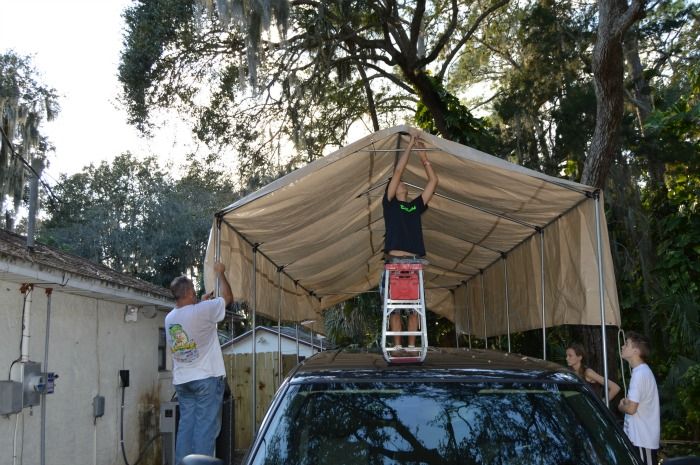 After the tarp was secured, it looked like this (below). Yes, we know it is uneven. Yes, it isn't complete yet. Yes, more work was done yesterday & today to tighten the tarp and bungee it down better.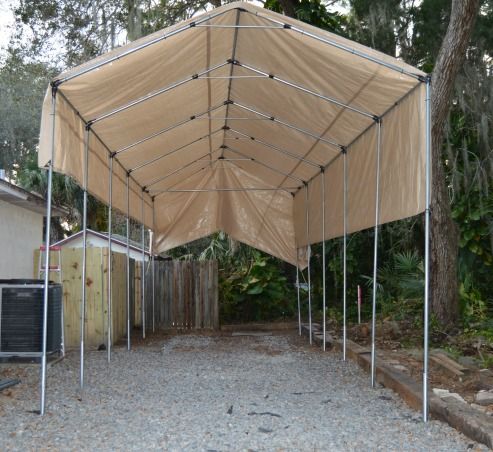 Here's the purpose behind the uneven tarp. We have this massive forest to the right and in the next month, millions of oak leaves and then seed pods will fall from right side. When the boat was in the barn (not shown), the sides of the boat come up to where the tarp stops. It is just perfect for preventing many leaves from falling inside. Also, I like that the sunny side (left) will allow us to see into the boat longer at night when we come into trips. There are also flood lights off the house that point to the boat. It will be perfect for backing and parking into the dusk from long fishing trips.
Found a picture! This is what we deal with on a daily basis, in the late winter/ early spring, without the tarp.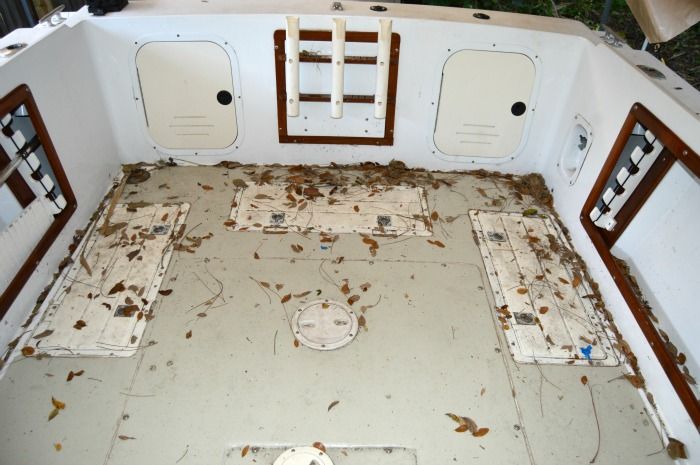 That is our winter project this year!
We're currently looking for calm wind days so that we can head out for cobia fishing. Possibly some tripletail too!
Happy Fishing,
Robin
PS: Although, this weekend, small craft exercise caution! The waves are going up to 10 ft!!