SEAFOOD FESTIVAL (at our house)!!!!!
by Robin
We've been landlocked for 7 weeks now. Yesterday, the gusts of wind were in the low 40's (mph). Seas are predicted to be 6-9 ft this week. Last week, they were 5-7 ft.
One thing is for certain, we are in desperate need for the salt life. So, we decided to take some of our fishing money and pick up some seafood from our favorite local dealers. I am SO GLAD that I took these pictures for the blog. Who knew I would need them for inspiration after last weekend's fish fry disaster.
We were invited to a fish fry on our street. A good time was had by all. We have great neighbors. BUT, I had to go buy frozen filets at the grocery store!! It's one thing to buy tuna because our boat can't safely travel to the otherside of the gulfstream and back, but to buy flounder & whiting?? Total humiliation. The whiting didn't even look like whiting and it smelled like 5 day old mackeral, so we tossed it. I tried the flounder and found some bizarre long, white worm in the meat. I did not eat it but the thought of it made me toss that plate too. I was nearing the end of my meal, so I guess I'm blessed that I didn't toss my cookies. I will NEVER buy locally-provided, offshore fish from a grocery store again. NEVER. Plus, I'd rather keep a commercial fisherman in business & help our hurting coastal community.
So, then, when I was clearing off the camera, I came across these photos. It almost made me forget about our terrible fish fry experience. Enjoy the trip down memory lane with me....
Here Jack has butterflied & floured/corn meal (w/ seasonings) the Canaveral White shrimp.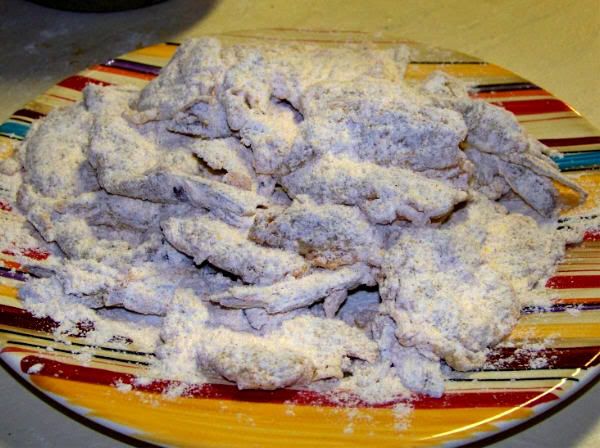 Then, he gets the oil really hot to fry them FAST. Shrimp do not take long and you don't want to soak in a lot of oil.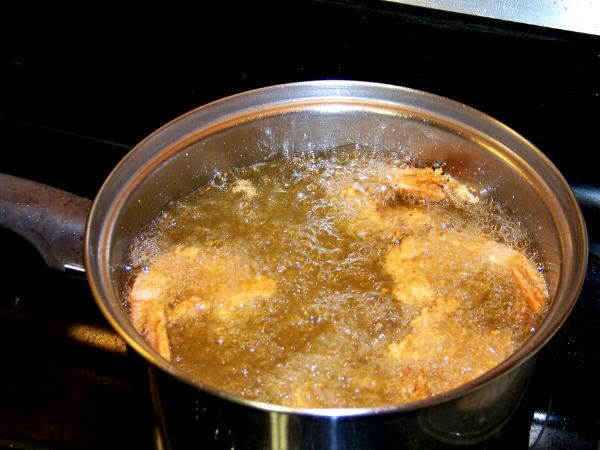 Before you know it, you have a big plate of shrimp ready to eat.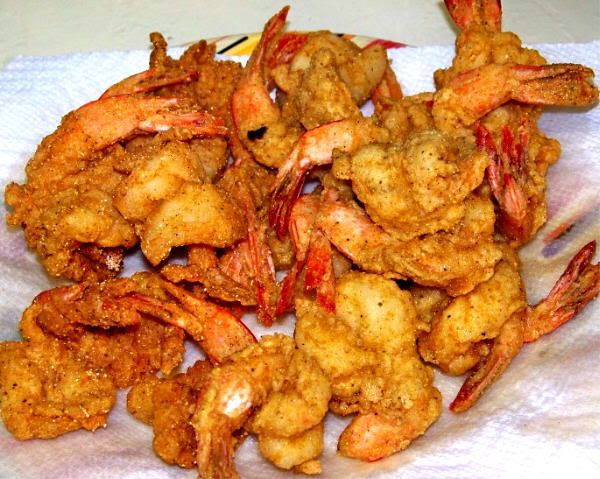 It was my job to take care of the middle-neck clams. I put these precious babies onto a hot, hot bed of coals. Do not use the clams that are dead or smelly.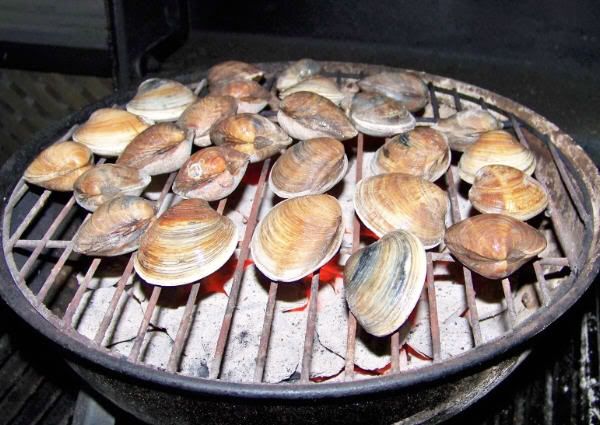 In minutes, they begin popping open. See them singing the blues? Wait a little bit longer.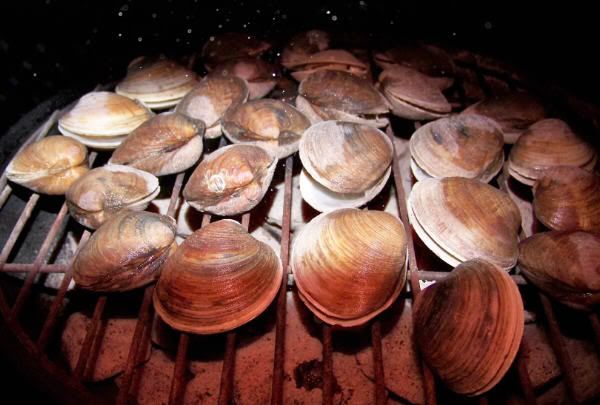 When they go into full opera mode, it's time to pull them. Can you hear them belting out something in Italian? You could have a couple reluctant clams but if they do not open up minutes after the main bunch, toss them. That could be a sign of a dead clam which will make you sicker than a dog.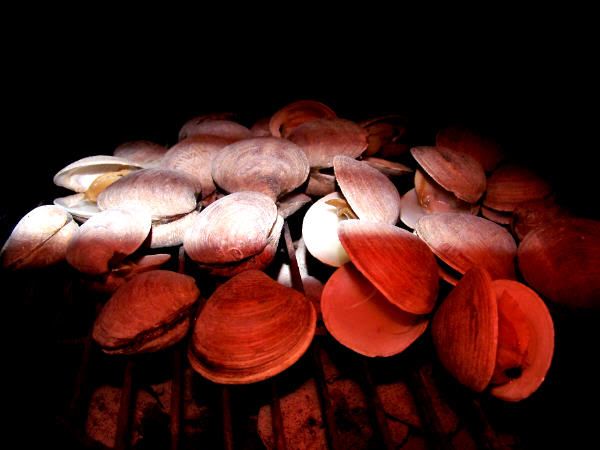 Here are my happy clams. I had 100% of them open up. Happy cows come from California but Happy clams come from Cape Canaveral coasts (or Cedar Key, FL).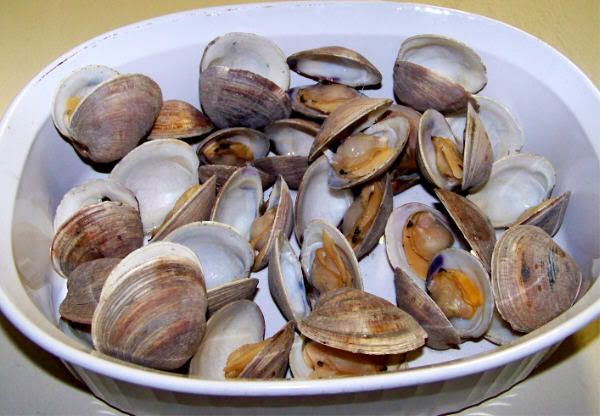 Meanwhile, Jack has the other eyes going on the stove. There is corn in the back and our fake butter mixed with hot sauce on the front eye. The guys like to dip their seafood in that. I don't use it but very sparingly or else I will have to eat tums that night. Do not worry about making a colorful spread like they do on the cooking shows. When you're working so hard to put out seafood, make your veggie convenient.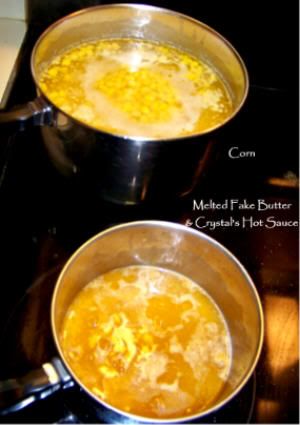 Last but certainly not the least important, yellowfin tuna. It is an expensive treat, I know
(don't remind me).
But, we bought just under a pound which is still cheaper than that gas it took to find it in the ocean. It feeds our whole family of 4. As you can see by the picture, it is about 1" thick .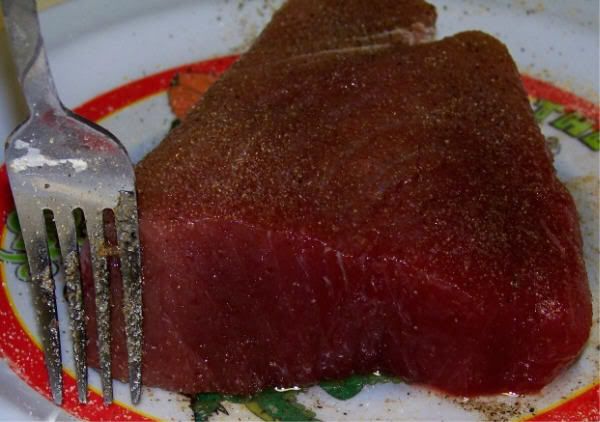 Jack lightly seasoned it and threw it on the charcoal grill. This is a QUICK PROCESS. The goal is to NOT cook the tuna all the way through. I call it raw in the center but Jack says I'm wrong and that it is "rare". LOL. That little joke went between the two of us all night long.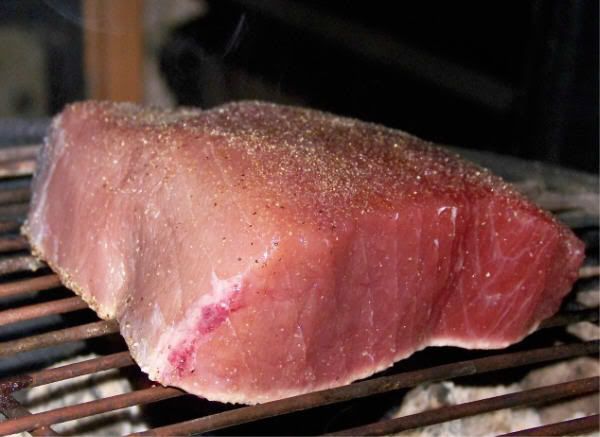 Jack pulled the tuna and made several slices. I put some back on the grill for my youngest who does not like his tuna rare/raw. I tried that and it is good; however, not as good as the rare steaks.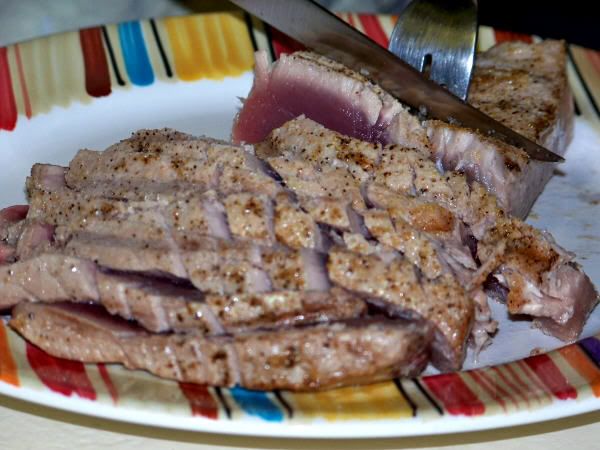 They were added to the plates, put a little tamari or soy sauce nearby, and we feasted like kings. I'm certainly homesick for the sea but at least, now, I am no longer homesick for seafood.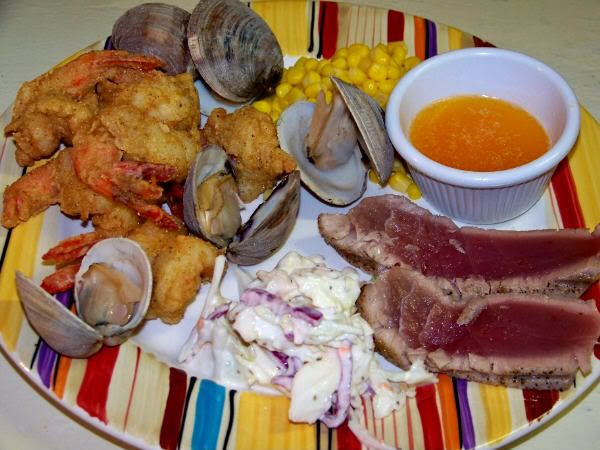 Did I mention that we caught "The Old Man and the Sea" on tv a few days later? It did not help my yearning for the sea.
Thanks for joining me for a trip down memory lane,
Robin