3/17/12 - MAHI FISHING & SPINNING THE PROP
by Robin
We were finally able to get offshore on Saturday. It was a bit of a rough start in the morning as we took our time to head out to the mahi depths. Our plan was to troll for mahi in the morning and come back in once the sun was high in the sky and sight fish for cobia.
Well, we found some beautiful rips in 135 ft of water and turned south with the lines in the water. In short order, one of the lines was singing to us!! Jack was such the gentleman and gave me first dibs.
I took my time and was careful not to lose this bull. We set the drag perfect, kept tension on the line but allowed him time to wear himself out before getting to the boat. Jack made a perfect gaff shot right behind the pectoral fin and he was in the box. He kicked & kicked for 10 minutes. Once he calmed down, Jack took this picture of me holding him. Gorgeous coloration.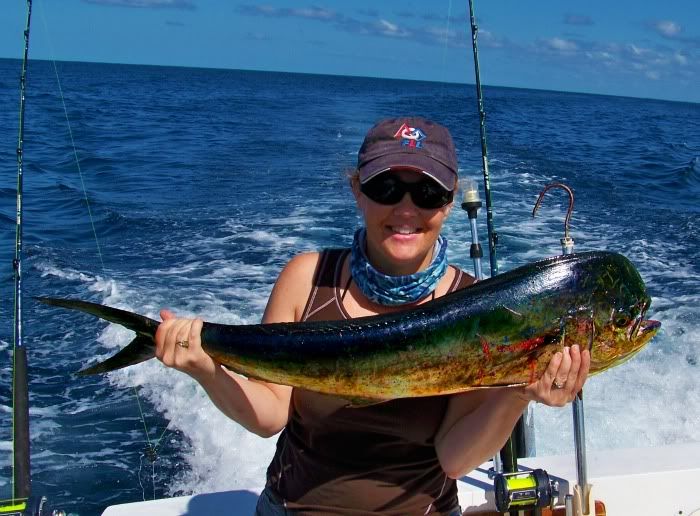 Then, I noticed a school of something far off in the distance and got out my Bloggie (by Sony) for video. While I was waiting for time to pass, as we approached & they counter-approached, I gave some basic commentary on our morning fishing. Feel free to skip those notes-to-self the first 2 minutes and watch the dolphin join around us.
Then, I had the Bloggie out again, trying to capture flying fish. That is when I saw this mahi right in front of us. We nearly ran over him! But, he was so smart to dodge us and run directly to the ballyhoo being trolled behind. Here is a quick video of that. I was not able to video for long since I had to pull in the other lines on the boat so that Jack's bull would not tangle into them. Be sure not to miss the mahi jumping at the end.
Our day was looking up for a while. We had 2 nice fish in the box and it wasn't even noon. We ate some sandwiches and decided we would move inshore, as planned, and find the cobia. We were 29 miles SE from the port entrance. We sped along a couple of miles when our boat's propeller decided to break loose, AKA 'spin a prop'. Grrrrrr. Didn't hit anything or come flying out of the water. It just happened. This was at 2:20 pm. We decided to limp back into port with the 7 knots that God gave us. We gave it a valiant effort for 1.5 hrs. We moved only 5.5 miles. It was apparent that the winds were slowing us back down to 2.7 knots and the propeller might have also been declining further. We were between a rock & a hard place. Four o'clock and doing some mental math. Not a good position to be in. Twenty-one miles left to go at < 3 knots. Our kids would be wondering why we did not check in, since we had no bars on the phones to call them. I didn't want to put anybody into fear over what had happened to us. That bothered me more than anything else.
Eventually, it became clear to call our towing service. We anchored up, gave coordinates and awaited their arrival. We also had them call dear friends who had agreed to be "back up parents" in case of an emergency. They were notified and kidnapped (w/ permission) our kids until we could pick them up.
Then, we waited. We heard the various cruise ships announce their departure of the port. One by one, we watched them float by us, 21 miles later. A couple hours of confusion on who was being sent out to us, four cruise ships, and an approaching setting sun, I became a bit more anxious. The only blessings that had come during that time were a couple of texts from my friend who had our boys and my mom.
(I wonder if those happened because the cruise ships had wi-fi. ???)
We tried fishing over the sandy bottom, but only came up with cutlass fish (fish-snake creature). At some point, our first battery died along with out hopes of being towed. Being anchored in rolling seas, we rocked to the point of the base of my chair (attached to the livewell) began to crack the fiberglass. Not good.
I did take some video of myself making comments along the way. I may release those at some point and then again, maybe I won't. They have some raw emotion ranging from slap-happy humor to lack of hope.
Soon, the tow boat arrived from the north. In short order, Jack hooked the clasp to our bow eye (thing-a-ma-jig). We were underway about 7pm. Underway but feeling defeated over our circumstances. Certainly stuff can be fixed. These aren't even super-expensive fixes either. Yet, the 14 hrs of exposure to the elements, frustration, inability to be in control of circumstances and possibly, a tiny bit of nausea from being anchored at sea, it did something to my psyche as well as my body. I haven't been, nor wanted, to process it all, which is probably why I didn't want to write this post all week. But I digress....
Back to the story, we were kissing dry land, figuratively. I backed the trailer into the water and Jack did his best to drive (guide) a near dead boat half-way into the bunks. At this point, I surrendered to my day. There was no dignity left to behold. I got into the water, thankful it wasn't freezing cold and hooked the boat up to the winch. I cranked it closer and closer but it wasn't easy. The closer I got to it, the more I was fighting the weight, angle and people staring at me. I'm giving every bit of effort to get this pig (said affectionately) up. Absolutely nobody has made any offer to help, so I cried out to God for a little more strength. I made it within 2-3" of the rubber roller by the winch. Jack says to just haul it out. I know he's right. It will be easier on level ground.
I walked carefully back to the suv, trying not to bust my rear on the slimy concrete. As I took deep breaths, my heart was pounding, I felt a touch of asthma kicking in. Not fun. But, all goes well and we came to the staging area to prep the boat for traveling on the roads. I wanted to give in to tears but not here. Not yet. Be strong Robin.
I cranked the boat all the way up to the roller. Jack tied down the boat to the trailer. Poles go down in the floor. There was a little chatter amongst the other fishermen on their day. Then, we started for home, in the dark, much like a reverse of how our day started.
We didn't even make it to the first intersection and somebody came straight for us, in our lane. I don't even think I had any adrenalin left to react with. Jack stopped the rig and she veered back to her lane without even looking at us. My guess is that she had a little too much St. Patrick's celebration already underway. We passed another fender-bender, got on the highway and all I could think of was seeing my kids. I wanted so badly to have this cry as I hug them. But in reality, I didn't. Our friends' house was filled with happiness, excitement and curiosity. Three generations of love & prayers that blessed us. I held it together as we got the boys and completed the last leg of the journey.
The drive home was about their stories of games with the other family. I tried to absorb it, but I was still rocking on the ocean. My mind refused cooperate with my intentions of putting my kids' stories first. We unloaded a few things off the boat, got showers and my head never hit the pillow so hard in my life.
To be continued.....