MONDAY!! - I'm so excited

by Robin
We're going fishing on Monday. Everything is timed out together - weather, time, money, fish.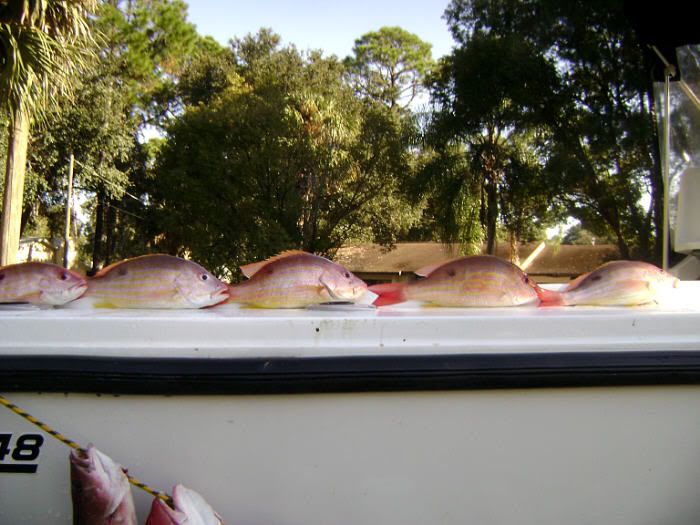 Above is a picture taken last Thanksgiving of the nice haul of Lane Snappers that we picked up while bottom fishing. It's time to fill the deep freeze again with all sorts of species. Our friends picked up some Yellowtail & Mutton snapper last weekend out on Pelican Flats, so that will be on our list of species to harvest. Of course, we'll take any Lanes and Red snapper as well. Or for that matter, Red, Gag or Warsaw groupers are found in the same area, so they can join the others in the cooler.
Gee, I'm catching all my fish before they hatch, but it's the kid in me, with Christmas fast approaching. I'm excited! I haven't been out since JUNE. That's a crime. Plus, we haven't bottom fished, with the exception of the time on Mike & Helen's boat, since last winter. This is a sport that even the kids can help haul in fish. Little man can bring in all the smaller species of snapper & black sea bass he can handle.
Well, I'm off to cook some fish for dinner. We're having company coming over tonight. Be looking for a late Monday or early Tuesday report.
Happy Fishing,
Robin