COBIA SEASON is EARLY
by Robin

Yes folks, it is probably the warmest winter on record since I have lived in Florida. I had azaleas blooming in January and now that it is mid-February, they're in full bloom. The water temps are 65-68-ish. After this week of 80 deg temps, that water surface temp will be perfect for cobia floating to the surface to swim (69-70).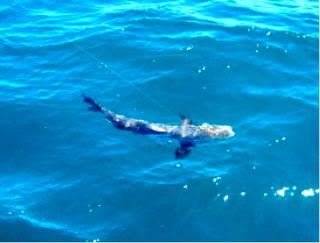 I have to say that it is quite an exciting thing to see a large fish swimming on the surface. Most the time, they are hungry unless people have been attacking them all weekend long.
So,
So, this is what it looks like. Sometimes you see them in singles and sometimes they are in groups like below.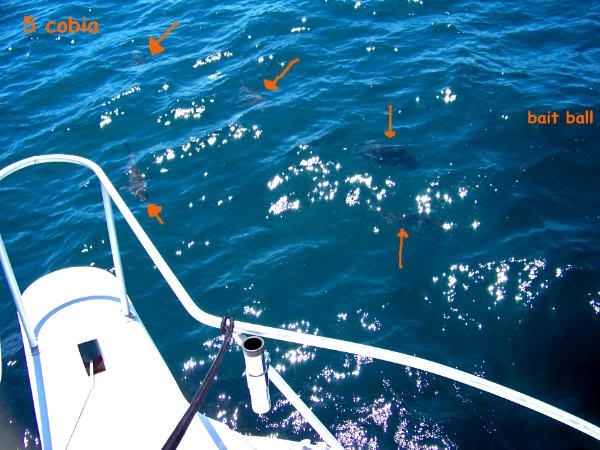 They are not very shy about seeing the boat. Infact, they're very curious creatures. Probably not the smartest fish in the ocean. But, they are delicious.
In Florida, we are allowed to keep 1 per person per day in State waters (<3 mi) or 2 per person in Federal waters. They have to be 33" to the fork. And they bring a lot of the fight into the boat with them, once landed. Many are caught on the surface with pink jigs, live bait such as eels or shrimp or pinfish and some are caught off the bottom, near wrecks or good bottom surface. Another way to catch them is off of bait pods (see above picture) and swimming on the backs of manta ray. That is probably the funnest way for me. It is a double-pleasure to see the giant mantas.
My job after they're caught is to sit on the cooler for a while. We now have this giant cooler with steel clasps, which should stop the problem of them breaking our latches and attempting to jump out. Wow, what a strong fight. A few years ago, I was whipped in the face by a tail. What a stinger!
Here is a picture of me with my personal best cobia at 61 lbs in 2008. I caught it while looking for snapper and other reef fish. It came up so easily but once it saw the boat, freaked out! Nearly took me over the side and I could not control the fish or the pole. Jack had to help me fight the fish another 15 minutes. I first thought it was a shark as it swam out & away from the boat. Jack said, "No, that's cobia." I couldn't believe it, in late May. We had missed the regular cobia season because our boat was under restoration. I was SO HAPPY. I think it shows on my face, even hours after the catch. Neighbors came out to see what we caught. It was so heavy, I couldn't even lift it for the picture. I'm 5'1" and as you can see the fish is close to 5 ft long.
(Forgive the large pic... it's what I had on file.)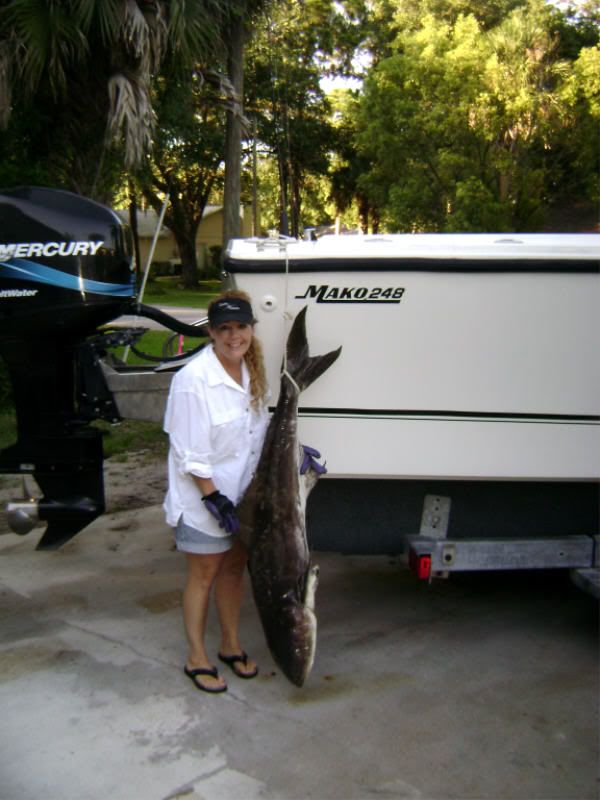 Anyhow, if weather holds as predicted, we will head off on Saturday to cobia hunt.
Happy Fishing!
Robin