OUR ACCIDENT with our BOAT

by Robin

Whew, it hurts just typing that up. Just to let you know up front that everyone involved is ok. The accident impaction was minimal on us, but our "toys" took some hits and of course, the man we hit was sore but amazingly walked it off. I called him today and he was working in the yard, which blessed me to hear. He was our biggest concern.
So, let me give you a brief run-down on what happened. We decided to go cobia hunting on Sunday (27th) afternoon. We had been sick all week, got some tips on where the fish were, and couldn't resist the temptation to enjoy a sunny afternoon since being around crowds wasn't an option. (Btw, the kids stayed home since we were only going to be gone a couple hrs and stay close to shore. Later, that would prove to be great, not just because of the accident, but because we still had one more kid to start fevering by 3pm.)
We were headed down US 1, merging onto the Beeline, heading east for the Port. This picture give you a general idea. The blue line shows us merging in with the Beeline traffic. Jack was getting clearance as he changed lanes and I remember thinking, "Where did all this traffic come from?" It's bad on a good day, but it seemed worse that day. We were just starting for the little bridge when everybody slammed to a halt when seeing all the emergency vehicles just past the little bridge (crossing a waterway). I screamed, "Stop!" Jack hit the brakes hard.... and we were on that slow slide. The "o"s are where emergency vehicles were. People saw flashing lights and freaked up, hitting their brakes. The "x" is where we pulled over and took the photos.
Since we all had just merged together, there wasn't much spacing yet between the cars and we only had a car length between us and the white Dodge. Still, my mind played out some thoughts in that nano-second. Unfortunately, that thought that we were going to hit, certainly did happen. What I didn't comprehend was that we'd slide into him and then do it again by the shear force of the boat's momentum still taking us forward. There was a 2nd boom. I was so confused. Did we shove him into the car in front of him? Were we hit from behind? What? Later, we'd find out that the nose bar on the trailer had collapsed under force, shoving us back into the same car.
We pulled over to the side of the road, after passing the little bridge, and were greeted by EMT personnel who were already on the original scene (primary accident). They had cleared the Beeline for Life-flight touch down.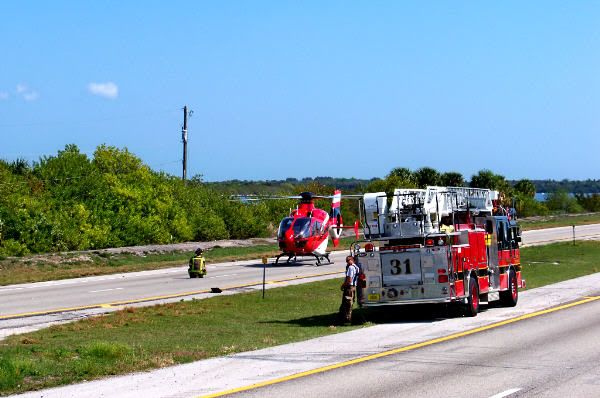 I went to the boat, grabbed my camera and immediately began taking pics of the damage for insurance purposes.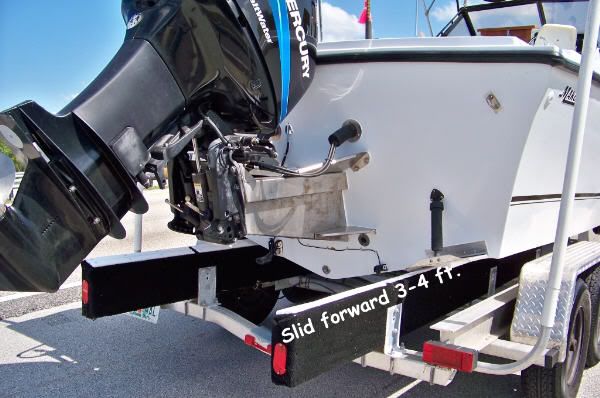 Here is where a bolt dug into the V of the hull. Thankfully, there was not a full hole and we did not hit the cross-beam (shown).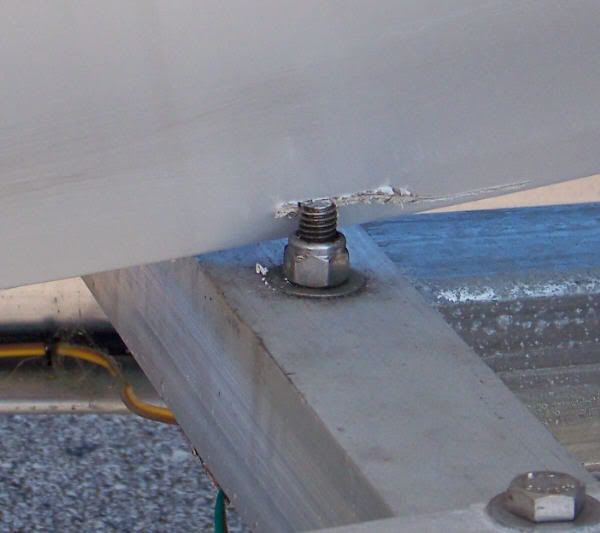 Here is the nose beam which toppled over. There was a small scratch on the hull there too.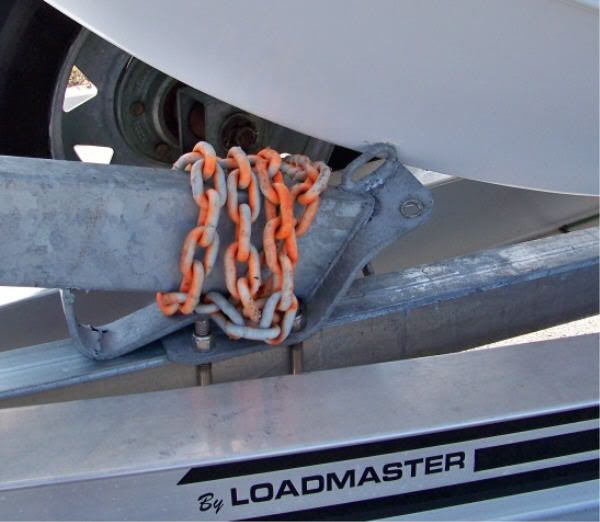 Here is a bigger picture to show you that the verticle "bar" moved forward a few inches and then collapsed forward, allowing the boat to jump forward about 3-4 ft in its bunks. Again, the after-thoughts of what might have been are more scary than the accident itself. We could have had a 6,000 lbs boat flying into our suburban or worse, airborne.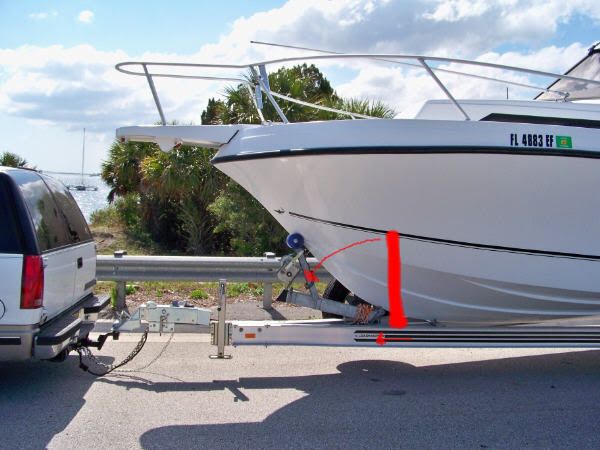 Here is the front of our suv.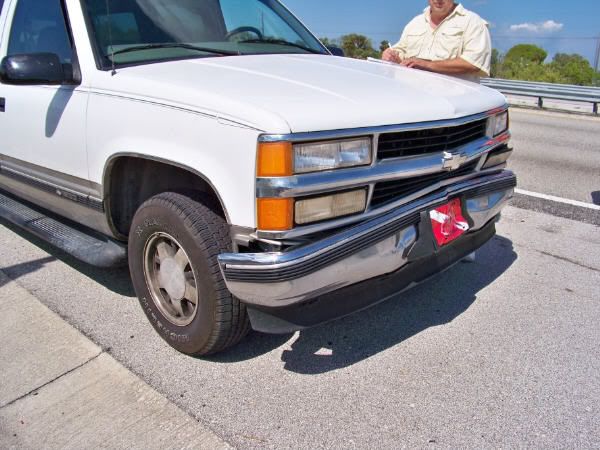 Here is the other car. AMAZING! He and I talked today and agreed that his hitch definitely saved his plastic bumper. God lined up our further-most point with his hitch and saved his car.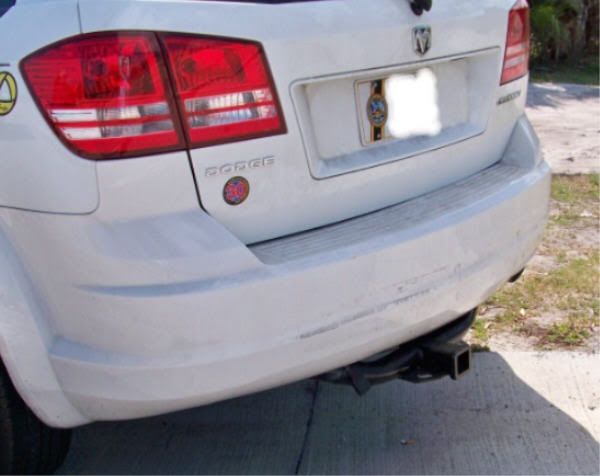 From here, we dropped the boat off at a marina and put it on a dry rack for the week. Jack brought the trailer home to have repair work done on it.
This is what we could see the next morning, once the boat was removed.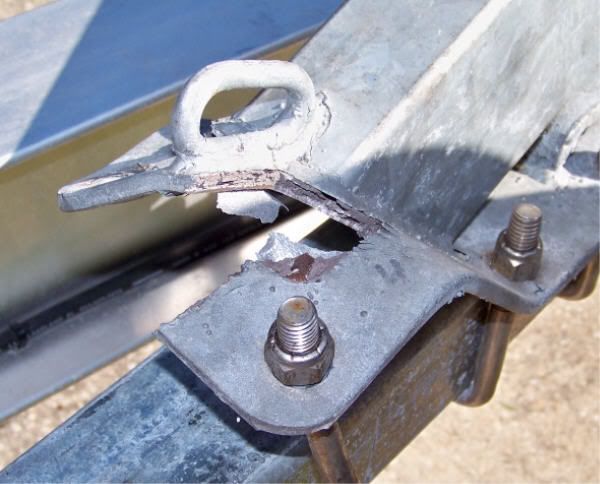 Metal was torn like paper. In the photo below, there are cracks at points A & C. Point B is curved whereas that is suppose to be a straight piece of metal. I am so thankful that the accident happened with the new trailer vs the old one. New, strong metal & good brakes must have helped us out. Unfortunately, nothing stops the force of being 7x bigger than the car you hit.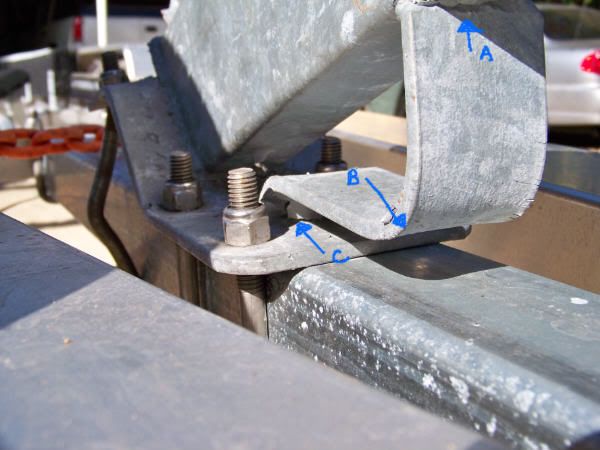 Again, here is the same piece from the port side. Ripping at Point A, Slide forward (B).
We bought a brand new nose "bar/beam" for the trailer, plus new u-bar joints. Then, we took to the salvage yards to find a used grill & bumper for our suv. This was quite an adventure. Salvage yards are not pretty places. I would have felt much better had we brought a concealed weapon with us.
It took no time for Jack to begin ripping off the damaged parts and start putting on the used ones. It looks like God has blessed us immensely through this horrific ordeal. I wouldn't wish an accident on anybody.
As for the person who was suppose to be life-flighted, we never saw anybody get into the helicopter that caused all the fuss. The officers check on us and asked if we wanted to call ambulance and none was called. We all drove away and then traffic was allowed back on the road.
I had checked and checked the news websites but can't find anything on the primary accident. We did see crime scene tape put up and detectives walking around an abandoned truck. They were wearing gloves and combing the ground. I wish I knew what happened there. I'm guessing it didn't fare well for the person who almost needed an emergency flight to the hospital.
Be safe when heading out to the fishing grounds!
Robin